A Puget Sound Radio Exclusive
Mayhem after Midnight- Part Two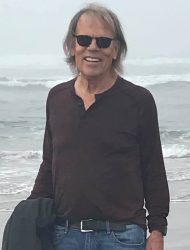 by Chuck McCoy
May 24, 2021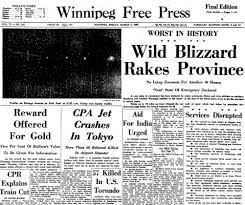 I now offer you an addendum to last week's edition of "Mayhem after Midnight," and the crazy tale of "The Great Winnipeg Gold Heist." This week, I will reveal yet another historic event that had its genesis in the wild and weird all night hours of a young DJ.  Many Winnipeggers will remember that first week of March, 1966.  First there was the Flying Bandit's Gold theft on March 1, and now we look back to the "Storm of the Century" just three days later on March 4 As I best remember, the meteorologists told us that the storm itself was the combination of something called a Colorado low and a bunch of mixed up isobars or some such thing.  The cause was irrelevant; this blizzard dropped more than 35 cm of snow on the city and it was coupled with 80km winds that gusted as high as 114. The city was virtually shut down. 
Returning to the Gold theft story (If you missed it, the link is available below); I wrote that the stolen gold was temporarily buried in the back yard of one of the thieves.  Their idea was to leave the gold there temporarily, then move it to a more secure location on the weekend. As their luck would have it, this snowstorm of the century hit the city just 3 days after the robbery and prevented the robbers from getting back to their gold. But, by the time the storm had subsided, Winnipeg police were on the case and in that back yard digging up the bullion.  Arrests quickly followed.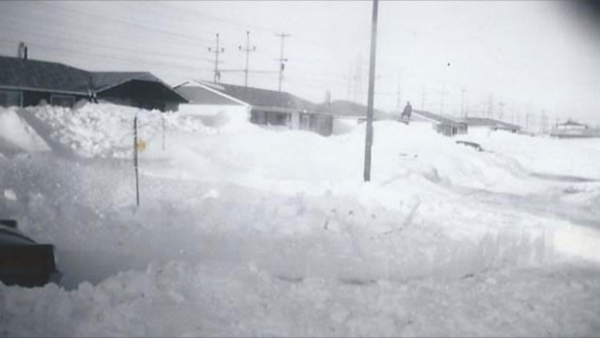 The impact of this massive blizzard was felt all across Manitoba, but in Winnipeg more than 20 hours of heavy snow and high winds closed the schools, shut down all businesses, halted transit service and stranded people all over the city.  Winnipeg's two biggest downtown department stores were Eatons and the Bay.  These two buildings became overnight shelters for more than 1,600 people.  At Eatons, women were housed on the 9th floor, men on the 7th.  Nothing was moving in or out of the city, by land or by air.  Officially the visibility at Winnipeg International Airport registered 0 for an unbelievable 14 hours.  Snowmobiles were called into service to ferry doctors and nurses to their respective patients and hospitals.  It was reported that some city streets were under as much as 12 feet of snow.
This surely was an emergency of major proportions affecting almost every one of the half million people living in Winnipeg at the time.  Radio veterans will say, "This is the time for radio to shine." Normally that's true; back in the mid-60s every household, car or business had an AM radio. The city had 4 AM stations and all ears would be tuned to get the latest scoop on the weather, traffic, transit schedules, school closings, and emergency numbers for Police, Fire and ambulance.  While the weather went wild I was in my usual place, on the air at CKY between midnight and six am and I am unaware of how well the other stations stepped up to be saviours to the citizens in this real life disaster.  I'm certain they attended to their responsibility and provided the public with the kind of service listeners expect in times like this. I'm also just as certain that I had no such commitment to the community.  Look I was 19, I had just a few months of radio experience and in all the thousands of hours of radio listening I had done in my life, for me it was all about the hits, the DJs and those exiting radio promotions.  I probably never listened to more than 5 minutes of news or news coverage in my entire young life.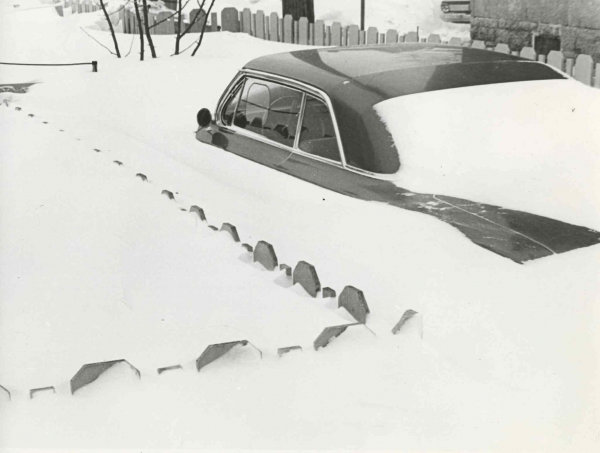 For me, March 4th began as just another night to "Honk out the Hits" from midnight till 6am.  As I drove down to 432 Main from my home in River Heights, it was about 11:30pm and snow was falling lightly.  This was nothing unusual for March in Winnipeg. I arrived at the station just before midnight, stopped into the newsroom where Frank Roberts was just finishing his shift and I asked, "Anything happening?"  Frank barely looked up and gave me a "Ho Hum" and a stack of news headlines to read on my show.  Included in the pile of paper he handed me was the weather forecast that was already calling for some light snow to fall in the overnight hours. That was the extent of my "news gathering "activities.  I left the teletype to run in the newsroom in the next studio where it operated on its own, continuously dinging its little bell spitting out stories on teletype paper for the next six hours.   I figured the morning news team would be in by 6:30 and I'd leave it to them to gather it all together.
In any case my job was to play "Hit after Hit," answer the "Hit line," respond to requests and deliver "Dedications".  The impending blizzard on its way to bury the city was not really on my radar screen.  However, as the night progressed, some of my callers were asking, "When is this snow going to stop?" or "The drifting snow has blocked our street."  I thought to myself "Hmmm, maybe I should have quick look outside."  At about 4:30am, I went downstairs and made an attempt to open the front door that opened on to Main Street.  However, by this time the hard blowing wind had drifted enough snow against the door that I was not able to get it open.   But I was able to see through the glass in the door that a transit bus was silent and abandon on Main Street right in front of me.  I went back up to Master Control, played some more records and listened to more of the stories I was getting from the callers.  Clearly this was not a normal snow storm and I was becoming concerned as to how I would make it home.  Thankfully the morning team of Jack Wells, his son John Wells, two or three news people and assorted engineers and operators would be in soon and I would be free to be on my way.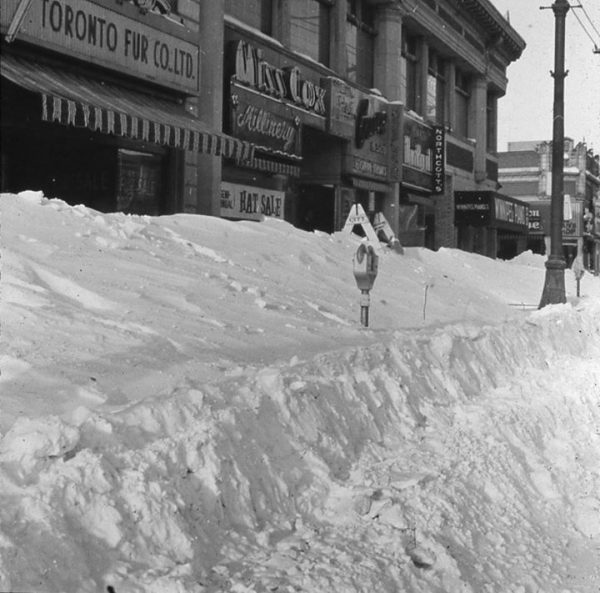 The morning group usually began their shift at 7 and would arrive around 6 to prepare.  As I finished up my show I nervously noticed that in fact the normally very reliable morning people had not arrived;  not one of them.  OK, I could play a few more songs, run the commercials and read the news I had been given last night.  What I couldn't do is answer the callers' questions regarding the weather, road conditions or school closings.  Finally about 7:30 John Wells appeared.  He was even younger than me with about the same amount of experience.   He told me what I had already surmised, "Dad won't make it in, and so it's just me."  He went on to provide me with more details on the state of the city, the streets and the snow.  It was a full shut down and maybe nobody else would be coming in.  Then around 8am John Pierce from the Newsroom arrived and now we had someone who could provide the information our listeners certainly hadn't been getting from me.  John looked at me and asked, "What do we do now?" I replied with some degree of excited anticipation, "I guess we get to be daytime DJs.  You're a producer so you can operate the equipment and I'll do the talking." Neither one of us had ever pulled a daytime shift before so this was our big chance.  Disregarding the events that were bringing the city of Winnipeg to its knees, I remember saying, "OK John, get on some Rolling Stones and Beatles and let's Rock'n"Roll." Without skipping a beat, John threw "Hard Day's Night" on the turntable and away we went. It was almost make believe, we were a real daytime DJ team on a 50,000 Watt radio station so we simply played all our favorite records for the next 6 hours. By 2pm the mid-day personality George Dawes arrived and took over the show.  I had now been on the air for about 15 hours but I wasn't tired.  In fact I was so hyped up doing my first daytime show I was a little disappointed that we were going to have to turn the show over to someone else. Now my only challenge was getting home to my bed.  There was no way we could drive and with snow on the streets knee high and at times up to your waist, walking was not a possibility either.  Heroically, the Company President, Randy Moffat had managed to get to the station by about 4pm like the Captain who always goes down with his ship.  John and I thought we would find an office to spend the night and try and make our way home the next day.  We cautiously entered Randy's office and asked if he knew which office we might use.  To our surprise he offered, "I have a hotel room booked, I'll sleep in my office and you two can use the Hotel room."   How good is that?  We spent the night at the luxurious Marlborough Hotel.  The perfect ending to an amazing day (and night)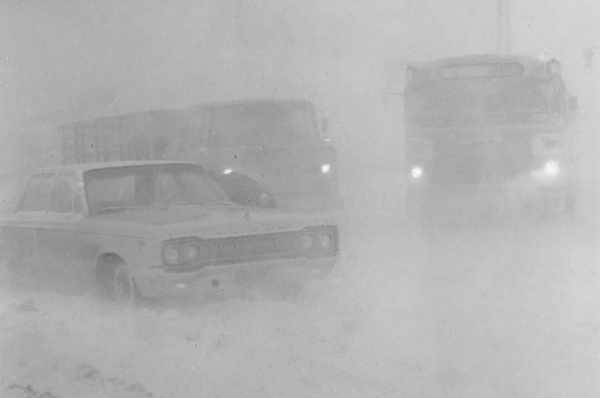 I have often reflected back to those two days in 1966 and wondered what the CKY listeners and Management must have thought of what we did and what we didn't do on what is still one of Winnipeg's top ten most memorable days.  People were anxious, needing information on roads, schools, weather, and hospital access and there we were caught up in the moment playing the Four Tops and bringing people up to date on the latest news on the young lives of Sonny and Cher.  I often ask myself, "Were we irresponsible?"   I prefer to think that perhaps we were just inexperienced. Works for me.    
My deepest thoughts looking back now are well summed up in the Rod Stewart lyric we hear so often these days, "I wish I knew then, what I know now, when I was younger"
…
Next issue – Chuck and his wife Kim will be on the road for the next few weeks visiting family back east. Sydney will be staying at the Sniff Hotel in Portland… Chuck returns to PSR on Monday June 14th…
…
In case you've missed any of Chuck McCoy's previous 'Memories to Remember' check out the links below
Mayhem After Midnight, Part One HERE
The Real McCoy! by Chuck McCoy HERE
Love it when a plan comes together  HERE
My Toy Story by Chuck McCoy  HERE
It's sooo cold by Chuck McCoy   HERE
Some Early History by Chuck McCoy  HERE
Big Time Radio in a small market by Chuck McCoy  HERE
'Duff Roman/Charlie Tuna Part One HERE
Duff Roman/Charlie Tuna Part Two HERE
Chuck's Introduction, The Legendary Chuck McCoy's first broadcast from CKY-AM's Master Control HERE