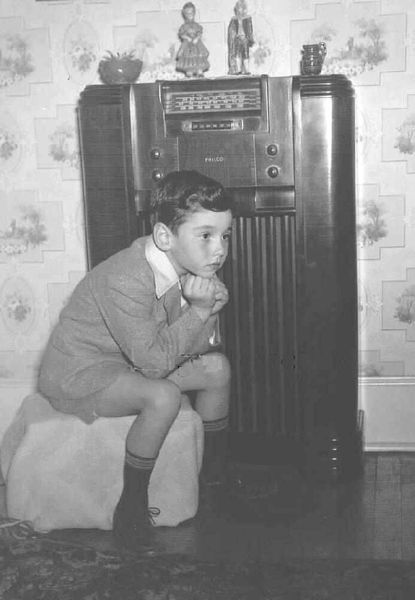 a Puget Sound Radio Exclusive…
SOME EARLY HISTORY
by Chuck McCoy
April 12, 2021
It all started in the small community of Woodhaven in Winnipeg. I was 7 or 8 and my 3rd/4th grade teacher, Miss McCauley asked the class to think about our future.  What might we do as adults?    Soon enough it was my turn to answer.  This young elementary school teacher looked at me and asked, "Well, Mervyn, what do you want to be when you grow up?"  I blurted out, with conviction,  "I want to be a Disc Jockey when I grow up"   With the wisdom of an 18 year old educator she shot back, "Well Mervyn, I'm afraid you can't have both."   I guess she was right.  I did become a DJ, but friends and family will agree, I never really did grow up.  I continued to maintain the same obsession with my dream through my entire career and always tried to do through the ear of an 8 year old boy when it was all so magical. 
My first real words on the radio were uttered at age 8.  A supermarket, Dussesoy's IGA, was having their Grand Opening at the end of our street and magically a local radio station had their big trailer on the lot doing a "live" broadcast.  I was home from school as it was lunch time; I quickly inhaled my PB&J sandwich, and then ran to the corner to watch these marvelous men do their "radio announcing."  I pressed my face to the glass of this massive mobile studio and tried to look as cute as I could. It worked, they invited me in. Shit, I was in a real radio station (of sorts).  I wondered if they would let me talk? Dreams do come true, the main man at the microphone said, "Would you like to read a commercial." Without any hesitation I answered, "You bet." And my career in radio had officially begun with a 30 second "live read" for Swift Premium Franks.  
Other kids like me, were similarly obsessed with radio and many of us got started by "playing radio" as kids.  We had turntables, some music and if we were lucky enough maybe a tape recorder to capture our "shows." I remember when my Dad, an executive with Winnipeg Supply would bring home his Dictaphone machine from the office. How good was that?  I had my own station, all weekend, complete with music from the "HI FI," live commercials and the weather, news etc.  And it was all recorded.  My friend and 1050 CHUM colleague, Roger Ashby, will tell you he also played radio in his basement every night as a kid. He had a daily show every evening, and, get this, when he wasn't there in the evening to keep the show "on the air', he had his Mom go down to the basement to fill in for him. Hey, "The show must go on."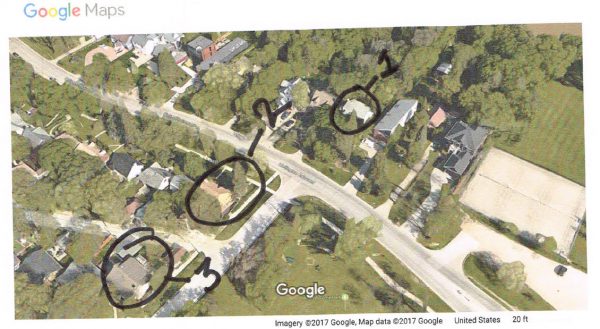 Growing up in River Heights Winnipeg at the corner of Wellington Crescent and Lanark, I had two buddies across the street who loved to play the radio game as well. The aerial shot you see is what we liked to refer to as "Radio Corner"  
Dwelling #1 is where I lived with my late Hall of Fame brother Gary Russell as well as Canada's esteemed Canadian Broadcast research guru and my youngest brother, Jeff Vidler.  In house #2 across the street lived Roger Currie a veteran broadcaster and mainstay morning personality on Winnipeg's Legendary CJOB for many years.  House #3 is where the 30 year veteran with CBC, John McQuaker called home. We all contributed to our "Radio Corner" station, with studios in Roger's garage, complete with speaker hanging on the garage door offering all the neighbors the best radio available for the back lane.
I finished high school, spent half a year at University of Winnipeg, all the time dreaming and scheming as to how I could get on the radio. I took jobs pitching aluminum windows door to door, selling shoes at Agnew Surpass in Polo Park then driving a half ton truck for a storage company.  All the while I was getting no closer to my first radio job. I sent out dozens of tapes and hundreds of letters to stations all over the country; all rejections.  But to tell you the honest truth; I was even happy to get rejections.  After all they were from real stations and the envelopes had great logos on them from places like Kitimat, Medicine Hat, Beaver Falls and I saved them all.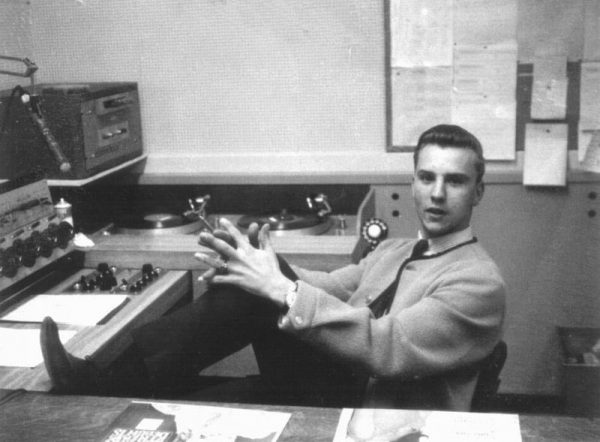 My first break came when I snagged a job at CKY-FM.  This wasn't the big time.  In fact almost no one had an FM receiver, but I was in the CKY building, in a real radio studio and I could see all the famous DJs from CKY Winnipeg coming in and out of the station. A lovely gentleman named Rick Whiteford (pictured) was my first PD and he showed me the ropes and reminded me that the only time I could speak was 4 times and hour, and the only words I could utter were "CKY 92.1 FM time" and "CKY 92.1 FM temperature" The music was classical, show tunes and big band.  God I had to land a spot on that big 50,000 watt mother, CKY. 
Money wasn't important at this time and that's good because I was only paid $1 an hour.  My first FM airshift was July 1965.  $5 for 5 hours.  I got that check, had it laminated (below), never cashed it and it sits on my desk right in front of me to this very day. I knew I would never get on the big station without some conniving, manipulating and a few bold face lies.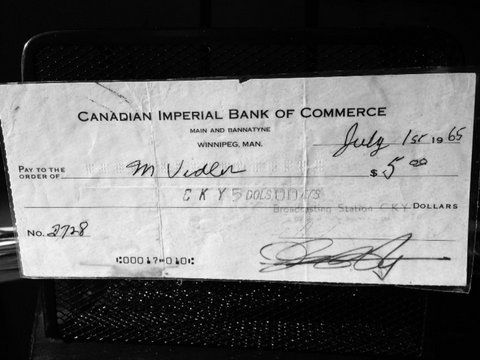 I devised a plan.  I would use one of the rejection letters I had received and go to the new CKY PD, Bill Grogan and "shade the truth" by saying, "Bill CFCW in Camrose Alberta have offered me a job(they hadn't), but you know I'd really like to wait for the chance to work at your station." I wasn't expecting a job offer. I just wanted him to remember my name and maybe listen to me on FM and see if I even had any potential.   He sat there for a few minutes and looked me in the eye as if I had just solved his biggest problem.  He asked directly, "Do you know how to operate the AM board?"  Oh shit.  What do I do?  If I say, "No." he'll find someone who does.  But, if I say "Yes." He'll discover me as fraud.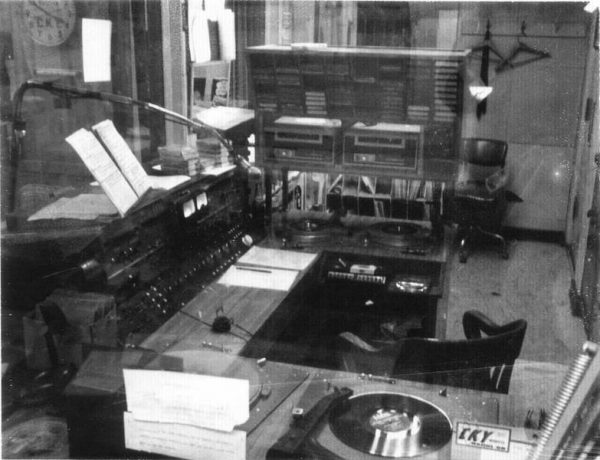 I had never even been inside the AM control room. C'mon that's where Chuck Dann, Dean Scott, Gary Todd, J.Robert Wood and George Dawes worked.  How would I know anything about the studio, the equipment, the format or even where the light switch was?  But nevertheless I took a leap, told a lie and said, "Oh yeah, I've run that board hundreds of times."  If there really was an opportunity, I'd figure a way to somehow spend time learning the board so I'd be ready to Rock'n'Roll.  I wasn't ready for what he said next when he told me that the AM station was going to be off the air all summer between 1am and 7am while engineers repaired the transmitter and he needed someone to sit and monitor the studio during this "off-time." I asked, "When will they begin this work?"  He quickly replied, "Tonight" and followed by saying, "so if you know the board, I want you to baby-sit the studio from 1am-6:30am and then do a live show from Midnight to 1am and 6:30-7am.  Now I was screwed. It was 4pm and in 8 hours I would be expected to go on the air, run my own board and be a DJ. I thought for a moment that I should come clean and admit I really wasn't trained on the board and could never do what he was asking. That would be the right thing to do.  It would be except…. He finished his conversation by saying, "If I like what I hear you can be our new all-night DJ starting in September."  You guessed it, I didn't come clean, I just said, with assurance, "No problem, I'll do it and I hope you like what you hear Sir!"   He said, "Fine" and I was dismissed.  I had a big problem.  I was going on the air at one of Canada's biggest radio stations in only a matter of hours yet I had no understanding as to how to do it. OK I'd been listening to hundreds of radio stations and radio announcers over the years and practiced doing my own show every time I was in the car listening to the radio. Knowing what to say and how to say it would be easy, but how would I ever manage all the technical aspects required of all on-air personnel?  I was thrilled and scared to death at the same time.  But even at 19 I knew, this was my chance.  I had to stop throwing up and start stepping up to come up with a plan.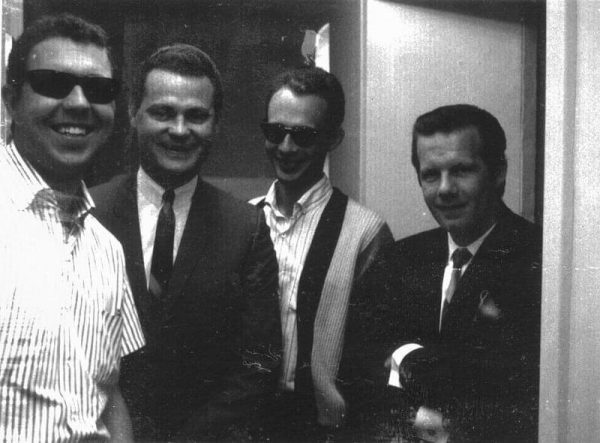 Head spinning I slowly walked back to the FM Control room and as I entered the studio, I remembered that the FM announcer on shift at that moment also operated a Sunday night talk show on the AM station.  He'd done it for years and would know everything there is to know about the tech side of AM Master Control. I then had one of those life-changing ideas.  I asked the gentleman, "Say, how would you like to make $50 (Nearly $500 in today's money)?" Remember, like me he was only making $1 an hour and seemed ready to do anything legal to make $50.  I asked the vital question, "Could you operate for me from midnight to one while I did my audition DJ shift, teach me the board between 1am and 6:30am and then watch me go on my own from 6:30 -7:00am."  He said, "show up in the newsroom (which would be empty at that time of night) at midnight, I'll operate from Master Control; play all the music, the commercials, jingles and all you'll have to do is talk like a DJ until one then I'll train you on the board and have you ready by 6:30, you can count on it."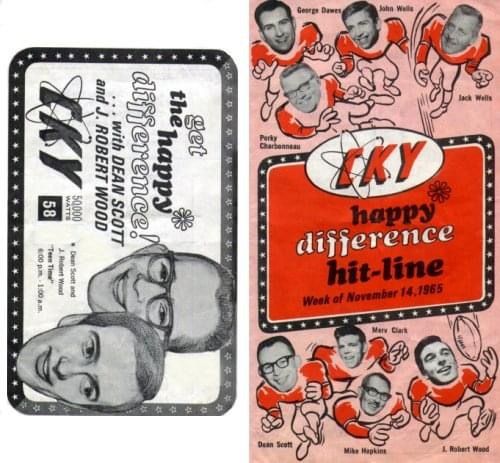 With some luck and a good trainer I made it through the night; including my two live hours.  Most importantly, the PD called me at home the next day to say, "Hey kid, I liked what I heard.  You can be our new all-night DJ starting in September for $350 a month." I was now officially hired to be a full-time DJ on CKY-Winnipeg beginning in September.  This was August so I also got some summer shifts on the weekend.  That was the best; my teenage pals were all up at the lake listening to my shows, hanging out at the phone booth to call in dedications and requests. I'm a DJ at CKY, getting good money and I've even become a hero to my friends.  
Finally, without question I think you'll agree that I owe a great deal to my FM colleague who stepped up that night in 1965 and  literally held my hand on that first shift on CKY. My friend, where would I be if you had not helped me out on that night so long ago? The answer is "nowhere".  The sad thing is I don't even remember your name, your face or anything about you, except that you helped me get started on this 55 year journey of love I still have for the magical medium of Radio.
Chuck
…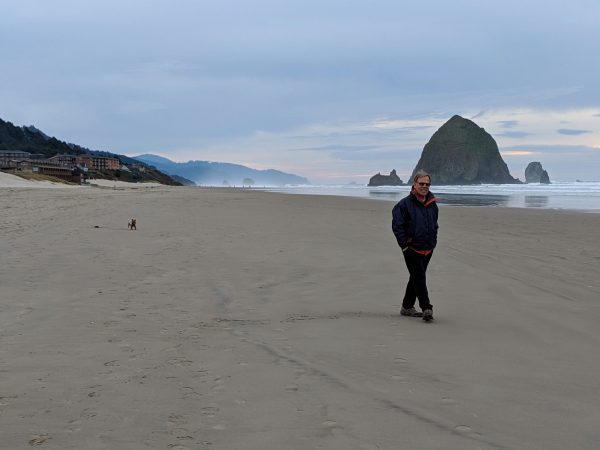 From 1965 to 1974 Chuck was a highly rated Canadian on-air personality. Chuck got his initial start in 1965 as a "DJ" on 50,000 Watt CKY, Winnipeg.  Then working as a DJ across Canada, his love affair with radio culminated with seven remarkable years as a prime time on-air personality at the one and only 1050CHUM, Toronto.
Chuck went on to become Program Director of CFUN Vancouver in the early 70s.  As PD at CFUN he helped propel this station from the bottom of the pile to the # 1 position in the market.   Chuck continued his radio career in 1980 spending 6 years as National PD for Moffat Communications. Then with partner Pat Bohn, the Broadcast Consulting team of McCoy /Bohn was formed and became a very successful venture as the two of them worked with programmers at radio stations all across North America.  In 1989 Chuck signed on with Rogers, first as station Manager in Vancouver then as National PD for the entire radio chain.  His last position with Rogers was his appointment to EVP/GM of Canada's biggest radio cluster, providing Rogers with managerial oversight for radio stations CHFI, 680News, THE FAN and KISS 92.5. This was a role he held for 13 years before stepping down from Rogers in 2012. 
Chuck was inducted into the Canadian Music Week Hall of Fame in 2008 and in 2015 he was further honored with an induction into the Ontario Association of Broadcasters Hall of Fame. 
Chuck is now located in the beautiful state of Oregon and is having no difficulty enjoying his well-earned retirement in Portland with his lovely wife Kim
Chuck can be contacted at: