Jethro Tull are a British rock band formed in Blackpool, Lancashire, in 1967. Initially playing blues rock and jazz fusion, the band later developed their sound to incorporate elements of hard rock and folk to forge a progressive rock signature

This instrumental duo from Brooklyn, New York, are probably best known for Sleep Walk in 1959.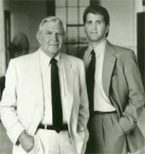 TV stars Jason Alexander and Chi McBride were born on this date, along with Ray Charles, Bruce Springsteen, Julio Iglesias and John Coltrane.
Hank Williams made his final recordings,
'That'll Be the Day' by Buddy Holly & the Crickets was #1,
Pay-TV got started with the Rocky Marciano/Jersey Joe Walcott fight;
Matlock (pictured) and Marcus Welby MD debuted on ABC,
and two Ken Burns epics (The Civil War and The War) debuted on PBS.
Leaving this 'vale of tears' Sept. 23rd were Canadians Henry Champ and Chief Dan George, actors Cliff Arquette and Mary Frann, country music's Jimmy Wakely and broadcaster Bill Ballance.
ALL the milestones for the date INSIDE.

Kevin Getz (pictured) is the swing announcer at 102.1 The Edge in Toronto. He recently came out with a brand new album. What makes the album unique is that it is a spoken word album full of his radio breaks. The collection of audio is an attempt to make his audio more durable, sustainable, marketable, and less disposable. In this episode, Kevin and I talked a lot about how breaks are put together, but what happens after that break is aired. He admits he is a hoarder and that he keeps everything he airs on hard drives.

Paul Lavon Davis (April 21, 1948 – April 22, 2008) was an American singer and songwriter, best known for his radio hits and solo career which started worldwide in 1970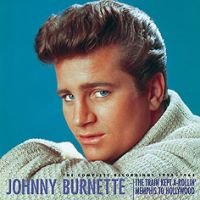 Johnny Burnette was known for his rockabilly and pop music. Rockabilly Boogie was one of his hits in 1956.

It's the date that brought us Meryl Streep, Debby Boone, Joni James, Bonnie Hunt, Martha Scott and CBS newsman Richard C. Hottelet.
Maverick, Lost and (pictured) Fulll House debuted on ABC-TV;
Friends, Baywatch and Man From Uncle had their premieres on NBC Television;
the Everly Brothers performed together for the first time in 10 years;
The Supremes recorded their next smash 'I Hear a Symphony,'
and Bob Dylan played Carnegie Hall…
Meantime, CIVT became Vancouver's newest station, a UHF license that would be viewed by most on cable channel 9.
Obits include music makers Irving Berlin, Harry Warren and Eddie Fisher; actors George C. Scott, Gordon Jump, Edward Albert and Jackie Burroughs; and Laugh-In's Dan Rowan.
ALL the milestones for Sept. 22nd INSIDE.

A big week for my father. His birthday is September 24th, he would have been 86 years young. 20 members of the O'Day family will be boarding a yacht at Elliott Bay to fulfill his last request: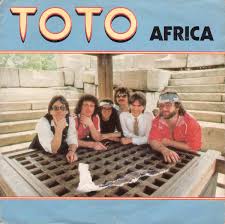 Toto (stylized as TOTO) were an American rock band formed in 1977 in Los Angeles.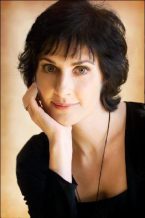 Enya Patricia Brennan, an Irish singer, known professionally as Enya, has been performing since 1976. She has put out many popular albums. She also has reached the top 100 in Ireland, the UK and the US. In 1988 she reached charts with Sail Away.