In their early days ELO were touring monsters…I recall them playing London Ontario at least twice, and the highlight of the show was always their closer, Roll Over Beethoven

IT WAS APRIL 20th … when Radio Specialties Ltd opened the predecessor to Vancouver's C-FUN & CKMO using 40 watts of power on 450 meters (666 khz). The studios of CFCQ were at 791 Dunsmuir….
When "Your Hit Parade" debuted on NBC Radio as a one-hour Saturday night program, featuring 15 of the week's top songs…
When "The Big Show" with hostess Talullah Bankhead (pictured) completed its two year run on NBC Radio…
and when the US Federal Communications Commission (FCC) gave approval for FM stereo broadcasting.
ALL the broadcast milestones for the date INSIDE.

"It is tremendously disheartening that we part ways due to completely unfounded claims."

Good book for KZOK, KISW.

After a "thorough and careful" review of the allegations, the Company and Bill O'Reilly have agreed that Bill O'Reilly will not be returning to the Fox News Channel. He will be replaced by Tucker Carlson.

Posting this one today in memory of one of my greatest friends who passed away half a dozen years ago this month…he and I attended a concert at Massey Hall many years ago…the headliner was Lou Reed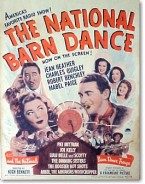 IT WAS APRIL 19th … when the Chicago Barn Dance first aired on WLS. In a few short years it became the National Barn Dance on NBC radio…
When the ABC Television Network began operations, only in Philadelphia and Washington at first…
When New York AM station WINS became the world's first all-news radio outlet…
and when our TV screens were filled with images of destruction from Oklahoma City, after a truck bomb destroyed the Alfred P. Murrah Federal Building, killing 168.
ALL the milestones for the date INSIDE.

Bill O'Reilly's reign as the undisputed king of cable news could be coming to an end as pressure on the Murdoch family to decide what to do with the embattled host intensifies.

Global News BC is thrilled to announce that Paul Haysom is returning to BC to join the Global News Morning team in a brand new role as News Anchor. Haysom rejoins the BC team from Global News Calgary where he anchored Calgary's #1 late night newscast,Global News at 11 for the past few years.

Do you think like a winner?
Having a winning mindset is the most powerful tool in achieving success!
Often you see and hear sport coaches and athletes talk publically – and proudly – about the need to develop a winning mindset; the need to have a "positive mental attitude." It has always surprised me that outside of sports this way of thinking – and its importance – is not understood and often quickly dismissed. Declaring the importance of having a winning mindset in the office can get you dismissed as soft. Everyone is so busy trying to get things done that they reject anything that sounds idealistic. But… Here is the truth, battles are won and lost in people's minds long before they are fought! I can think of one team of content creators who have talked themselves into defeat. They think they are being beaten and it is that mindset alone that is causing them to misstep.