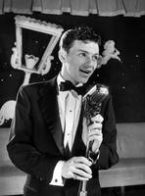 IT WAS MAY 27th … when Frank Sinatra (pictured) made his TV debut as he guested on NBC's "Star-Spangled Review," hosted by another show biz legend, Bob Hope…
When Toronto's CHUM AM 1050 became the first Canadian fulltime top-40 radio station and published its first hit record chart…
When the final episodes of the sitcoms "Mork and Mindy," "Punky Brewster" & "Bosom Buddies" aired on ABC-TV…
..and when Jim & Tammy Bakker appeared on ABC's "Nightline" following their evangelical TV scandal.
ALL the milestones for the date INSIDE.

CBC Radio One is strengthening its grip on #1 all persons. 100.3 the Q is #2, News Talk C-FAX is #3.

C-99 is on top of the heap, with Cool and Rock 102 to follow…

CBC Radio dominates the Winnipeg Market, followed by talk radio CJOB…

Z99 is in the lead, followed by Big Dog, with the Wolf in pursuit…

Real Country, Zed followed by Big 105…

Today's Country in Lethbridge rules the roost

101.3 The River leaps into #1 spot (12+), while Radio One tumbles to 3rd.

CBC Radio One is #1, B100 comes in second, while 98.3 CIFM is third in the Spring 12+ book.

CBC Radio One leads Kelowna's 12+ chart, followed by New Country 100.7 and Power 104.