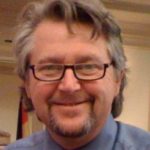 December 17, 2018
Welcome to JJ-365 Salutes. Over 2018 we pay tribute daily to one of "The Good Ones." Today we are shining the light on Ross Winters.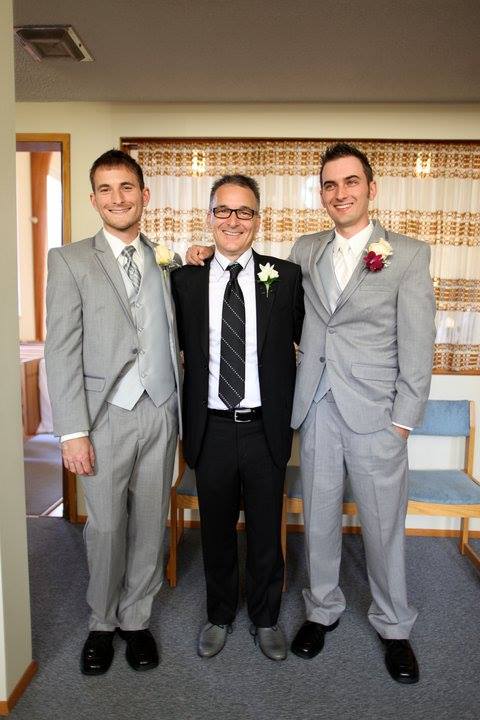 Ross came into Winnipeg just after I got there. You will hear what that was like and let's call his arrival a bit of an anxious time. After he got settled over at CKY we got to know each other and became strong friends. We would work together off and on over the years, in the same company, competing in others and mostly stayed in touch. We would have so much fun and our families spend a lot of fun time together as both our sets of boys were growing up. The vacation weeks on Vancouver Island at Shawnigan Lake on the floating cabin yielded good and very fun, and funny times (…what goes on at Shawnigan….-:).
We used to hose each other good like the time I was over at Ross's and we were listening to CITI. When I slipped out of the room for a bit, he put on Pink Floyd's Dark Side of the Moon CD. I was going on and on about how great that was but it was clear the guy on the air was breaking bad on the format. He finally let me know he hosed me just before I made the call to the control room to find out just what was going on.
Then there was the time when the late and great Gary Russell and I took Ross to Spendido's restaurant in Toronto (still a great place) to celebrate his brand new and first gig as a Program Director at CITI-FM. We had a great meal, replete with a couple of really good bottles of red. Gary and I had hatched a 'Ross initiation' plan where at the same time Gary was going to go to the washroom, I was going outside to take a call, and then we both jumped into a cab and stiffed Ross with the bill. He was none too happy with us, and neither was his boss 365'er Don Kay. We took off like the dicks we were, but knowing that we would be billed back for the money. We would pay for that shenanigan in other ways in the future.
Ross says radio has led him down many interesting paths and he's been lucky to work with some of the best people in the business, both on-air and in programming and management including some legendary radio stations.
Things really got rolling for him in the 80's when he was hired to do evenings at CKDA in Victoria. It was at CKDA that he had the opportunity to be the Music Director when 365'er Daryl Scott (Daryl Holien) left for another market. He got his first taste of programming and was hooked. The studio was in the basement of the Hotel Douglas on Douglas street in Victoria and as MD he continued to do on-air. One evening while on the air he felt a presence behind him, he finished his break and turned around and it was a very young Bryan Adams. He had broken into the station using a credit card (apparently it was real easy to do at the Douglas) and asked if Ross could promote his live gig in Victoria that night. 'You Want it You Got It' had just been released and of course Ross obliged.
From there he was off to 58CKY Winnipeg where he was hired by Vince Cownden but by the time he arrived in Winnipeg to start his job Vince had left to go somewhere else. What??? After towing a U-haul all the way across western Canada from Victoria to Winnipeg and his new boss now gone he wondered if he still had a job. But thankfully he did and on his first night going to the studio to train on the board he went in and met Chuck 'More Memories' Morgan. His first words to him were 'who the hell are you?', and when he explained Chuck said he'd never heard of him so 'get lost!', something he still laughs at today . What a welcome! If you knew Chuck though you knew he was actually a teddy bear of a guy deep down inside and they got along great after that. It was at 58CKY that Ross developed a keen interest for radio on the FM side, and was clearly impressed with CITI FM. The late and great Steve Young was the PD and even though he wasn't working for Steve he welcomed him into the fold. He learned a lot from Steve, who was so smart, kindhearted, and talent focused. And what an outstanding roster of talent at CITI says Ross: "It's where I first met Terry Klassen, JJ Jim Jj Johnston,the late and great Ron Able, and 365'ers Brother Jake Edwards, Andy Frost, Howard Mandshein, and a host of others all very talented with huge futures in front of them. CITI FM was loud and proud and of legendary status. I wanted to work there." And he did!
After three and a half years in Winnipeg they were starting a family and he really wanted to have Vancouver on the birth certificate of his kids so they moved back home with no job. Having formed ties with Chuck McCoy and 365'er Pat Bohn while in Winnipeg, those two had just left Moffat Communications to start their own radio consulting company, McCoy Bohn, in Vancouver. Ross was hired by them on a project basis to do monitors and other side projects and this was a great experience as both Chuck and Pat were and are, two of the smartest programmers in the business and both have incredible track records. But he wanted to work on the air in Vancouver too and had been bugging the late and great Gary Russell at LG73 to hire him, including sending him t-shirts with his face on them. He never did see him wear one. He wanted to be with the legendary LG73 and arriving back in Vancouver Gary offered him part time work and he took it. A few weeks later, the same week his first son Daryl Bennett was born, he got a call from Gary asking if he wanted to be full-time on-air at LG73. That he says was an absolutely miraculous week!
He took it and in the three years that he worked at 1006 Richards and over that time he credits Gary Russell, Brad Phillips, and myself for lots of learning.
One of the great pieces of advice that Gary Russell gave him after asking him what he really wanted to do in the business, to which Ross replied that he wanted his gig some day, was to 'assume the position' which he took to heart. Gary Russell was his first PD at LG73 and after he moved to Winnipeg a year later to be Moffat VP Programming, Brad Phillips became PD at LG73. But just after Gary left and Brad arrived, Ross had an offer to be Program Director (his first PD offer) at CKDA in Victoria where the legendary Chuck Camroux was now GM. Chuck and Ross got along great, so he took the PD gig. One thing he didn't realize until he got there was that there was a lot of politics going on and there was a major rift between Chuck and with the owner. Because Chuck had hired him, Ross now the bad guy in the owner's eyes. Eight days after he started, he was let go. And It was the strangest thing he says: "The owner, Mrs. Armstrong, came into my office and said, 'you better clean out your desk', I said 'there's nothing in it, I haven't even moved in yet' and that was the end of that."
Ross feels that turned out to be the best thing that happened. He called Brad Phillips and asked if he could have my old job back, but Brad was on his honeymoon and not available. Ross asked legendary receptionist 'Aunt Bea' where Brad went on his honeymoon and was told Kelowna. So, he called the Kelowna Chamber of Commerce and asked them for the names of 5 hotels a honeymooning couple might stay at. He found Brad at the third hotel and Brad hired him back. Pheww!
There were a lot of really talented people at LG73 from the late and great and legendary GM Alden Diehl to the LG Morning Zoo featuring 365'ers Dean Hill and Graham Hatch, Kevin Ribble, Mick Lovzit, 365'er Big John Buchannan (John Saboe), and many others.
Two years and now two kids later, second born son Kevin had been added to the family roster, and CFOX was going through some changes. That's when I arrived as new Program Director and almost the first thing I did was ask my friend and co-worker Ross from the Moffat Winnipeg days to be my APD and he jumped at the opportunity! We had huge success and of course a huge heaps of fun. One of the best memories at CFOX for all of us back then was hiring and working with 365'ers Larry Hennessey & Willy Percy. They were so green but we knew what they had in them and that they were just what CFOX needed. Larry & Willy liked to "stunt" in those early days in Vancouver and on one of those stunts Ross accompanied them to go Xmas caroling at homes of unsuspecting famous people with Larry dressed as a Xmas tree. They got to former Canuck great Tiger Williams house, knocked on the door only to have it open a few inches, just enough to have a double barrel shotgun pointed their way. Tiger had been listening to the show and decided to have some fun with them like only Tiger can do. Ross said after they cleaned up it was fun.
I also tasked Ross with reinventing and getting the FOX mascot out there in memorable situations and the next thing you know Mr. FOX is hanging from helicopters buzzing beaches, showing up at the nude beach (Wreck Beach) wearing only the head, hands and feet, bungee jumping etc. We went through a lot of FOX mascots!
I was thrilled working with Ross (as I always am) and we all took every opportunity we could to let the rest of the Moffat group know about the great stuff up and comers were doing, and to be thinking of them for bigger things. We all loved that Moffat was all about promoting from within and Ross's opportunity came a few short years later when CITI FM Winnipeg GM, 365'er Don Kay called and asked if he was interested in coming back to Winnipeg to be Program Director. Don was a great GM especially for first time PDs who were full of piss and vinegar. Both Ross and I were lucky to have him as our first GM when we made the leap to programming. Don was patient and was always a sober second opinion.
While at CITI Moffat's leader, 365'er Jim McLaughlin gave Ross some opportunities to grow as a PD by sending him out of town to do some compliance monitors of competitors. As Ross says and we'd all agree, Jim was an exceptionally smart leader, who understood all aspects of the business and brought in smart partners who helped us succeed.
Ross put together a pretty strong lineup at CITI that included Tom McGouran& Larry Updike, who had been previously let go at KISS across the street. What an opportunity! Ross describes 365'er Tom & Larry as an absolute blast to work with, performers who were willing to do whatever it took to get attention and get ratings. One memorable broadcast was when they promised to put them on a billboard and they happily talked this up on the air until they realized that they meant, an actual billboard with them hanging high above the streets broadcasting their show live on Portage Avenue on a frigid Winnipeg morning. The on-air staff at CITI included Gordo Fry, Shadoe David, and Bryan Cook filling out the prime-time lineup. They had lots of laughs at CITI and that was a big part of their success, having fun and not taking themselves too seriously.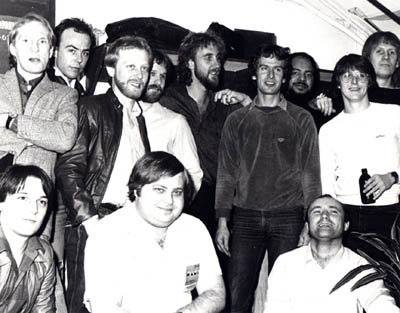 Both Ross and I will never forget a super funny thing that happened at a Joint Communications Radio conference in Atlanta. Ross's flight arrived late because of tornado's, he called me when he got in and in my slumber I gave him my room number and told him to come by in the morning when he was up and about. He went to knock on my door, and then knocked again, and then pounded on it thinking that I was messing with him. Eventually he gave up and went downstairs and a few minutes later I came down and met him for breakfast. Ross wasn't sure what had actually happened and told me the story, that's when we realized I had given him the wrong room number. Ross said there was a lot of noise coming out of that room when he was pounding on the door. Something to the effect of 'F** off' trying to sleep here'. We moved on in conversation until 15 minutes later when Steve Young came shuffling in and sat with us, his hair all disheveled and looking very tired and a little irritated. We asked Steve what was up and he said that his flight didn't get in to Atlanta until 3am and that he was having a great sleep until 'some jerk kept pounding on his door and woke him up'. Ross thinks to this day he was set up but the truth is he wasn't. Of the 1,000 hotel rooms in that place, the wrong room number I gave Ross turned out to be Steve's? Wow! Either way Ross says he waited about a year to tell Steve that he was the 'jerk' and we all had a good laugh, and still chuckle at it.
Ross's desire to get the family back home to Vancouver was always on his mind and after 3.5 years as CITI PD the opportunity came to join WIC's ROCK 101 in Vancouver as PD replacing me as I was heading back to Toronto to work for Gary Slaightt and Standard. Ross spent 10 years as PD at ROCK 101 Vancouver and again was lucky to work with outstanding staff. He salutes GM Rod Gunn who hired him and was very open to doing whatever it took to get to #1.
ROCK 101 was a well put together station when he arrived and the opportunity to help grow it even more was very exciting. And working in New Westminster at the "CKNW" building was a thrill. NW was run by Doug Rutherford (who became a mentor) and then Tom Plasteras and just being in the same building as all of those 'Talk' legends and characters such as Frosty Forest, Bill Good, Rafe Mair and the late and great Neil Macrae to name a few, was a huge learning experience in itself.
Ross will never forget the day Brother Jake called him. It was 1996 and Jake announced that he was moving his family to Vancouver to work on CHAMP animation (Yes Jake is 'The CHAMP') and asked if Ross might have a position for him on the air. "I says pardon!" They had no openings at the time but this was too good to pass up so they created a weekend morning slot for Jake, and Jake named it RAW Radio, Radio Aggressive Weekends. It featured Jake, Oly the Joke guy and Stew Hill formerly of the BC Lions who's on air nick name was Raw Stewage! That show quickly gained ratings traction which was a good thing because their GSM, the late and great John Iacobucci, was about to pull the last remaining hairs out of his head worried about the shows content and the possible adverse affects on advertisers. Well John and everyone else grew to love the show and what it was bringing to the radio station, MORE advertisers. The show was very edgy, nothing like Vancouver had ever heard, and the numbers were growing fast.
So fast forward that 18 months and they decided to put the show on Monday to Friday afternoon drive. Now what a line-up! Mornings featuring 365'ers Bob Saye, Dean Hill & Graham Hatch, Robin Robin LaRose in midday and Brother Jake Show in the afternoon now joined by 365'er Marty Martin Strong and Ben Karlstrom on Twisted Tunes. 15 months later Jake's numbers were so big in afternoon drive that they felt the best slot was breakfast, moved the whole show to 6-10am and added Corrie Miller to the cast. The ratings grew as quickly in mornings as it had in afternoons and weekends. Ross had to deal with a lot of CBSC complaints on that show but he didn't mind because it seemed the more complaints they got the higher the ratings went, and he was ok with that! They also had a great programming team then with both Christian Hall and Steve Parsons as APDs.
Ross does have to mention that consulting ROCK 101 during its rise to #1 was Joint Communications with 365'ers John Parikhal and Chris Kennedy. John he says was not only a brilliant programming mind, but a brilliant marketer and strategist. He was also a great 'management' teacher and became a very good friend and still is today. Ross considers John one of the top influences in his career although there were many.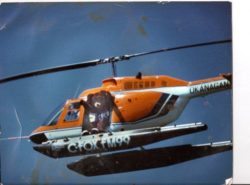 It was an interesting time as WIC had been bought by Shaw, who owned their competitor CFOX, but the whole process took three years to complete. Finally CFOX and AM730 arrived in their building in the early 2000s and they were happy to be on the same team because CFOX was a great radio station lead by Bob Mills and Larry & Willy. What a powerful combo the two stations made. Shaw created a new company called CORUS Entertainment, and hired a new president named John Hayes hailing from the U.S. He was a little intimidating to Ross and all of us at first as the only thing we knew about John was that he'd fired Howard Stern at NBC. John eventually became his boss after he asked Ross to take on the National PD role at CORUS which he did for five years. Ross describes John as "very strategic in his approach and he had a great programming mind, plus he loved the Beatles! How could he not be a great guy. John was an excellent boss and kept everyone thinking."
In 2008 when CORUS decided to close the Radio head office he was asked to take on the role of PD at 102.1 the edge, CFNY, Toronto. Talk about a legendary station, previously programmed by the likes of Alan Cross and 365'er Dave Farough, and he fully realized he was stepping into some really big shoes. And if he thought the CBSC complaints were a big thing at ROCK 101, he hadn't seen nothing yet: "Working with the Dean Blundell Show at the edge was exciting and at the same time probably gave me an ulcer. Ratings were never an issue, the stations target was 18-34 men and thanks to the huge ratings with 365'er Josie Joscelyne Dye in midday, Fearless Fredin PM Drive and legends like Bookie and Greg Beharrell. We were #1 as a station in that demo 20 out of 20 books over 5 years. Fortunately upper management people like Chris Pandoff and even John Cassaday were very supportive of the approach that was keeping the edge on top."
In 2014 Ross started a research company with Cori Corina Death for a short period thanks to 365'er Jeff Vidler who had recommended him to Rick Arnish then President of the Jim Pattison Broadcast Group. Ross ended up doing three research projects with the company which opened up a lot of doors and conversations. When Rick retired in 2015 Rod Schween became President of Radio and Rod offered Ross the dream job, Director of Programming for JPBG living in Vancouver. Those three years have flown by and he feels working for the leadership by Rod and of Jimmy Pattison and Glen Clark and getting to meet with them on a fairly regular basis is a thrill and great learning experience.
Jimmy has countless stories to tell from his many years and many business's and his stories are great business lessons. Radio is still very close to Jimmy's heart as it was the second business after car dealerships that he became involved with, and the first radio station that he ever bought was CJOR in Vancouver, which eventually became 102.7 the PEAK in Vancouver. The group has 47 radio stations all in Western Canada and Ross gets to work with exceptionally talented people including the likes of Jamie Wall, Mark Hunter, Mark Patric, Kurt Leavens and all of the wild and crazy GM's and PD's in the company and on-air talents such as Crash & Mars at NOW Radio, the legendary Ed Bain at the Q in Victoria, Tyler Middleton & Christopher Lynch at PEAK Vancouver and many others.
One recent success Ross is proud to have been a part of was the launch of BEACH Radio Kelowna which in one year went from worst to first in the ratings thanks to the leadership of Karl Johnston and Russell James. He says there are many great stories unfolding even today with this group, too many to tell here. "JPBG is a very special company and if you're looking to be a Programmer in a great company, email me (plug plug). Ratings are good at JPBG too, in the recent Fall Diary release in early December, JPBG had ratings released in 8 markets and in 7 of the 8 we had the #1 station 25-54. In PPM markets NOW! Radio Edmonton just went #1 for the 31st book in a row! JR in Vancouver is #3. Its been a good Fall for ratings in JPBG."
His advice for young talent coming into radio is to: "Be prepared to move around. It may seem a bit intimidating and daunting but the rewards outweigh all of that. You experience different cities, different companies, different cultures, different formats, different leadership and PD's, new friends and of course, great memories. It helps get you well rounded and to develop your own philosophies. That path to where you want to get may be a bit unknown so hold on and enjoy the ride.
The other advice I would give is to continue to educate yourself, whether its by taking on-line courses (from Second City is what I've done) or the Masterclass series or getting a degree or whatever, keep learning. Learn as much as you can about the business and develop your own board of directors of smart people that can help guide your career. It's how you grow and stay plugged in and on your game!"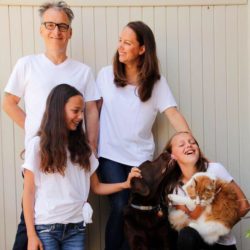 Ross sums up: "Along the way new special people became apart of my life that being Elena Cherry and her two daughters Kierra & D'Arcy, both teenagers. Teenage girls are very different than teenage boys, who'd have thought? And my boys are knocking it out of the park with their own careers. I'm proud of them and pretty lucky to have such great sons and now the girls in my life.
There are many things in life to be happy about, for me including radio, but mostly the characters in it have been what has made radio such a rewarding career. Every day I wake up and can't wait to get to the office, is that sick or what! And I feel like I've only just begun."
Ross is super smart, very hard worker, focused, determined, creative, fun, strategic, talented and a very good coach. I am sure JPBG knows they have a good one on their hands. He's a top pro and surrounds himself with those that are going to make a difference. We were virtually teenagers when we met and here we both are still going strong. Keep making a difference Ross. Atta be pal.
Thank you, Ross Winters for being one of "The Good Ones". Feel free to like and share Ross's positive story. Who is the subject of tomorrow's JJ-365 Salutes? As they say, stay tuned.
Jim JJ Johnston is the CEO, President and Chief Programming/Talent/Content Coach for JJIMS INC. and works with talent in many different industries worldwide.