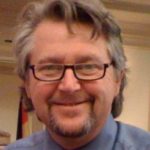 December 31, 2018
Welcome to JJ-365 Salutes. Over 2018 we have paid tribute daily to one of "The Good Ones." Today on our SECOND LAST 365'er of the 2018 series, we are shining the light on Terry Reid Hubbard.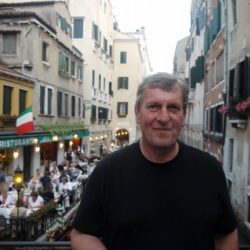 "Big voice, big talent, big heart."
I certainly knew about Terry over the years and had great respect for him, his talent and success. It wasn't till my second time through leading CORUS Vancouver that we had any kind of conversation. He has always been known as a complete and down to earth gent and that of course, is truth. He has been a lot of great places and done a lot of huge things and I love talking radio with him. We were not head-on competitors and a good thing because each time the ratings results would come out the one thing I always knew ahead of time was that he and the also very talented Tara McGuire would bring the ratings home for their organization. And they did, virtually every time. I and many have looked up to people like Terry over the years who have been successful and have reached those plateaus through a tough business without anybody saying anything but good things about them!
By the time he was in Grade 10 he realized he was wasting his teachers time as well as his own with the basic academic curriculum. He always knew he wanted to be in Radio so after two more years and graduation, he attended a Broadcast /Journalism College in Toronto, the kind of place which required a uniform to attend classes in Grey Slacks, White shirt, Tie and of Course THE BLUE BLAZER . A month later, he was hauled into the administrator's office and told in no uncertain Terms that his wearing of Blue Jeans with the rest of the UNIFORM, was a break in College Rules, which he must adhere too! Later that afternoon, after a short discussion with the rest of the students, the next morning they all showed up wearing Blue Jeans. They thought the administrator was going to have a heart attack, but they won, and Blue Jeans became a part of the NEW Uniform. That he says was the start and nearly the End of his Broadcast career.
After Graduation in 1968 he sent out dozens of audition tapes, most of the replies (and there were few) suggested he choose another Career, possibly ROAD MAINTENANCE etc. He did have one positive reply though from a gent named Paul Ski (start of a long relationship) who had some helpful hints and urged him to persevere.
So, in January 1969, there was on a Greyhound Bus Bound for Blind River Ontario. The station was part of a small chain of stations: Sault Ste Marie, CKCY, Blind River and Elliot Lake, CJNR /CKNR. The staff were great and welcoming and there he got to do everything. He was on air playing the tunes, reading the local news, selling airtime to clients, and for HUGE money! Okay $50.00 a week, for a 65-hour work week. Says Terry: "WOW did they see me coming …My Parents Basically kept me alive with CARE Packages of Kraft Dinner, Canned Tuna and twenty bucks every month!! But it was sooooo worth the year I spent there. I mean what a chance to learn how radio worked. I strongly suggest that any new broadcasters to find a small station and emerge yourself in this wonderful Business !!"
From there he was then on to Sault Ste Marie for a two-year stint, now working for the princely sum of $65.00 a week and again doing everything in the building that he could learn from. All this time he continued to send out those air check tapes hoping to move on up!
Then another call from Paul Ski, this time for a meeting in Toronto, to discuss an evening position at CFRA in Ottawa. That was a monster station and he was so excited, he and his wife drove through a massive snow storm from Sault Ste. Marie to Toronto. He couldn't believe his luck when he got the gig. He was astonished at the size of the Station and staff. CFRA, a CHUM company station, was a Monster #1 in every Demo, and featured great talent, like our 365'er friend Tom Jeffries. Tom and Terry worked together for a couple of years, with Paul Ski as their incredible Program Director.
More great things came his way soon: "The day my son was born, Paul called me and said take the day off but, come and see me tomorrow at noon. Of course, I hadn't slept in 30 hours with the birth of our Son, so I thought, OH CRAP, maybe I am getting fired. Just great…New Baby, Middle of winter, and now Maybe no JOB. Instead Paul said that Bob Wood, Yes THAT J. ROBERT BOB WOOD, and he had talked, and that there was a position open at THE MOTHER SHIP 1050 CHUM in Toronto. That of course was one of the many stations I listened to growing up in southern Ontario, when I should have been studying for school. I think I fainted, I was GOB Smacked!! Dreams do Come True! New Baby Boy, and a gig at Canada's Number Music Station 1050 CHUM!!"
He remembers almost hyper ventilating and terrified every time he walked into the Studio for the first two weeks. He feels so blessed to have worked with so much talent like Jungle Jay Nelson, Terry Steele, Tom Rivers, Scott Carpenter, Jim Van Horn, Mike Michael Cooper, (Occasional visits from Wolf Man Jack) and 365'er Roger Ashby. On the FM side there were 365'ers Don Shafer and Rick Ringer. Then there was the newsroom with the likes of Dick Smyth, Mark Daily, and Mike Cleaver. Terry recalls: "And to see Mr. Alan Waters coming down those stairs in his cardigan sweater was amazing. Also, I must say it is an honor having J. ROBERT WOOD AS A MENTOR, and that I still call him a friend. Bob has been there for me many times in my life."
Next was up was a call from Vancouver's CKLG which was part of the Moffatt Group. Terry and his wife felt like they needed to see some more of the Country and were bound for the West Coast! They told their families it would only be two or three years and they'd be back to Ontario. That turned into 35 years which is easy to do when you live and love the west coast life as we all do.
CKLG (LG73) was huge and battling it out with 14 CFUN for Number One at the time. Again, he was working with terrific talent like the late and great Gary Russell (Another Mentor and friend) who became the Program Director. The GM legends Alden Diehl and Vern Trail (one I two L's) were there on his watch. Terry and wife Sue's initial meeting with Vern was at his Christmas party was classic Cowboy material. This one was Vern and his accomplice Glenn Chalmers: Vern slipped his false eye into her drink and Chalmers stirred her glass with his missing digit. She promptly said: "I think I will have a glass of wine instead!"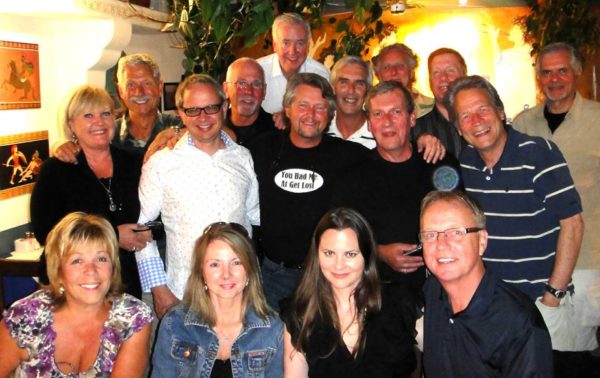 Also in the the talent laden 1006 Richards Doc Harris, Don Stevens, Gord Robson, Dan Williamson, Ralph Raccoon Carney, Dave Mitchell, Merv Connally, Humble Howard Glassman, Rita Woodman, Samantha Howe (Scott), Calvin Jay Walker, Casey White, Terry David TD Mulligan, Al Murdoch, and 365'ers Sterling Stirling Faux, Roy Hennessy, and Gerry Gerry O'Day. In News it was Stu Mcallister, Jack Marion, Kerry Marshall (Kerry Holley), Phil Johnson, Bruce Williams, and 365'er Graham Hatch. In Sales it was 365'er Glenn Chalmers, Gord Forbes and even a very young Gary Slaight at one time. The all had great fun, became #1 and Terry loved his ten years there.
By the late 70's FM was really growing, and it was time to make the Jump from AM.
365'er Marty Forbes, another Mentor, and long-time great friend, called and they worked together at CJAZ during the flip to 97KISS FM. Tom Peacock was the GM at the time as they moved from Burrard Street to The New State of the Art Building at 8th and Ash Vancouver. More changes saw Marty Forbes moving onto CHUM Toronto and ROGERS Broadcasting buying KISS FM. The late and great Gary Miles became the GM and 365'er Chuck McCoy was the PD. Terry was doing Afternoon Drive, and then got the call to do the much-coveted Morning Drive show with Co Host Marianne Jerome. Then a big change for him as ROGERS hired the legendary Fred and Cathy, for 97 Kiss Mornings.
Where's Paul Ski when you need him? Right there of course! Paul was now the GM at CFUN and QMFM who offered up the Morning Show at the then NEW QMFM. They called Marianne, and she came back from Phoenix, and started off but shortly after had to return to Calgary for Family reasons. Says Terry "My buddy Tara McGuire, stepped up, and we shared 17 years together hosting Mornings on QMFM."
Terry moved on after that and continues to do top level voicework around the world. He is quite the 'family first' man and is currently care-giving for his Mom, Sister and Brother in law in Ontario.
As for career advice? "Although there is a downsizing in our Broadcasting business, if this is the Profession you want, Really want … FOLLOW YOUR PASSION, you will be rewarded and fulfilled beyond your Dreams."
I remember our pal Gary Russel, when I asked him who should people in the industry strive to be and look up to, he said 'Terry Reid', and he was right.
I will finish the way I started: "Big voice, big talent, big heart." Well done Terry. Atta be pal!
Thank you, Terry Reid-Hubbard on being one of "The Good Ones". Feel free to like and share Terry's positive story.
Who is the subject of tomorrow's FINAL JJ-365 Salute? Let's just say we'll be making a landing on Mars!
Jim JJ Johnston is the CEO, President and Chief Programmer/Talent/Content Coach for JJIMS INC. and works with talent in many different industries worldwide.