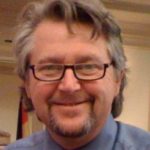 December 26, 2018
Welcome to JJ-365 Salutes. Over 2018 we pay tribute daily to one of "The Good Ones." Today we are shining the light on Danny Kingsbury.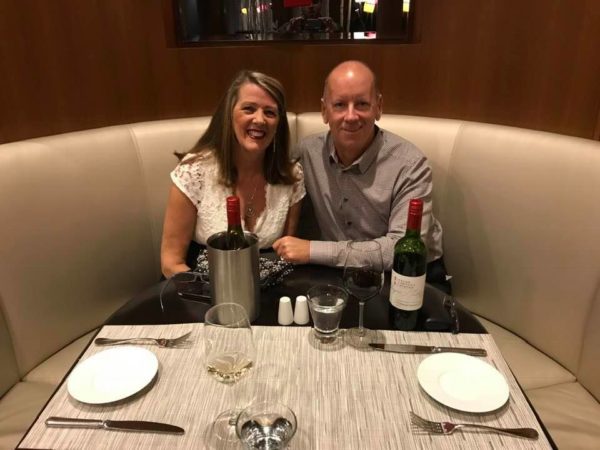 I have a bunch of friends that are born around Christmas day. They all have one thing in common, they feel like throughout their lives they have been ripped off on their birthday because of being born so close to the big day. Let's make Danny's 60th birthday today a special one.
I first ran into Danny when he came to the helm of CITI-FM in Winnipeg. I was 28 and he was 25, pretty young to be put in the big chair. It was a crazy time and the start of a long-time friendship. I was looking to get into programming and Danny saw fit to make me an assistant and things took off from there for me.
We had lots of fun with our families and friends like 365'er T Truck Tim Bradley, an avid fisherman who would take us out for weekend fishing trips where tons of fish were caught, and no fun was had. Okay maybe a little, ok, how about a lot alot.
Danny came out of Moffat Edmonton which was shenanigan central. A little fuzzy but I believe he was one of the guys behind this one: while Roy Hennessy was vacation in Hawaii, they had a replica of Roy's Riviera crushed and craned onto his parking spot, and plugged in. That is what Roy saw when he took a cab from the airport over to get his car. Classic!
Those two, along with 365'er Jeff Lumby and Dean Dacko got me good once. They filled every inch of my car with straw and presented it to me at my going away to CHAM Country party. Till the day I traded that car in there was a piece of straw inside the odometer. I have no idea how that happened.
Like the majority of the 365er's before him, Danny listened to AM radio growing up and was inspired. He was lucky enough to live in Edmonton in the 60's and 70's and hear 630 CHED, one of the best stations in North America. He grew up in a large family and the love of music started with his Mom, who would buy albums by mail order in the Columbia Record Club and always had the radio playing in the kitchen. He heard it all and loved it all. From Elvis to the British invasion to Frankie Valli, Roy Orbison to Motown's Supremes and Smokey Robinson, he loved to see what music did to everyone's moods, invariably making people happier.
Having an older brother and sister who also loved music, but were more Rock inclined, he was exposed to The Beatles, Stones, Led Zeppelin, CSNY, Hendrix, The Doors and all the legends, all straight out of the shrink-wrapped LP's.
Folk music was part of the repertoire as well from Simon and Garfunkel, Joni Mitchell, Cat Stevens, and Bob Dylan. Suffice to say, from a young age music was and is a most powerful influence on Danny.
If you've ever socialized with Danny you know he still proudly plays the hits for his guests on his mammoth stereo and speakers and can take requests, rarely getting stumped.
It should be no surprise then that he got into radio as a profession, but he says like a few others in broadcasting, it was passion and good fortune versus hard work. He got lucky he says: "My first job in January 1978, was overnights on 1080 CKSA Lloydminster Alberta, the border City. I was the best of friends with Bruce Hammond (who later became 'Jungle' Jay Hamilton). While working in the restaurant business, Bruce subscribed to and then loosely taught me the Columbia Broadcasting School radio correspondence course. You can't make this up. My first audition tape was made on a Sanyo cassette player with a condenser mic on my home stereo in my parent's basement. I dropped the needle on select records to simulate playing the song intros. What I would give to find that tape now. 'Rough', it would be guaranteed to be."
It did the job though and with Bruce's recommendation, he was working at CKSA.
Danny had been a cook before radio and learned from some excellent chefs. He was running a kitchen at a restaurant in Edmonton making $800 a month and had a company vehicle, when he decided to get into radio. His Dad wasn't impressed and said, 'what are you going to do, wake up at 5am and play records for kids?' Danny replied, 'with any luck'. That changed though: "I know my Dad was very proud of my radio career before he passed in 1999".
He also remembers Ken Ruptash welcoming him to CKSA by saying, "we just turned down 2 other guys with experience for this job, so you better work out". Call the 'old school' employee motivation. It was a Dream come true part 1.
Danny met two other announcers at CKSA on his first day, Jeff Lumby and Dan Guebert. (Dan Duran). He knew they'd be long time companions after he caught pneumonia by sleeping in a non heated farm house for a few nights in -30 and Jeff and Dan helped him keep his spirits high while convalescing in hospital. Those two, along with others would have some kinda fun for 6 months in Lloyd. Making $110 a week meant you had to economize. They spent a lot of time at the IGA across the street and splurged at the Husky House on Highway 16. "It's funny how I can't remember what I did last week but will never forget every day in Lloydminster all those years ago".
In September that same year, Danny got a call from 365'er Pat Bohn at 800 CHAB in Moose Jaw. Call it Dream come true part 2.
As mentioned many times in the 365 salute series, CHAB was a Moffat station and basically a training ground for their bigger properties. Jocks would work at CHAB and learn the Moffat way and then earn a transfer to one of their bigger markets, which were all similarly formatted. The announcers coming out of Moose Jaw would transition easily to bigger markets. Very progressive for back then. It was in Moose Jaw where Danny met Howard Glassman, (and yes, he was Humble Howard back then too…Saskatchewan's Most Humble Disc Jockey). Howard became the 4th. It was now Howard, Jeff, Dan, and Danny and although they never all worked at the same station at once, they would all go on to other cities and opportunities over the next 40 years and are still best friends today.
After a year in Moose Jaw, the call came from 365'er Chuck McCoy at 630 CHED with an offer to go to Edmonton. Dream come true Part 3.
Danny said he couldn't believe he would get a job at the station he grew up listening to and had influenced him completely to provide the motivation for him getting into radio in the first place.
Sometimes reality doesn't meet the expectations he says, but when Danny got to CHED his expectations were exceeded to the point his head was in the clouds for many months. Chuck soon left as he was promoted to Moffat National Program Director and moved to Winnipeg, but as fate would have it, 365'er 'The Real Roy', Roy Hennessy became the Program Director and once again, Danny felt lucky to make that team. The on-air line up was insane. As was management. Danny feels privileged to have worked for a good spell at CHED when Jerry Forbes was President and GM. Jerry, father of 365'ers Ger Forbsie Gerry Forbes and Marty Forbes, was an absolute legend in Edmonton. He was a creative genius and people leader and community builder. Among the astounding amount of community initiatives he started is Santa's Anonymous, which is still huge today in making sure less fortunate kids be blessed by Christmas too.
When Jerry retired, in came The 'Cowboy', Vern Traill as GM. Danny says: "You can't even image the stuff those guys did as a leadership team. Surreal doesn't accurately describe compared to today. From dry walling offices closed as a gag, to giving away houses and the Incredible Prize catalogues. It was major market!!!! And although I started at CHED downtown on 107st, they all moved to the South Side into a mansion of a building. Oak paneling in the offices adorned the fireplaces and decks and racquetball court and tennis court."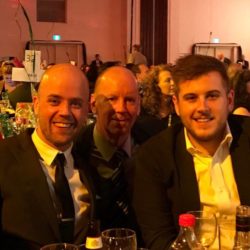 Danny also remembers the incredible station talent line up (on and off the air): Wes Montgomery, Bob Layton, CR Nicols, Eddie Keen, Stan Ravendahl, Randy Kilburn, Bruce Bowie, Brad Phillips, Rob Christie, Keith James Jr., Barry Wall, Laurie Lancaster, Penny Craig, Grant Wiens, Randy Broadhead, Jeff Rechner, and Jay Hamilton. In the programming category, there was Daryl Hooke, Ben Levant, Kathy Salloum, Larry Semkew, Audie Lynds, Barry Allen, Tom Davies and so many others. To be at CHED during that time he says was like winning the lottery.
Roy Hennessy was so much fun to work for, but as fate would have it, he was promoted to GM in Winnipeg and Pat Bohn became the new PD at CHED. "Pat taught me so much in Moose Jaw and in Edmonton. I owe him and Chuck and Roy so much. Everyone I worked for at Moffat was so supportive of me and helped me move my career forward. I didn't even realize how lucky I was at the time, but I will never forget those days at CHED".
In 1985, Roy Hennessy offered Danny his first Program Director job at 92.1 CITI FM in Winnipeg. It was a much different station than 630 CHED: "Roy was so good to us in Winnipeg and I'll never forget all the amazing things he did for the staff and for me personally. In radio, you keep meeting new people and characters and friends and that's where I started working with JJ, immediately making him the APD of CITI. Our families had a lot of fun socialising and JJ and I remain great friends to this day….for a guy."
That was the start of my Programming career, so thank you again Danny.
So what was it like getting started as the PD of CITI?: "I made so many mistakes in those first few years. Trying to widen the appeal of a heritage flame throwin' rock station might have looked good on paper back then, and in the short term it was really successful, until competition came in and took away our rock position. Luckily, and this is a good lesson about heritage stations, you can recover and get back to your knitting and regain that audience with the right moves. Like fix the music and bring 365'er Lamont Hollywood (Tod Fryfogle) across the street to do PM Drive………boom. Audiences cheer for heritage stations and CITI has been that station in Winnipeg now for the past 40 years and I am proud to be associated with the station as part of my role as ROGERS National Format Director for Rock Radio. Winnipeg was a great 4-year experience for me and was like going to CRTC University."
Roy ended up leaving Winnipeg for Calgary and the new GM and Danny didn't really gel and he was out: "It happens. But it was terrifying. In 1989 I was without a gig for the first time in my life with a wife and 2 kids under 5 to take care of and wondered what was next. Plus, it was February and -30."
Danny wasn't on the beach long as he was soon offered the PD position at another legendary station, 102.1 CFNY in Toronto. He says it too, was not like anything he'd ever experienced. "Thanks to Jim Fonger and Bill Hutton and Doug Pringle it was a fantastic, take lots of chances and see what happens during the sale from Selkirk to MacLean Hunter journey. What a ride."
He was very proud of teaming his old buddy Humble Howard and Fred Patterson together in the morning as one of the many accomplishments while there. That pair turned out to be great of course. He says he had the privilege of working with Chris Sheppard, Alan Cross, and 365'ers Maie Pauts, Scot Turner, Phil Evans, and Darren Wasylyk. "CFNY was crazy in 1989. It was like the tribes in Survivor. One tribe wanted to broaden its appeal……to compete more against CHUM FM, CFTR (is that a theme with me?) and the in-coming tribe wanted to take it back to 'the spirit of radio', mostly to get the deal approved. Both were right, but it was challenging to navigate down that river. At the final tribal council, the mainstreamers were voted off the island."
After the sale in 1990, 365'er Don Shafer called and suggested Danny call a guy named Don Luzzi in Hamilton. "I wasn't sure about Hamilton as a next stop, but it turned out to be one of the best moves of my career". It was a beautiful facility and WIC were deep pocketed owners. He ended up being PD for 95.3 CKDS, and later the historic AM 900 too. It was a machine featuring a large staff with lots of experience and talent. Bob Bratina, Bob Hooper, Daryl Hartwick, Roy Green, John Hardy, Bill Kelly and about a dozen others on the one station.
AC station CKDS, soon became Classic Rock Y-95 in August of 1991. Danny's friend Jeff Lumby and Todd Lewis, Lori Love, Tedd Colbear and Al Craig, Jeremy Smith, Scott Thompson, Neil Hedley, Rockin' Rod and Mike Richards were on-air. Says Danny, "That team had a 25th Anniversary Party at Lumby's Farm in 2016…..it was so great to see everyone. No question, Y-95 was a Rocket ship…….by the end of its first year, it had a full coverage cume (circulation) of over 475,000. It was the third largest Rock station in Canada behind Q and CHOM. Not bad for Steeltown. Darren Wasylyk was promotion director extraordinaire, Les Palango as well, Leigh Luzzi in music (she was the best) and Dan Murphy in Production…….so many great people. It was fantastic!!!!!!"
As we all well know, in radio if you aren't successful, you may have to prepare for a move. The same is true when you hit it out of the park and that was the case for Danny, after his GM also took over the WIC properties of Q-107 and AM 640. It really was one of, if not the first multi market leadership moves. It's common now but not in 1992.
Danny became VP Programming of both Q and Y95 for a few months and then refocused on Q and 640 exclusively. "Working with the late and great Scruff Connors, John FK Gallagher, Jeff Chalmers, Jimi James, Joey Vendetta, Steve Warden, Bill Carroll, Dave David S Trafford, Marsha Lederman, Karen Horsman, Shelley Klinck, Sue Johanssen, and 365'ers Donna Saker, Shirley McQueen, Andy Frost, Jesse Dylan and Gene Valaitis, Brother Jake Edwards, Tarzan Dan Freeman, and many others was a real privilege."
Danny spent 4 years at Q and 640 and there were some big wins one of them getting the radio rights for the Leafs. The experiment was putting the play by play on Q which after the first season the broadcasts were transferred to 640 as part of their re-branding to NEWS/TALK/SPORTS. "It was great to work with Joe Bowen too". There were some challenges along the way for sure. Once again, ownership change was imminent as WIC was selling to SHAW (which would become CORUS).
In the fall of 1996, Danny was offered a chance to join Rawlco's CISS 92.5 Country in Toronto, a stand alone, privately owned company. He felt that although it was very difficult to leave WIC, it was a good time to start something new and the chance to work with Doug Pringle, the brothers Rawlinson and 365'er Sharon Taylor and was too good to pass up. It was there he worked with Larry Fedoruk along with Dan Williamson, Kris James, Al Campagnola, Greg Stevens, Chris Pottage, and 365'ers Janet Trecarten, Cliff Dumas, Jacquie Donaldson and maybe surprising to some he says, Julie Adam, who was the MD at CMT and became APD at CISS. Julie of course is now SVP for ROGERS Radio. A good example to be nice to everyone as you never know who you'll be working for in the future. "CISS Country was so much fun…….we were the David's in Toronto, but it was so nice to have the passion of Rawlco behind us. I loved my time with them."
Consolidation rules changed in 1998 and soon there was a flurry of acquisitions across the land. In early 1999, ROGERS purchased CISS FM from Rawlco and also bought CHEZ Inc. from 365'er Harvey Glatt in Ottawa and Smiths Falls. Rogers flipped CISS Country to CHR. Says Danny, "That was a crazy few days, and the legend of how it happened with the staff, like all legends has some truth and some fantasy."
Needless to say, he was out again and spent a few months on his own consulting with Paul Larche in Midland, and 365'er Ross Kentner in Owen Sound and in the FM96/CFPL/Hawk building in London while they were still Blackburn but sold to CORUS. He met and worked with some great folks there like Rick Moss and 365'ers Kent Guy and Griff Henderson.
Enter 365'er Chuck McCoy again. He called Danny out of the blue and offered him the chance to be the GM/PD of the newly acquired by Rogers, CHEZ 106 in Ottawa, working for Scott Parsons. "We moved in 1999 and with the exception of a couple stops in Halifax and Kingston within the same group, we've been here ever since".
Danny had been the cluster VP/GM for Ottawa, Halifax and Kingston markets until 2016, when he became National Format Director for ROCK Radio at ROGERS, which is where he is today. "I can't believe how lucky I am…….? Thanks to the large group of great people I've worked with. Doc Halen, Randall Moore, Woody Theale, Don Diego, Connie Consuelo Bernardi, Brian Scott, Jacki Navratil, Steve Colwill, Dave Schutte, Robert W. Knight, Nida Drake, Nancy Stapleton, Bob Derro, Doug Anderson, Mauler and Rush, Robin Haggar, Robin Harper, Cosmo Grant, Carter Carter D Brown, 365'ers Mark Papousek and Sandra Plagakis and so many others. It's risky doing a list, but I hope I'm forgiven for missing any (and I know I have) …….love you all."
Danny sums up: "What a ride it's been. And I've had the time of my life. Thanks to my mentors and influencers, without question Jerry Forbes, Jim Fonger, Bill Hutton, Doug Pringle, Don Luzzi, Gord and Doug Rawlinson, Scott Parsons, Sandy Sanderson, Gary Miles, Tony Viner and 365'ers Roy Hennessy, Pat Bohn, and Chuck McCoy, helped me in the last 4 decades.
For the next decade……….I couldn't be happier being part of the current team I'm on at ROGERS with Julie Adam, Paul Kaye, Peter McKeown, Wendy Duff, Scott Metcalf, Dave Cadeau and many others. My parting advice? Stay humble, have empathy and most importantly, be grateful."
Danny's never been afraid of the work and he learned a lot over the years to become quite a leader. I see him at the conferences and seeing him work the crowd I know he loves it as much today as he did in his humble beginnings in 'the Lloyd'.
He's smart, talented, friendly, creative, disciplined and has boundless energy which I am sure is a nice result from his strict workout routines.
Danny is also a consummate family man. He and his wife Dawn are a true love story and I get a kick out of following those two seemingly teenagers on line.
Their boys have grown up to be very successful too with Adam Kingsburywho is a clinical psychologist working with high level teams on mental performance enhancement, analytics, organization, and performance planning. He is a co-founder of Marble Labs, the parent corporation. He most recently has been the coach of the Canadian Women's Olympic Curling team.
Brady Kingsbury has followed in his dad's footsteps and is a very successful having been on air and Programming JACK-FM in London and is now doing double duty, programming and mornings with Tara (Brady & Tara) on CHYM 96.7 Kitchener.
Nice work Danny. Well done and Happy Birthday pal!
Thank you, Danny Kingsbury being one of "The Good Ones". Feel free to like and share Danny's positive story. Who is the subject of tomorrow's JJ-365 Salutes? As they say, stay tuned.
Jim JJ Johnston is the CEO, President and Chief Programmer/Talent/Content Coach for JJIMS INC. and works with talent in many different industries worldwide.