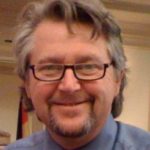 August 30, 2018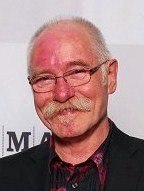 Welcome to JJ-365 Salutes. Over 2018, we pay tribute daily to one of "The Good Ones". Today we are shining the light on Tom Tompkins.
On this day awhile back, a young man was born, a bouncing baby with a full mustache! Very unusual they said. Okay I josh, but today we are saluting a true radio legend, who still sports the best 'stache in radio industry!
I had heard about Tommy from lots of people who affectionately told stories about him and respected this unique dude. We met in and around radio/music conferences and events and I always looked forward to seeing his natural and limitless energy come bounding down the halls in his cowboy boots. When I was new to programming he was respectful of this young guy who really didn't know much at the time. I was in awe of him.
Tommy talks about how he got into the radio business: "I guess the best part was how I started in the biz. It's a good story so I'll keep it as short as possible. I was taking Radio and TV at SAIT in Calgary. The course was brand new. There was only one year before our class. After my first year I got busted for drugs. Hey, it was the 60's…what can I say. The local top 40 station in Calgary, which of course was CKXL, came to the school and wanted the top radio student. Somehow my name came up and they wanted me to come and work at the station. Only problem was, I was in jail. I was finishing my second year on day parole. That meant I would go to school in the day, and back to jail at night. To make a long story short, they applied for parole for me and I got out on parole and started at the station. I began by listening to the answering machine, compiling requests and copywriting. That's how I got in. I got fired after a year because of my big mouth, moved to Vancouver, tried to get on at CKLG-FM but simply didn't have the experience."
All he wanted to do was have his own album rock show on FM. That was his dream. After almost 2 years later he moved back to Calgary and says "believe it or not, XL rehired me as a copywriter (with Marty Forbes and Mike Thomas)."
They soon put Tom on the air because he told them that he knew album rock and he would talk about the artists and the tunes. It began as the '11th Hour', then morphed into 'Tompkins Park' and later into the 'Nine to Midnight Special'. This was a groundbreaking show as there were few FM rockers in the country then (CRTC regs at the time made it tough to do) and none in Calgary. Tom worked hard at it and became famous for being 'the rock guy' in Calgary.
After a few years they made him music director. His Program Directors through his seven years there were the late Bob Robertson, 'Gentleman' Jim Jackson and 365'er Keith James.
Then McLean Hunter got awarded an FM license and they hired Tom and Ross Davies to put it together. It became CJAY 92. Ross would program and Tom would do music and the afternoon show which for him was a dream come true. After a year Ross left and Tom got his first Programming gig. 365'er Dean Hill, who you know, was their evening guy. It was there that they won the Lloyd E. Moffat award for 'FM Station of the Year' from the CAB for their support of local talent. It was a series of live concerts, taped, called Home Cookin'. Because Tom grew up knowing the local bands in Calgary he said it was pretty easy to put together. He was always the guy who hung out at the clubs and the live music events. After all it was his love of music that got him interested in radio to begin with.
He says after about 5 years: "CJAY fired me, again for having a big mouth and I got hired at KIK 107, also in Calgary. From there I went to CJAX-FM in Edmonton to replace Marty Forbes who had left to put CJAZ-FM on the air in Vancouver. It was my first job in the country format which shocked a lot of people. From hippie to hillbilly they would say. But I looked forward to learning a new format and a new audience. I was totally into programming at that time. I felt that was the route to go if I wanted to be successful because I was such a shitty jock." (not true!)
After a year in Edmonton, he got offered the operations manager gig at CKRY-FM in Calgary. It was a fairly new station and not doing as well as expected. He felt that if you can't have a successful Country FM in Calgary you shouldn't be programming radio so naturally he took the gig. He was there for about 5 years with General Manager Rick Meaney and it became a great success.
That's when Don Shafer called and offered him the ops gig at CFGM in Toronto. He took over from Greg Slaight, Gary's brother. A short while later they changed the format and it became 'The HOG'. Shafe offered him other things but none of them really excited him. He told him he wanted to stay in country to see where it would lead him as he loved it.
It was shortly after that Gord Rawlinson hired him to help them put together CISS-FM, a new country station in Toronto. It was the most successful launch of any new radio station in Canadian history. There were some very talented people who put that station together. He says he learned a lot from all of them especially Doug Pringle.
It was when he was at CFGM that Dave Charles contacted him and asked it he had any interest in getting involved in the Canadian Country Music Association (CCMA). Dave, a very successful consultant (with Joint Communications at the time), was on the board then and asked Tom to sit in at a board meeting. He got elected to the board, sat as a member for 15 years, and became the president for 7 years. With the help of Sheila Hamilton and some excellent board members along the way, they made the CCMA into an organization to be noticed and created an awards show that was and still is comparable to any.
Along the way he worked with Shafe again at the Pelmorex Radio Network as Operations Manager and programming 5 different formats. He also consulted the Pelmorex owned radio stations throughout Ontario.
Then one day the owner of Pelmorex called him into his office and said that if Tom were to put a good financial team together he would sell it to him at a very good deal. That's when he approached the Real Roy Hennessy, because he new he had an entrepreneurial mind having recently tried to purchase CHAM in Hamilton. He agreed to go after it and put together the finances to purchase the network and it became Medianet Communications. Tom was VP and General Manager. Due to unforeseen technological advancements and the amalgamation of radio stations across the country, the network folded.
Amidst all of this ("it seems like such a blur now" he says), it was while they were about to launch CISS in Toronto, that Gary Slaight got hold of him and hired both Tom and the late John Marten, who had been programming MUCH Music, to put together the programming side of an application for a new national country television license that was going to be based out of Calgary. It was definitely one of the highlights of Tom's career and would have been another dream come true but unfortunately they were unsuccessful. Ironically the Rawlinsons were the successful applicants. It was natural that John Marten and Tom became very good friends because they both loved beer and broadcasting. "I miss his brilliance" Tom says.
Throughout the years Tom did a number of things with Gary Slaight including consulting work and garnering industry support for his many new FM applications. Eventually he put Tom into CHAM in Hamilton to program and then hired him back to Toronto to work with Iceberg, an internet music service. He programmed the music for 2 country formats, traditional and contemporary, adult contemporary and light jazz.
Tom knew he was coming to the end of his career and was offered a job back out west to be the operations manager for Vista Radio in the Cariboo of BC. They had stations in Quesnel, Williams Lake and One Hundred Mile House. After a few years there he left radio and that was it.
He retired for about 3 months and couldn't stand it. He was bored to death. A friend said "why don't you go get a job at Walmart for something to do". They both laughed. But Tom thought about it and applied one morning. They called him in for an interview that afternoon and he was hired the next day to work in their electronics department. All he wanted was 10-12 hours a week and now he manages their backroom!
Today he also has a business partner who is also an ex broadcaster, Gene Daniel, and together they do concerts in Quesnel and Williams Lake. He loves it because it keeps him involved in music which is why he got into broadcasting in the first place.
I have consulted country format stations over many years and worked hands-on Programming Country at CHAM. I was surprised back then to be in the running for Country Program Director of the Year from The Record Mgazine (morphed into Neill Dixon's 'Canadian Music Week') and while hoping to win, for years it was Tommy who kept taking home the hardware. I was happy for him because I had so much respect for him.
This icon in the business went on to win Country Music Person of the Year from the CCMA three times, was gifted a JUNO Award as the manager of Tracey Prescott & Lonesome Daddy who won for Country Group of the Year and best of all, was rightfully inducted into the Canadian Country Music Hall of Fame in 2010 in the Builder Category.
Tom sums up:
" The people who I have admired the most throughout my career, and there were many, but the ones that stand out the most are Gary Slaight, Doug Pringle, Dave Charles, Marty Forbes, John Marten, Roy Hennessey, Jim Jackson, Pierre Morrissette, Jaye Albright, Big Jim Brady, Herm Harrison, Bill Powers, Ralph Klein, Harris Dvorkin, Rick Meaney, Don Shafer, Tracey Brown, Randall Prescott, 365'ers Keith James and Gary Gary Aubé, and every jock that I had the pleasure to work with and listen to.
My advice to young broadcasters….I have lots of advice but I have found 2 things to be very true….do not burn bridges. It's too small of a business. And the best advice…if you don't love what you do get out. It's not a job….it's what you do. You're not gonna get rich so you better love what you do.
And just a thought in finishing off here…the Moffat days were the most fun I ever had in broadcasting. It was such a unique company. We worked hard and we played hard. There were so many talented people who worked for Moffatt it was almost mind boggling when you think back. It was 'true' personality radio. And extremely creative. I loved it. Amen."
Tom is not the kind of guy who goes around talking about himself, so I am happy to beep the horn for him. He is a Canadian broadcasting pioneer, who created lots of great radio in his time, and had a big hand in identifying and developing a lot of this country's radio and music talent (still does).
He is a true character, a great guy, is lots of fun and many, many people are proud to call him a friend, including me. Happy birthday, and oh yeah, I heard once that NHL hockey great and fellow Calgarian Lanny McDonald was envious of your 'stache! Great career Tommy!
Thank you, Tom Tompkins for being one of the "The Good Ones". Feel free to like and share the Tommy's positive story. Who is the subject of tomorrow's JJ-365 Salutes? As they say, stay tuned.
Jim JJ Johnston is the CEO, President and Chief Talent/Content Coach for JJIMS INC. and works with talent in many different industries worldwide.