By Harvey Oberfeld
PSR Contributor


Friday September the 23rd, 2018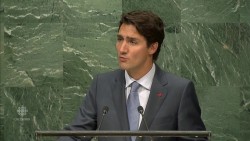 Prime Minister Justin Trudeau DESPERATELY wants Canada to have a seat on the United Nations Security Council.
Even though, the world knows non-permanent members sitting on the Council have no real power and no veto and,  are more often than not, are pushed around by the BIG POWERS at the table, especially the one(s) that helped get them their two-year Guest Pass.
But it does look good on a leader's CV … and politically, at home.
So Trudeau was there this week smiling, polishing,  pushing, almost pleading as he tried to impress General Assembly members … world leaders and diplomats … including brutal dictators, corrupt thugs and thieves, real killers and supporters/financiers of terrorism … that Canada wants their votes to get on the Council.
The Prime Minister talked of the need to combat Islamophobia, economic disparity and the need to fight fear and "anxiety".
He even criticised Canada for interment of  its Japanese citizens during the Second World War; the turning away of Jews seeking asylum from Nazi Europe; and shortcomings in our treatment of our First Nations.
But strangely, speaking to a WORLD body during a time of substantial global conflicts, aggression, wars, nuclear fears, occupation of others' lands, barrel bombs landing on hospitals, missiles fired at UN humanitarian aid convoys and even the use of chemicals/gas, Trudeau said nothing critical of the offending nations.
Canada's voice didn't mention Russia's seizure of Crimea or invasion of Ukraine; Iran's state sponsorship of terror organizations and actions; the Syrian government's attacks on its own civilians; the failure of the richest Arab oil countries to take in a single refugee … well, you get the point.
It was a PERFECT time and opportunity for Trudeau and Canada to confront, chastise and condemn those leaders and governments that have wrought terror and destruction on not only their neighbours, but even their own people.
In other words, it was a chance to show Canada and our Prime Minister as real leaders.
But what Trudeau dished out was pablum … served up in a childlike la-di–da speech by a clearly fawning apprentice on the international stage.
Why does it matter to Canadians?
Because at the UN,  I fear Trudeau showed … despite all his loudly principled rhetoric for home consumption …  he IS willing to set aside our principles and NOT confront evil … when there are international prizes he covets more.
That does NOT bode well for the negotiations on right now with China over an extradition treaty.
Is Trudeau prepared … for material gain … to give up Canada's long held principled stance of NOT extraditing people to countries with failed human rights,  corrupt judicial processes and political trials … all backed by a massively-applied death penalty?
The answer to China should be a FIRM NO!
And if Trudeau/Liberals cave on this … what other embarrassments/sacrifices are they prepared to inflict on Canada's reputation for a Security Council seat!
At the General Assembly, Trudeau told his "B" rated audience  …  lower ranked diplomats assigned to listen to his address in the half-empty General Assembly … "We're here to help,"   From what I saw, not a single actual world leader was on hand to listen… because Obama's simultaneous appearance in the nearby Refugee Forum  had drawn the leaders away.
Let's keep it real: despite the hoopla at home, Trudeau and Canada were bit players at the UN this week … and I suspect sacrificing our standards and failing to confront those leaders/countries that ignore even basic human rights did NOT win much respect from those at the UN who really count.
In fact, when Trudeau held a press conference later in the day,  the small conference hall where it took place was also half empty … attended dutifully by Canadian reporters … but largely ignored by the major foreign correspondents.
It's not surprising, of course,  that most Canadian media who covered the Canadian PM's trip to the UN  were more like cheerleaders … most of them impressed by his charm and photogenuity ….  overlooking the true story that his appearance had ZERO leadership impact on the World body.
Instead, he was clearly just hoping for a "call back" for a minor role as an "extra" on the Security Council in 2020.