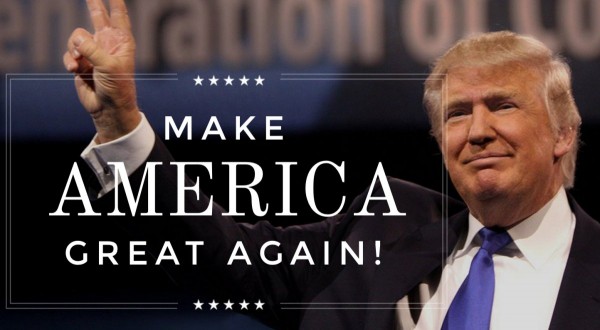 By Harvey Oberfeld
Friday December 11th, 2015
.US Republican Presidential hopeful Donald Trump continues to confound the pundits, embarrass US government officials and diplomats and even alarm Republican party brass and moderates.
But the fact remains: each time Trump has upped the ante (or perhaps I should say "anti") with divisive, xenophobic outrageous exaggerations and even lies … his popularity has RISEN …not only among Republicans, but the American general population as well.
How different it was in Canada.
Former Prime Minister Stephen Harper … as his disastrous election campaign failed to inspire voters … TRIED the divide-and-conquer strategy.
First there was his pronouncements and use of government lawyers to challenge in the Supreme Court a Muslim woman's desire to take her Canadian citizenship oath wearing a niqab: he failed … the sky did not fall and, more importantly, Harper did NOT get a boost in the polls.
Liberal Leader Justin Trudeau defended the woman's right (a damn the torpedoes gamble) and we all know how it all ended up for him.
Harper even went further in the final few weeks of the campaign, as Tory desperation increased: purposely raising the fear level over Syrian refugees; offering to take the lowest number … 10,000 over several years, well below Trudeau's vow of 25,000 and more.
Canadians put their confidence in Trudeau.
And then there was the promised federal "Snitch Line" … where we would be able to phone in and report on "barbaric" cultural practices of our neighbours. The suggestion was those practices would be things like forced marriage; genital mutilation etc. (No mention by Harper or any of his candidates if circumcision would/should be included.)
Most Canadians could still not be incited and clearly many  were repulsed.
With each outlandish and even outrageous attempt to scare,  Harper's poll results continued to fall and Trudeau's continued to rise.
No so with Trump.
When he referred to Mexicans as "rapists", his popularity among Republican primary voters ROSE!  (In Canada, any candidate who said that would no doubt be forced to step down by the party or be fired as a candidate.)
And that was just the beginning.
Trump has insulted opponent Carly Fiorina for her looks'; mocked a disabled reporter; degraded numerous people who have just criticized/disagreed with him; claimed (without ANY proof) that thousands of American Muslims publicly cheered and celebrated the World trade Centre destruction;  and, most infamously, recently called for a TOTAL BAN on Muslims entering the US " "until our country's representatives can figure out what the hell is going on".
And each time, his standing in almost all U.S. polls has gone UP!
The latest surveys, among Republican primary voters: in South Carolina, Trump rose EIGHT points, to 38% support, leading Ted Cruise at 30%; in New Hampshire, Trump rose to 27% support, ahead of Christie at 12% and Rubio at 11%.
And as high as 65% of Republican voters SUPPORT the idea of a total ban on people from entering the US, based SOLELY on their religion; 22% opposed.
Of course, these are Republicans …leaning right …right?
BUT Trump's anti-Muslim rants and promise of a total ban was initially also supported by almost HALF of ALL American voters: 45% agreed with him; 49% opposed. Now that national and international reaction has roundly condemned the idea, American support is also waning: 57% opposing the ban, only 25% still supporting it.
Considering we're talking about a TOTAL BAN on EVERY PERSON who is MUSLIM … regardless of where they are from, who they are etc., the 25% is still a figure I find quite appalling. Surely IN A DEMOCRACY there must be SOME indication, SOME information, SOME apparent unanswered background questions … not just institute an entire ban on an entire religious group! We are NOT Saudi Arabia!!!!
It's unclear even how that would work. Religion is not currently asked or stated on US (or Canadian or European or Pacific or Asian) passports: would immigration cards be changed to require a person's religion be stated? Would Muslim passports be stamped with an "M"? (Christians with a "C" and Jews with a "J"?).
It's ugly and it's outrageous!
Exceeded only by the ugliness that so many Americans are willing to go along with it.
I understand their fear: Canada has been the victim of terrorist plots, attacks and killings too. We MUST be cautious, alert and aggressive in seeking out and stopping any terror attacks by anyone from anywhere.
But we need not panic or become divided, xenophobic or anti-Muslim.
How ironic that while the US is having this debate,  in Canada,  Trudeau personally welcomed 135 Syrian refugees into Canada.
A true tale of two different countries … and clearly two very different peoples.
https://youtu.be/FJqLAleEnKw