….

By Harvey Oberfeld
October the 6th, 2015
Anyone who says the parties, politicians and policies are all the same can't be paying much attention to this federal election.
Whether it has been over deficit spending, balancing the budget, refugees, security, Senate abolition or reform, the Clarity Act, or even the niqab, there HAVE BEEN differences between them all …but not enough for many to make a clear choice.
Now there is.
For those who don't want to vote for Harper/Tories … but hadn't been able to decide between Mulcair/NDP and the Trudeau/Liberals … there is now a CLEAR MAJOR DIVIDE between them all … over the TPP.
As government, the Tories OWN the Trans-Pacific Partnership trade agreement: they negotiated it; they signed it; and, from now until the Election Day and beyond, they will be pushing it.
The Liberals, listening to Trudeau,  sure seem to me to be basically in favour: yes, some concerns over the details …yada, yada, yada … but I have NO doubt they would approve it if they win a majority and even vote for it in a minority government situation.
The NDP …. NO! While not absolutely ruling it out, Mulcair has done nothing but complain about it and has come closest to declaring an NDP government would not sign on, either in a majority or minority situation.
Good.
Because ALL the polls … from even before the start of the campaign until now … have indicated a majority of Canadians from coast to coast believe the ECONOMY is the most important issue facing our country, our government and our voters.
With less than two weeks to go, we're going to hear a LOT about that TPP … from every perspective, from every leader, from every party, from pundits,  from economists, from unionists … maybe even from the Pope!
Even though all the fine print won't likely be revealed and/or dissected until well after our ballots are counted.
Personally, I don't think Canada has any choice but to sign on.
I fully expect … as was proven with  NAFTA … the pluses for Canada will massively outweigh the negatives. NAFTA (which the NDP opposed) gave our industries much larger duty-free access to 310 million US consumers (at that time) … and a HUGE trade surplus with the US ever since.
The cost and harm to our economy of rejecting TPP and staying out, in my opinion, would be substantial.
Would negotiations be re-opened to accommodate a new Canadians government?
No.
If massive economies like the US or Japan do not approve TPP, I could see the whole negotiation process being re-opened,  but Canada … no. We're either in or watch from the outside as the others expand their huge trade relationship.
NO country gets everything it wants out of any international deal these days and let's keep it real: Canada's import market, with our relatively small consumer population,  gives us little real power to dictate to the US and Japan with a we-want-it-all or else stance.
Frankly, I was expecting Canada to yield more concessions than we apparently actually did for the preferred global export access we gain.
The TPP does give Canadian companies and producers PREFERENTIAL access to a 12-nation industrial, commercial and consumer market of more than 800 million people and $28 TRILLION in annual trade …. 40% of the global economy.
Should we really say No … stay out and give Australia, Mexico, Chile etc. the duty-free or reduced-tariff advantages over us to sell into the Japanese and the US  and many other Pacific rim markets?
The voters will, of course, decide … and at last, there IS a least now a MAJOR issue that will make … or break … this election campaign for the parties running.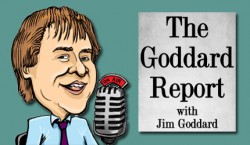 Harvey and Jim Goddard spoke yesterday about the campaign…. a good listen!   HERE