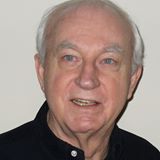 By Dick Curtis
PSR Contributor
August 2nd, 2015
Dylan Tales-5
 Copyright © 2006 by Dick Curtis
.
Another large outdoor concert was in front of us. We were going to play the facility where Hitler had held his rallies in Nuremberg. Zeppelinfeld was huge. It was being billed as "a festival" and the promoter expected over seventy-five-thousand people. We were playing to just one side of this huge stadium. If I were guessing I would say it was about the size of four or more soccer stadiums. I tried to visualize what it would have been like forty years earlier when Adolf Hitler reviewed his goose stepping troops; a very sad remembrance. Nuremberg was a city where millions of Jews were put to death in the Nazi concentration camps. Bob being Jewish had asked to visit the camps. I secretly wished he wouldn't. I felt that the emotion of seeing where the atrocities had taken place and visualizing the holocaust from the very spot where it all happened could have the possibility of tremendously upsetting Dylan. I feared that it could make a big difference in his performance. Anyway, it was a moot point. The whole idea was scrapped for lack of time but deep inside I always felt the reason Bob didn't go was because of what I just described.
The Nuremberg concert was handled by German promoter Fritz Rau who later said this appearance and the Rolling Stones tour were the high points of his lengthy career. The upcoming concerts in Paris were being promoted by someone different. I'd been trying to contact this person for days to get updated ticket sales reports but he failed to return my calls. I was furious. The promoter was actually a lady but this young guy was the front man. I can't recall his name. Anyway Rau, along with the record company, had arranged a party for us upon arriving in Nuremberg. The French promoter was there. When I finally saw him face to face I let out a few weeks worth of frustration. While I can't remember his name I can guarantee you he will never forget mine.
Later on I wondered through Nuremberg; my head filled with thoughts of fantasy – like I'd just been transported back to the sixteenth century walking the cobblestone streets, meandering through a castle. Only this was actually happening. The difference was it was really 1978 and I was seeing things I'd only dreamt of. Later in the evening, I joined Bob for a drink in a bar near our hotel. While we were chatting, Eric Clapton stopped by and soon actor Gary Busey joined us. The conversation was interesting and all I mostly did was listen. Busey had just finished filming "The Buddy Holly Story." in which Busey, an actor from Texas, played Holly, a musician from Texas. Clapton and Dylan have so much in common and knew so many of the same people their conversation was mainly centered on who's doing what, where and details about their music.
The next night the two were on stage together, with Clapton the opening act. I thought to myself, not too bad for an opener. As I mentioned earlier I had acted as a Concerts West promoter for the Clapton "Slowhand" tour with Santana. I didn't bring that up last night because when you're representing Jerry Weintraub the name Concerts West never comes up. You've always worked for Jerry as far as anyone is concerned. What a sight. Playing to half the field and just looking that one direction the place looked enormous. The stage was opposite Hitler's grandstand. Dylan faced it dead on. A reviewer would write, again loosely translated, "80,000 people came which was insanity even for Dylan."  Promoter Rau would tell the reviewer that Dylan said 80,000 Germans had their backs turned to Hitler and turned to me." The article was titled, "80,000 Germans With Backs To Hitler Grandstand."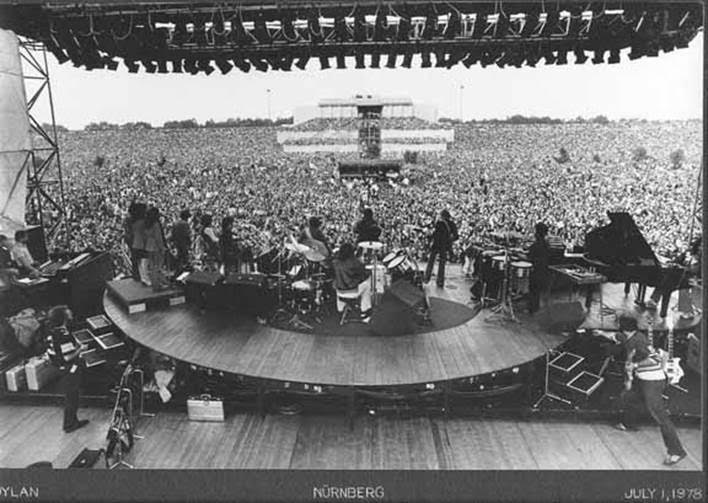 Clapton was great. Dylan was on his game obviously charged by the site of where he was playing. It was time now to gear up for five concerts in Paris. While I was extremely excited to visit the "City of Lights" for the first time in my life, I had a queasy feeling about the unknown that was ahead. This promoter frightened me.
I was looking forward to seeing Paris and all the sights. I'd never been there before. I certainly didn't get off on the right foot, literally. After getting off the train and walking alongside the cars down the platform; with all the photographers shooting, following Dylan, I stepped on the heel of his shoe. The back of his shoe naturally came off and he's now hobbling down the platform while I apologize. Shoe fixed we move on. Next problem; we were booked into the InterContinental Hotel in Paris for a week but our rooms weren't ready upon our arrival. Pat Stansfield quickly made arrangements for us to move down the street to the Hotel Meurice. I'm sure the InterContinental was a great hotel but the Meurice seemed smallish and wonderful. It felt like Paris.
The next day was the first of five concerts at The Pavilion De Paris, a small venue that held about five-thousand people. The audience was rowdy. Not like anything I'd ever seen in the states. It wasn't nearly as bad as West Berlin but police dogs were used to monitor the aisles. Like Germany, they too were unhappy that Bob wasn't doing anything acoustic and there was a considerable amount of booing. After the concert was over I talked to Stansfield, Mike Crowley and some others about what was happening. We all felt it might be easily overcome with at least one acoustic number but no one wanted to broach the subject with Bob. It was up to me after all that's what I was being paid to do. I went into Bob's dressing room and the two of us talked. I suggested he do at least one acoustic song and he was, somewhat reluctantly, open to it. For the remainder of our European shows Bob included one acoustic song, usually "Gates Of Eden." The audience went wild when it was sung.
I really loved Paris and had the opportunity to visit the Louvre, the Eiffel Tower, and all those things that tourists do. There one just one problem. Remember I mentioned that my wife Karen had become friends with Mary Alice Artes, Bob's girlfriend. Well, Mary Alice joined us in Paris. Prior to that, Bob had been spending a considerable amount of time with singer Helena Springs. This actually had been going on during the Far East part of the year. As far as I know the two were writing songs. Anything beyond that is pure speculation. I was sitting at the bar of the Hotel Meurice having a drink when in comes Bob. He walked over to a table and took a seat by himself. He looked very sad or pissed off. I walked over and sat down. I asked, "What's the matter Bob?" He said, "It's about your fucking wife." I didn't even ask what had gone down. I immediately said, "She's gone." I had Karen on a plane out of Paris the next day on her way back to Los Angeles. After the Dylan encounter I went up to the room and accused her of talking about Bob's spending time with Helena to Mary Alice. She had very little to say but she didn't deny it. In a management position your number one job is to keep the artist happy. That's actually a manager's number one, two and three duty. I hadn't done that and had to take responsibility. Karen was gone and Bob and I were again on good grounds. Nothing was ever said about the incident.
From Paris we headed to Goteborg, Sweden for two shows. Arriving at Landvetter Airport in Goteborg on July 11thDylan did two brief last minute interviews with TV Reporters. The first was with Mette Fugi. It was aired twice on Danish television. Dylan gave these responses to Fugi.
Q: Okay, once you wrote songs about your dreams. You wrote "Bob Dylans Dream," "115th Dream," what are you doing these days?
Dylan: Same thing.
Q: What would be your 1978 version of a visionary song?
Dylan: All of them.
Q: Anyone. Okay. Whatever you do almost it has been categorized as pure genius. Is there space in your great success for self criticism for artistic development?
Dylan: Mmmm, surely.
Q: When everybody says it's genius it's pure genius?
Dylan: I don't think everybody says that.
Q: You have said in interviews that your songs have no political content and no social significance. But still you attract one of the largest crowds in the history of pop music. Doesn't that indicate that your songs have a certain social significance?
Dylan: What do you mean?
Q: Is it only your admirers, your audience that find an interest in the content of your songs or are you just caught up of the contents?
Dylan: Possibly.
Q: Is it that you just don't want to discuss it?
Dylan: Well, no. You never know what's happening in the minds of men.
Q: No and you don't want to. But you have written songs about Hurricane Carter and Joey Gallo and you've dedicated your last album to Emmett Grogan. They have one thing in common those three men. They are sort of outlaws. Do you have an outlaw syndrome?
Dylan: No, not really.
Q: Not really. How come you dedicate your songs to the sad eyed drifters, the rough riders?
Dylan: Well, who … they just happen to be in the forefront of my imagination.
Moving on through the airport Bob was stopped by Swedish Television reporter Nils Chioler. The more famous of these two interviews, this one was broadcast on Swedish television later that same day.
Q: Bob Dylan, the symbol of the sixties.
Dylan: To who?
Q: To the youth of the sixties.
Dylan: Who said that? I never said that.
Q. Wasn't it you? Do you think there is a difference between you of the sixties and the Bob Dylan of today?
Dylan: I couldn't tell you. Is there a difference between you in the sixties and you today?
Q: Oh, I think so, yes. Don't you think your music has developed, from the sixties?
Dylan: Possibly.
Q: When you are around touring, as you are now, do you think it's another audience than the one you met in the sixties.
Dylan: No. It's the same, basically same.
Q: Are you failing to reach the new, youth generation.
Dylan: I don't know.
Q: You don't think there's a difference between you and the songs you write?
Dylan: I don't think so.
A portion of the interview was also used in the Arts and Entertainment's Biography of Bob Dylan.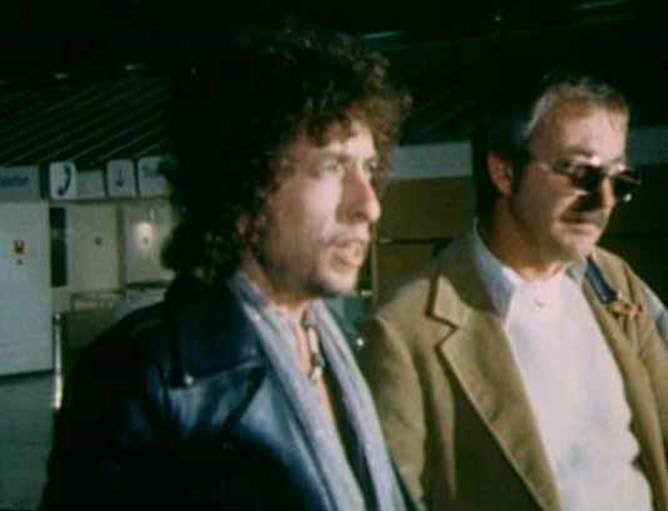 Riding in from the airport on the bus we were all marveling at the fact it was still light out. It must have been around one o'clock in the morning but we were so far north it could have been sometime in the afternoon. Lead guitarist Billy Cross was traveling with his wife and both were elated to be in Sweden. They live nearby in Copenhagen, Denmark. It was very familiar surroundings to the pair and felt nearly like home. Goteborg is a seaport city on the west side of Sweden, located on the North Sea. This would be a great experience for me because it was from this city that my grandmother on my father's side had immigrated to America. She had returned to Sweden for a visit and had made the trek back to the U.S. in 1913 or 1914 on the last ship that sailed before the beginning of the First World War. My born name was Richard Falk. After both my parents had passed away I legally changed my name to Dick Curtis in the early seventies. Curtis was the name I'd used throughout most of my radio and concert careers and having the same professional name and personal name made things simpler. To be honest if I had it to do over again, I wouldn't have changed it. In Goteborg that first day I grabbed a phone book to see if there were any Falk's in there. I found nearly a page of them. I'm sure some of them were my distant relatives but I wouldn't know who nor would I be able to talk to them if I did locate them. Besides I didn't have the time for it. We had two shows to do on the eleventh and twelfth of July at an arena called "The Scandinavium." I believe it held about twelve-thousand people. We were sold out both nights and the crowds appreciated the chance to finally see Bob Dylan. The thing that stands out in my mind was how young the audience was and how many of them were "young and drunk." Seems like drunken kids were everywhere; not only at the concert but on the streets of the city as well. I mean, they hadn't had just a few too many; for the most part this bunch had imbibed in "many too many." They were staggering Drunk!
Following our two nights in Sweden we were now on our way back to London where "Street Legal" was selling well. Back to do a huge outdoor show at the Blackbushe Aerodrome. We checked back into the Kensington Hotel and it was the next day that CBS Records in London presented me with gold and platinum records. The gold one commemorated CBS record sales of three-hundred thousand pounds worth of Street Legal albums; the other for selling over a million pounds worth. At the time that was around three-million dollars in American currency. Not that I had that much to do with it but I gratefully accepted the gold and platinum records and have them hanging on my wall at home.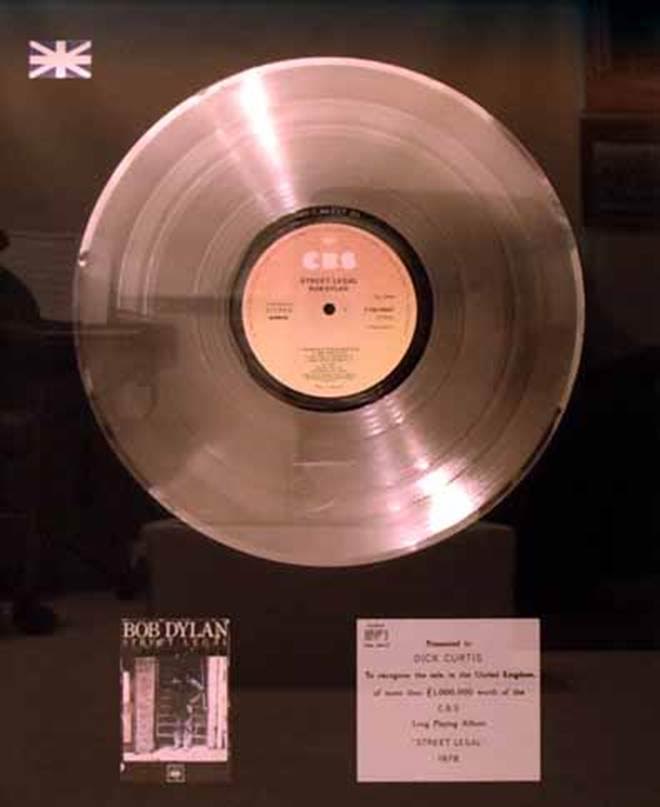 We were expecting upwards of one-hundred fifty thousand people at Blackbushe. On the day of the show, July 15th, 1978, the police later estimated the crowd at more than two-hundred thousand counting those that somehow snuck in. There were six acts on the bill. Opening was Merger, then Lake. Third on the show was Graham Parker and Rumour. Fourth was Joan Armatrading then Eric Clapton and finally Bob Dylan.
This was Clapton's set list:
The Core
Worried Life Blues
Wonderful Tonight
Lay Down Sally
Rodeo Man
Fools Paradise
Cocaine
Double Trouble
Nobody Knows You When You're Down And Out
Badge
Knockin' On Heaven's Door
Key To The Highway
Layla
Bottle Of Red Wine
Dylan's set list looked like this:
My Back Pages (Instrumental)
Love Her With A Feeling
Baby Stop Crying
Just Like Tom Thumb's Blues
Shelter From The Storm
It's All Over Now Baby Blue
Girl From The North Country
Ballad Of A Thin Man
Maggie's Farm
Simple Twist Of Fate
Like A Rolling Stone
I Shall Be Released
Is Your Love In Vain?
Where Are You Tonight? (Journey Through Dark Heat)
A Change Is Gonna Come (Sung by Carolyn Dennis)
Mr. Tambourine Man (Sung by Helena Springs)
The Long And Winding Road (Sung by Jo Ann Harris)
What Would We Do If No One's Dreams Came True? (Sung by Steven Soles)
Gates Of Eden (Acoustic)
True Love Tends To Forget
One More Cup Of Coffee
Blowin' In The Wind
I Want You
Senor (Tales Of Yankee Power)
Masters Of War
Just Like A Woman
Ramona
Don't Think Twice (It's Alright)
All Along The Watchtower
All I Really Want To Do
It's Alright Ma (I'm Only Bleeding)
Forever Young
The Encores included:
Changing Of The Guards
The Times They Are A-Changin'
Back in London we were again staying at the Kensington Hotel. We were two days away from the Picnic at Blackbushe as it was being called. Blackbushe is now a thriving private airport in Camberley, England. Back in 1978 is was an abandon aerodrome, perfect for a festival. The problem would be getting Dylan into and out of Blackbushe. Again it was Pat Stansfield that encouraged us to hire our own train, which we did. The train, an engine and a couple of cars took us into the facility site and back out again. We were on the site for approximately eight to ten hours during which time we ate, played ping-pong and chatted.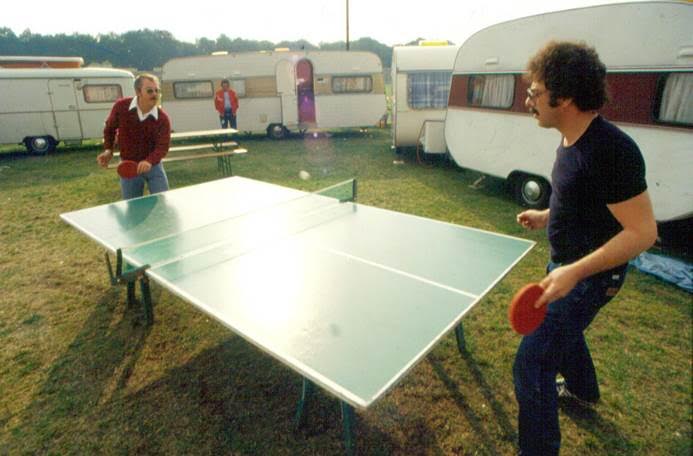 The Picnic kicked off with a local band called Merger. I never got a chance to hear them because we hadn't arrived yet. They were followed by Lake. Because of all the confusion of a venue of this type I really didn't hear anyone to speak of, including Dylan. Graham Parker and Rumour followed Lake at Blackbushe. Parker had released three albums during his career and his most recent "Stick To Me" many felt had been his most brilliant effort. The critics didn't agree and rated it less favorable. This would create a life-long bitterness with Parker toward record reviewers and record labels. In the early eighties Graham Parker would release his final album with Rumour. Danny Federici of the E Street Band was on organ and Bruce Springsteen even sat in on a number. "The Up Escalator" sold much better but it was over for the band. Parker wanted to go in a different direction and lean more toward acoustic and he released several of these albums, recalling his indebtedness to Dylan. Graham, who still tours worldwide, as far as I know, says among his influences were the Supremes, the Four Tops, The Rolling Stones and singer songwriters like Bob Dylan and James Taylor.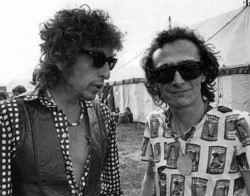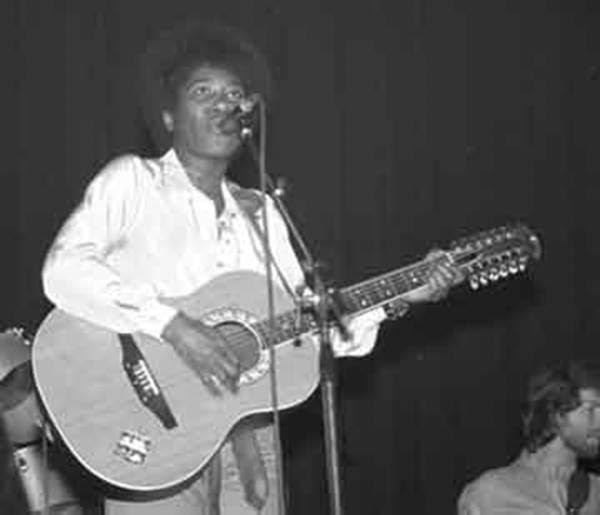 Following Graham Parker on the bill was West Indies born Joan Armatrading. The Armatrading family had moved to England in the late fifties. The singer-songwriter released three highly successful albums in a two-year period beginning in 1976 – all moving into the top twenty in the U-K. The first included her only top ten single hit and actually her only single hit"Love and Affection."  Her album "Me Myself I," released in 1980, became Armatrading's first album to reach the US Top 40 and returned her to the UK Top 10. At the date of this writing she has released over three-dozen albums, several recorded in the United States.  Armatrading has a totally different style than most female singers and an amazing ability to communicate powerful emotion about life and love.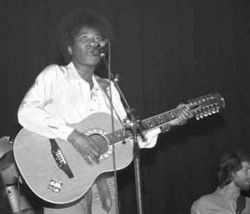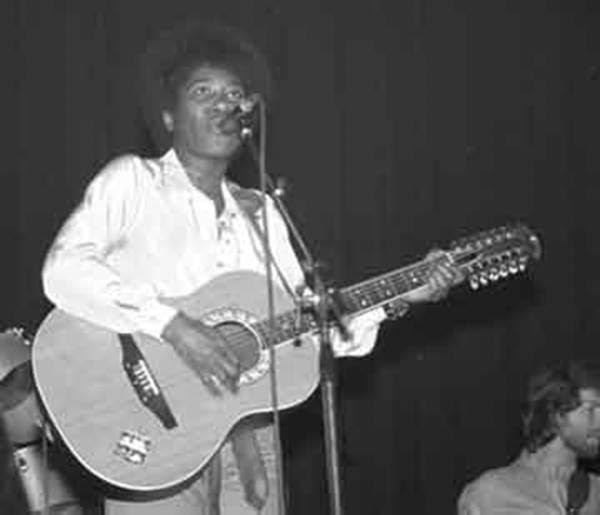 Eric Clapton would once more precede Dylan at an outdoor festival. It was the third time on this European tour and again Clapton was at his finest. Dylan too had one of his incredible performances. The crowds in England loved Bob. Clapton joined Dylan on stage and the pair sang "Forever Young." The huge crowd had charged up all of the performers. It truly was a "Picnic At Blackbushe." Too bad it had to end but so had our European tour and we were headed back to the states to get ready for a grueling tour that would include sixty-five concerts in ninety days, crossing America twice.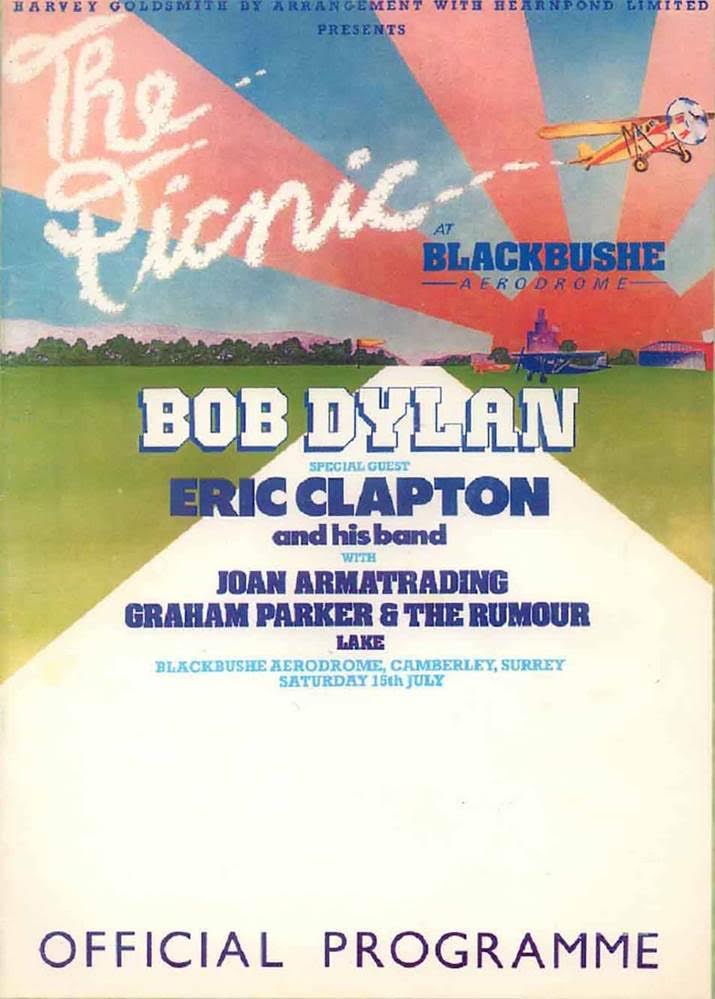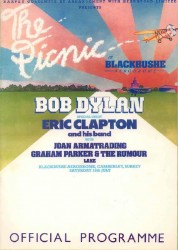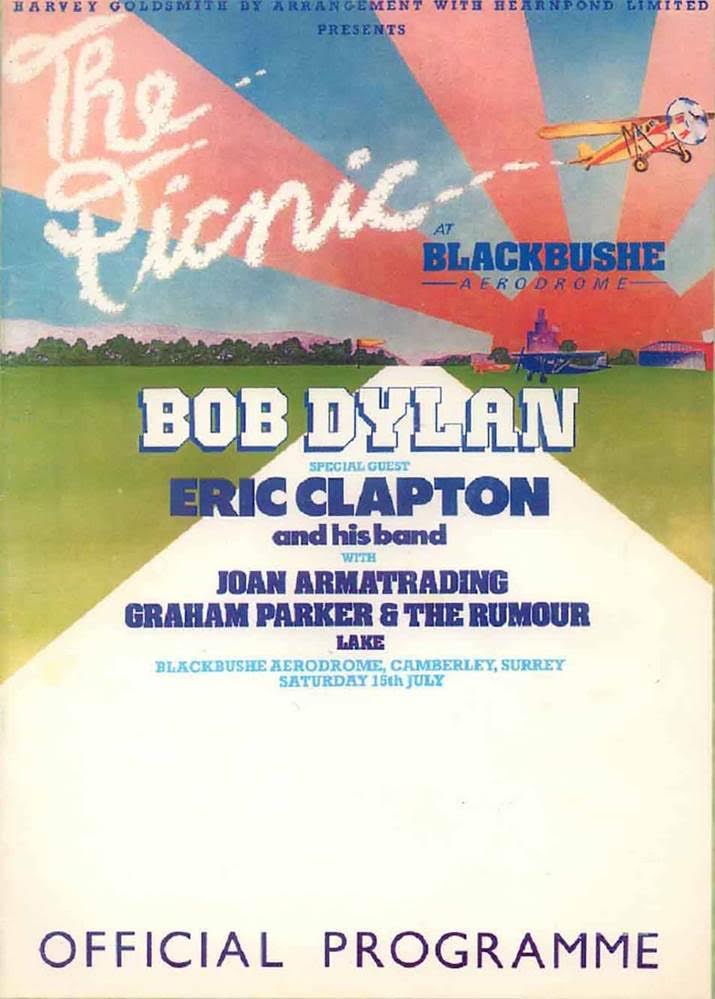 If you missed any of Dick Curtis Memories with Frank Sinatra, 1, 2, & 3,4&5 Bob Dylan 1, 2, & 3  View HERE