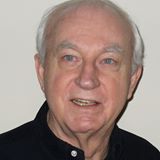 By Dick Curtis
PSR Contributor
Friday September 25th, 2015
  Odds & Ends-2
Copyright © 2006 by Dick Curtis
Working for Jerry Weintraub in Beverly Hills was like nothing I'd ever experienced before or since. Concerts West main Seattle office, where national tours were being compiled and single concerts planned, was operating out of a converted motel suite in the Seattle suburb of Bellevue. Weintraub, on the other hand, spared no expense to have the best. I should point out that the Concerts West Accounting Department was housed in the Kaye-Smith Building in Bellevue which was very plush and modern. The Kaye is for Danny Kaye the entertainer and his partner was Lester Smith, a very successful Seattle businessman who'd moved west from New York many decades earlier and made the majority of his money in radio. These two had several ventures together including owning the Seattle Mariners in the late seventies. Smith had rescued Pat O'Day and Associates from its heavy burden of lawyer fees and the tribulations of trying to survive in a slow period while fighting an anti-trust suit. Those types of attorneys were making two and three hundred dollars an hour at the time. So Les Smith and his backing had allowed the company to become more than just a Northwest operation but a concert promotion company of national stature. Suddenly money was no object which allowed Hulett, Bassett and O'Day to make bold and innovative moves. Meanwhile Weintraub had quickly become the largest personal manager in the business. He'd gotten his show business start in New York in the 1950's in the mail room at MCA. When he later became an agent, his clients included Jack Parr and Jane Morgan. Jane became Jerry's second wife. Morgan's early claim to fame was her 1957 million selling hit, "Fascination." Jane had gone on to become a major attraction in much of Europe. Returning to the United State from one of her successful European tours, she was billed as "The American Girl from Paris" and made several night club and television appearances, frequently a guest on the Ed Sullivan Show. With Morgan's backing and his own drive, Weintraub's career was also starting to bloom. He and his two partners formed Management III in the early-sixties.  Weintraub was now handing the careers of Jane, Frankie Valle and the Four Seasons plus the Young Rascals. But that was just the beginning of several successful decades in show business which included the presidency of a major motion picture studio. In 1975 Weintraub ventured into the motion picture business, producing "Nashville." "That was followed by the successful comedy "Oh, God"starring George Burns and John Denver, another Weintraub client. Other successes included "Cruising," "Diner," all the "Karate Kid" pictures, "Oceans Eleven," "Oceans Twelve" and "Oceans Thirteen" as well as a dozen others in between. Jerry had small character roles in "The Firm," "Oceans Eleven," "Full Frontal," another movie he produced, "Confessions of a Dangerous Mind" and the role of Jilly in "National Lampoon's Vegas Vacation," yet another of his productions. Jerry Weintraub was one of the first independent producers to be honored with a star on the Hollywood Walk of Fame. In 1984, Weintraub helped deliver the Olympic Gala and the ABC telecast preceding the opening of the Los Angeles Olympic Games. He has been involved in over a hundred television specials. In 1986, the National Association of theater owners named him Producer of the Year.  In 1991, then President George H. W. Bush named him to the Board of the John F. Kennedy Center for the Performing Arts. Looked up to in awe by many contemporaries  and feared by most competitors, during the 70's, 80's, 90's and beyond, it would be safe to say that Weintraub was considered the biggest and best in the area of personal management. Jerry had taken over Frank Sinatra's one-night appearances, short ten to twelve city tours, when the singer had "un-retired" in the seventies and released the album, "Ol' Blue Eyes Is Back." Being the oldest member of the Concerts West team I was put in charge of his tours. A few months afterward, Jerry and I had a conversation in Atlanta in which I expressed my desire to one day return to the west coast. He asked me if I'd like to move into his office and the answer was an immediate "Yes!" Weintraub, in his best New York, Bronx accent, "Let me work on it kid." It was only a couple of weeks later when Tom Hulett came to me with the idea of opening a Concerts West office in Los Angeles. Acting totally surprised, I said, "Sure, great!" This move made a lot of sense. Several times I'd made plane trips from Atlanta to Los Angeles, often on the spur of the moment, for meetings with Sinatra's attorneys, Mickey Rudin and Ed Perlstein and the singer's accountant Sonny Golden. Meetings that sometimes would last less than an hour. I'd fallen in love with Atlanta and still get choked up when I hear Gladys Knight and the Pips sing, "Midnight Train To Georgia," but the west coast was calling and that's where I wanted to return.
I first became acquainted with Jerry Weintraub in 1963, several years earlier. Pat O'Day at the time was the program director and afternoon DJ on Seattle's KJR. I was the evening disc jockey on the same station. Weintraub was brilliant. He telephoned program directors at the leading "rock" stations all over the country asking them if they wanted to be partners in presenting the Four Seasons. The group had exploded a year earlier with their number one hit, "Sherry." "Big Girls Don't Cry" was the follow up, another number one smash. Jerry was asking the program directors to come up with five-thousand dollars and then take fifty-percent of the profits. Of course there was the cost of promoting the show; hall rental, advertising, etc.  O'Day had gone to all of the KJR DJ's and asked them if they'd like to participate. Two-thousand a piece he told them. I borrowed the two-grand from my brother and his wife and before long I was thrust into a business I knew nothing about. None of the others at KJR chose to participate. A concert producing company was quickly formed called "Pat O'Day and Dick Curtis Presents." We rented a small apartment on the west side of town and sparing no expense, equipped it with a typewriter and an answering machine. That was basically it. In order to satisfy KJR management, we needed to keep our concert business outside of the radio station. The show would be held at the Seattle Center Opera House which seats about three-thousand. Pat was never one to let details get in his way so I was assigned to handle the business side. It was all so new. Ticketing, this included ticket agencies, ticket printing and scaling of the facility; deciding how much each seat would cost. The responsibility of the Seattle Center personnel, including off-duty police, stagehands, ushers was shared by the two of us. As far as the Seattle Center was concerned, there was no better "smoozer" than Mr. O'Day. We advertised exclusively on KJR. Because of Federal Communications Commission concerns we purchased the radio advertising just like any other outside advertiser using an earned rate. Pat and I made a good combination. I was always a detail guy, Pat was crammed full of ideas. We opened the show with local groups, had an intermission and then it was "Frankie Valle and the Four Seasons." In between acts some of the DJ's appeared which turned into a huge FREE promotion for KJR. During one of the skits, Pat had hired a farmer from a nearby rural area to bring his pet Holstein onto the stage of the revered Seattle Opera House for a comedy sketch. Keep in mind the Seattle Center people were leery anyway about staging a "rock" show in the facility. Stagehands couldn't believe it! Actually, neither could I. As you probably guessed, the bovine did predictably leave a huge deposit onto the center of the stage. "Actually, "bull-shit" is what show business is mostly about, isn't it?  It took me such a short time to learn.
The concert was a huge success! So big we sold out two shows the same day! O'Day and I each pocketed a few thousand and we were on our way. We went on to produce many of those types of shows with national headliners appearing along with several local acts. The Beach Boys, Little Stevie Wonder, Jan & Dean, The Righteous Brothers, Roy Orbison, Bobby Vinton with H. B. Barnum conducting a 25 piece orchestra and on and on. The 1963 Hit Parade of Stars, The 1964 All Star Revue, The 1964 Summer Spectacular and eventually moving over to the Seattle Center Coliseum with the 1965 Summer Spectacular. Everything we touched was turning to gold. If it hadn't been for Jerry Weintraub odds are I would never have delved into show business other than being a radio deejay. What's strange about that is during my many years of working in the Weintraub office I never brought that up to Jerry; I never thought about it.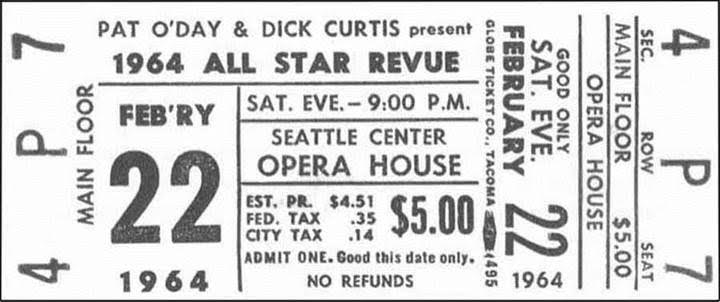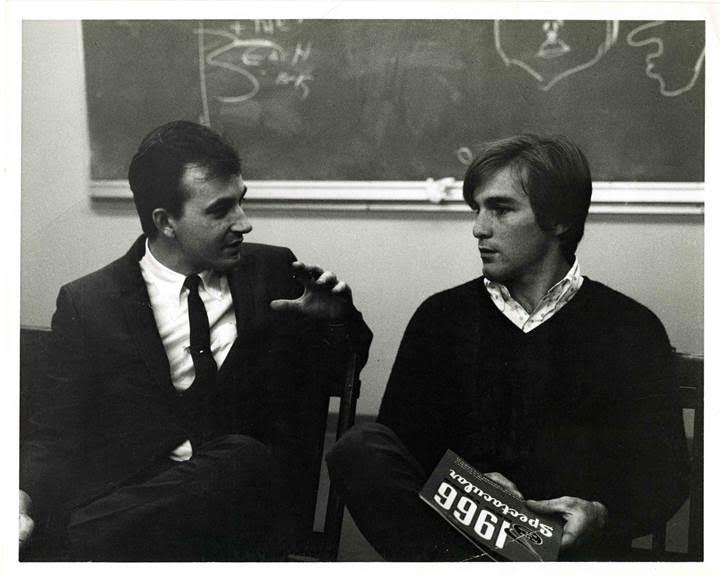 Me and the late Dennis Wilson of the Beachboys – at our 1966 Summer Spectacular
Jerry Weintraub maintained an office in New York but he'd moved his operation for all intense and purposes to Los Angeles. He smelled the opportunities of movie making. The first office wasn't plush. In fact it was quite cramped but very functional. Located on Beverly Drive near Pico it was a few blocks off the beaten path. After occupying that space for about a year, Weintraub was moving on up! He was headed to Wilshire Boulevard and Linden Avenue in the heart of the Beverly Hills business district. The new location was beyond words; large offices for everyone, conference rooms. A full-sized kitchen with a full-time cook named Henry who would check every day, "What can I fix you for lunch Mr. Curtis?" Secretaries went for office supplies in limousines. There was a television department, a personal manager department, Jerry headed up a motion picture production department, a concert promotion department which was actually Concerts West and included myself and my secretary Loni Fisher. Jerry's clientele was huge! At the time and these are just some of the acts I recall; John Denver, Neil Diamond, The Carpenters, Frankie Valle and the Four Seasons, Dorothy Hamill, Joel Grey, John Davison, and so many more. While Kenny Rodgers was handled by Ken Kragen, he was operating out of the Weintraub offices and both shared manager duties and credits. In late 1977, Bob Dylan would join the list. It was a sweet combination; Weintraub, with all his influence and power, Concerts West with all the manpower and concert promotion knowledge plus connections in every city in America. What a marriage! Concerts West was a silent partner with many of the acts. Weintraub took the credit; Concerts West provided the manpower with their employees acting like they worked exclusively for Management III, Jerry's company. Most employees carried business cards and check books for both companies so they could put on the right hat and write the proper check no matter what the situation. Weintraub was a man whose number one motivation was ego, even more than money. Perhaps the money and ego fulfillment were on an equal plain, I could be wrong. Tickets would read "Jerry Weintraub Presents." To give you an example, during a Frank Sinatra tour we were playing Madison Square Garden. Since the newspapers in New York were on strike at the time, I was able to spend much less money and bought several of the radio stations around the area. That's the advertising plan the two companies used for Elvis tours. The show was a near sellout weeks before the appearance and I stupidly thought Weintraub would be pleased that I'd saved thirty-five thousand dollars. Quite the contrary when I heard the familiar, almost daily scream down the hall. "CURTIS, GET IN HERE!!" "What's this I hear you're buying radio stations in New York? I want you to buy ALL of the newspapers surrounding New York City." I ended up buying a couple dozen small newspapers around New York City so his name could be seen in those many print ads, "Jerry Weintraub presents Frank Sinatra."  The show would have sold out either way but that wasn't what was important. I was thinking way too small. Sinatra's people would have been pleased that I was able to save a considerable amount of money but "Jerry Weintraub presents Frank Sinatra" in print not only fulfilled an ego but also was wonderful advertising for any stray talent looking for a personal manager. Jerry was always several moves ahead of everyone else. Maybe I was too honest for this business.
I liked living in L-A. I'd rented an apartment on the beach at Marina Del Rey, just south of the Venice Pier. I had a short 20 minutes drive to work, past the old MGM studios in Culver City winding through  Cheviot Hills and I was at work in Beverly Hills. Don't pinch me, I might wake up!! I loved everything about L.A. life. Just to relate how different it was living in L-A for me; at lunch in Beverly Hills where our office was located; say the Palm Restaurant on Santa Monica Boulevard, for example, you would see actors, musicians, agents and managers dining and chatting. Contacting these booking agents and managers might have taken days if you were living in some other city. Now these folks were your acquaintances. I quickly concluded that living in L-A was a "no-brainer" if someone was trying to break into the music business.
One time during our L-A years, Karen, my wife at the time, and I were invited to a party at the Harold Lloyd estate. It was a get-together at the estate of the long deceased silent screen actor celebrating the end of Paul McCartney's "Wings Over America" tour which Concerts West had promoted. I had nothing to do with the tour and we weren't sure we wanted to go but finally decided we would. The invitation said everyone must wear white. As we neared the location of the party we saw people lining both sides of the street. Wow, we had no idea what the two of us were about to experience. Nearing the gates of the estate our car got the sign from an attendant to halt. We then were ushered into a limousine; the parking attendant took our car. Pulling up to the estate we left the limo and walked into the foyer of the home. There on the left were four stringed musicians in white tuxedos playing Beatles music. Walking around the grounds were mime troupes and jugglers. The Los Angeles ballet was performing by an area of reflecting pools. The swimming pool area had been set up as a disco and music was blaring. The entire scene was lit by the production director for the musical group Chicago. As Karen and I strolled the grounds with Terry Basset we passed Paul and Linda McCartney. We paused to say hi and a exchanged a couple pleasantries. The Beachboys were there, walking around like the rest of us. Everything was so mellow. There was a sit down dinner out on the lawn and performing during the dining was the cast from "The Wiz.' I had always wanted to see the John Belushi's imitation of Joe Cocker but missed it when it aired on "Saturday Night Live." I'd never seemed to catch the reruns but I'd heard how funny and incredibly real it was. If you're not aware, Joe Cocker use to consume huge amounts of beer as he performed and would get progressively drunk as the show went on; sometimes even getting sick. A pail was kept back stage for those unfortunate times. But now, there performing in person as we ate was John Belushi doing his imitation of Joe Cocker. It was just as good as I imagined it would be only so much better in person. Oh, the reason we were asked to wear white clothes. All of us were painted with psychedelic designs. Upon leaving the party ladies were given a long stemmed red rose with a note attached that read, "Paul and Linda thank you for coming." This was the classiest party I've obviously ever attended and the likes of which I will never witnesses again and to think that we had debated whether to attend or not. As they say, "Only in L-A."
Sinatra wasn't touring that much at the time and it was up to me to try to create some business for the new Concerts West office. Since the long-time Los Angeles concert promoters had pretty much locked up the city, I attempted some small concerts at Santa Monica Civic Auditorium but most of my time was spent with the normal stable of Concerts West promoted groups either at the L-A Forum in Inglewood or at other locations in the Southwest area. I was also fighting the problem that many talent agencies wouldn't do business with us so I was often sent out to oversee national tours.
The biggest act that Jerry Weintraub and Concerts West partnered together was Elvis Presley! When it came to Elvis, Tom Hulett was once again the man. Colonel Parker was Elvis' lifetime manager and as far as "The Colonel" was concerned Tom worked for Weintraub. All of the business with Elvis was done without a contract. The largest rock 'n roll act in the world and his concert business was all conducted by a handshake!
I never will forget one day in Tucson, Arizona where an Elvis Presley concert was about to go on sale. I was sent to oversee the presale. Keep in mind that Elvis wouldn't be appearing for weeks but fans were lined up for blocks just to get a ticket on this day. There were so many people that Colonel Parker had actually hired concession venders to work the ticket sale lines. I heard the colonel barking to the venders, "Now, holler real loud. Make 'em hear you. If you do you'll make a lot of money and money ain't easy to come by these days." I could only chuckle to myself. The Colonel was putting the same show on sale in twenty-three cities this day and they would all be sold out in a matter of hours. Yup, money isn't easy to come by these days unless your name was Colonel Parker. The Colonel had gotten his start in show business with his "dancing chickens." He made the rounds as a carnival attraction, "Colonel Parker and his Dancing Chickens." How DID he do it? How could he train those chickens to dance like that? It really wasn't that the chickens were all that talented. They were just trying to survive. See, the good Colonel had them dancing on a hot plate. Parker arrived in this country as an illegal alien from Holland. That's the reason Elvis never appeared outside the country. While I was working out of the Weintraub office in L-A, a Japanese promoter offered a million dollars for Presley to appear in Japan. The offer was turned down. Had Parker gone out of the country, he wouldn't have been able to get back in. Elvis only ventured as far away from the mainland as Hawaii to perform.
The Moody Blues was another act billed as "Jerry Weintraub Presents" but it was all Tom Hulett and Concert West that pulled it off. Tom had made his mark in the business when he traveled to New York to meet with attorney Steve Weiss to discuss a Jimi Hendrix tour. Hulett had never been to New York City before in his life. He checked into the Hilton, rented a limo went over to the offices of Weiss and asked, "I understand Jimi's going to do a U-S tour, how many dates?" Steve said, "We're looking at 35 cities. Armed with an over abundant amount of chutzpa, Hulett told Weiss, "We'll take them all." He wrote out a Concerts West check for a million dollars, left it on the table and said, "Gentlemen, I'm at the Hilton and will be in town for the next 24 hours. I expect to hear from you." It wasn't long before the telephone rang and a tour was agreed upon. This was the tour that actually made Concerts West a national touring company. As this concept grew, the acts loved it. No more would they have to worry about the local promoter not having details right. No more surprises. They could depend on everything being the same in city after city, night after night. And you know what's ironic? Even though Hulett and Jimi Hendrix had gone to the same high school, Garfield High in Seattle, they hadn't known each other. What's more, it's believed that when Tom left on his trip to New York, he didn't even know that Jimi Hendrix was black!
Dick Curtis
More of Dick Curtis Memories HERE