CJCD "Mix100" Rebrands as "100.1 Moose FM"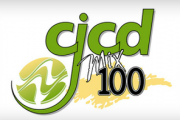 Yellowknife's Mix100 has rebranded as Moose FM, The stations owned by Vista has taken on the name used by a few of their Ontario stations.
The station was founded by Charles Dent, Derek Squirell and Reg James. The station was sold to the Vista Broadcast Group in 2007.
Published on May 9, 2014 at 9:06 am by Dead Air Dave
---