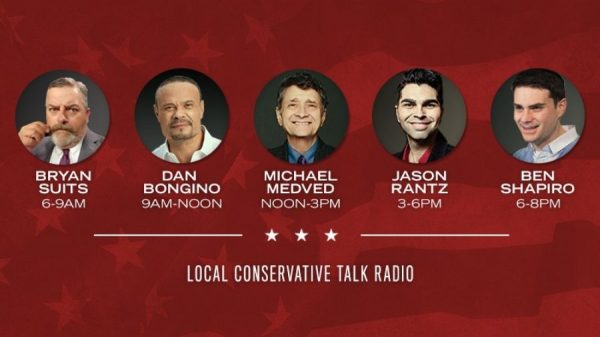 by KTTH Staff
February 7, 2022
Bryan Suits returns to Seattle airwaves as part of a new lineup on AM 770 KTTH.
"The Bryan Suits Show" airs weekday mornings from 6:00-9:00 a.m.
"When we moved back to Western Washington, the last thing on my mind was radio," said Bryan Suits, host of "The Bryan Suits Show." "After filling in on KTTH mornings, I realized that I was born to do this. This is where I started and found my voice. Someone has to reflect what the sensible people are thinking and thankfully, KTTH is doing that. I'm humbled and grateful to be part of the team that tells the truth every day."
You may recognize Suits. He is a former evening host on sister-station KIRO Newsradio from 1999-2002. He took his talents to Southern California with hosting duties on KOGO-AM/San Diego and on KFI-AM/Los Angeles. He hosts a popular podcast and is a frequent guest on FOX Business.
Suits is wise, yet self-effacing. He knows how to have fun with snarky wit, but also has deep knowledge on his subject matter. Informing his positions and worldview are his experiences as a military veteran and father. This is a morning show that is fast paced, entertaining and deeply informative.
Before a career in talk radio, Suits served in Operation Desert Storm as a medic. He returned to service as a California Army National Guardsman and then deployed as a member of the Oregon Army National Guard to Bosnia as part of a NATO mission. As a member of C Company, 1st Battalion, 161st Infantry Regiment, Washington Army National Guard, he deployed as part of Operation Iraqi Freedom.
Suits was awarded the Bronze Star Medal and was wounded in action several times. Subsequently, he was awarded the Purple Heart.
"KTTH is the region's leading conservative talk station because of our passionate, local hosts. Bryan Suits makes us even stronger," said Cathy Cangiano, Senior Vice President and Market Manager for Bonneville Seattle. "As we head into the midterm elections, KTTH is poised to make some waves."
"The Bryan Suits Show" can be heard live on AM 770 KTTH, on demand at KTTH.com. Suits joins a lineup of leading conservative voices, including afternoon drive host and frequent FOX News guest Jason Rantz, plus FOX News contributors Dan Bongino and Guy Benson, Daily Wire hosts Ben Shapiro and Michael Knowles, and syndicated hosts Mark Levin and Michael Medved.