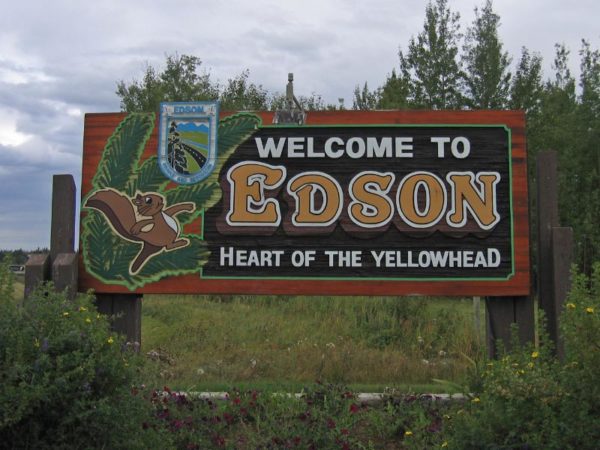 This article was originally submitted to PSR by Chuck Benson, former contributor to our site, back in 2018
Puget Sound Radio was informed by a comment below, that Ernie passed away yesterday morning (Saturday September 18th, 2021. Heartfelt condolences to his wife, family and friends.
………………………………………………………………………………………………..
50 Years of Continuous Local Broadcasting in West Central Alberta – marked 

April 4th

.
Though today it is known as "Real Country West", the story of broadcasting in West Central Alberta began a half-century ago. This is how it all began:
In 1967 three men in Edmonton's broadcasting industry had a dream to own their own radio station in Alberta. One worked at CHED, the two others at CFRN. Over long lunches they expanded their ideas and finally picked an area to apply for a radio station: That area was Edson.
Edson had a local newspaper, but radio reception from Edmonton stations was considered weak.
So with their dream (and a well prepared presentation) in hand, they headed to Quebec City to submit their application before the Board of Broadcast Governors (BBG now known as the CRTC).
With only one dissenting submission (from CFCW Camrose) the application was ultimately successful and Yellowhead Broadcasting was born.
It was said the three were the youngest to come before the BBG for a radio licence.
Now to set it up.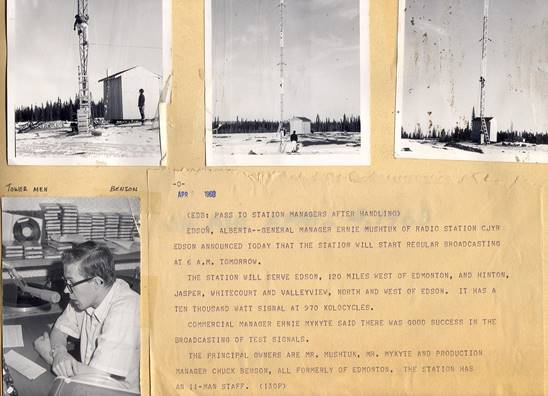 Ernie Mushtuk became President & General Manager, Ernie Mykyte Sales Manager, and Chuck Benson Program/Production Manager.
They eventually settled on a studio location – a building behind Switzer Drugs. It was a vacant Laundromat building that suited their needs. So the three worked tirelessly to transform the building into a studio.
The transmitter and broadcast towers were established along the Coal Branch road (approximately 10 km SW of Edson) by a group of professional engineers which would output 10,000 watts of broadcast power.
On April 4th, 1968 Yellowhead Broadcasting opened up the microphone and the voice of morning-man Wax Williams was heard for the first time on the frequency 970 and call letters CJYR, – soon to be known as YR Radio.
In due time, satellite re-broadcasting transmitters were established in Hinton, Jasper, Grande Cache and Whitecourt thereby creating a private broadcasting network.
In 1999, YR Radio was purchased by Okanagan- Skeena, a British Columbia Broadcasting Network.Today, 50 years later, the station has changed owners several times. And the signal has changed – with the times – from AM to FM.
Today it is "Real Country West" – owned and operated by Newcap Broadcasting, a Maritime conglomerate rated as the number two private-sector radio broadcaster in Canada, just behind Bell Media Radio. It operates 95 stations across Canada.
——
Puget Sound Radio thanks Chuck Benson for submitting this article