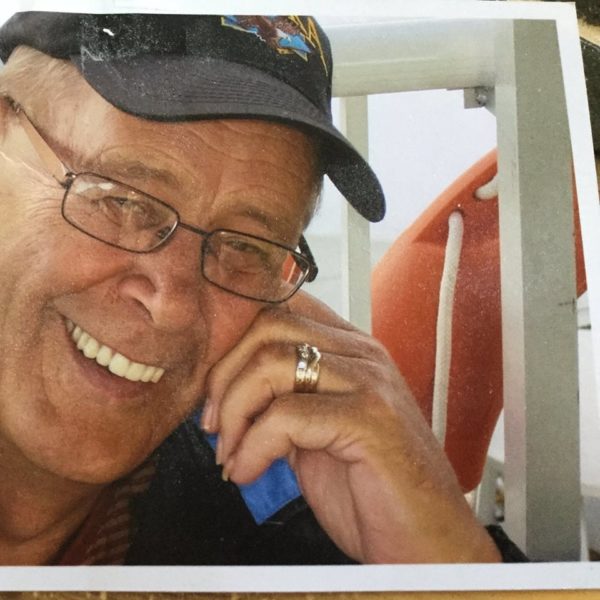 a Puget Sound Radio Exclusive…
Radio Daze of Fraser McAlpine
by Fraser McAlpine
April 11, 2021
Back in the 1950s someone came up with the slogan "Where ever you go there's radio." It was thought at the time that the fast growing and very successful television would kill radio. Here we are some 70 years later and radio is as strong as ever in spite of the problems created by the Covid pandemic. Radio did and still goes every where. Transistor radios really made the medium strong. Everywhere! When I was in my early teens, people were always telling me I had a good voice for radio and I should be on it.

That got me interested in the field and my chance came about 1954 when I was in my early teens when I voted to take on the publicity for the Trail Teen Town. I took it upon myself that this one way to let the public know that all teens were not trouble, I approached Mr. Joe Kobluk at CJAT, 610 on the dial, and asked if he would give us a 15 minute program every Saturday. We would write the scripts and produce the show ourselves. I would be the host and do the announcing. He agreed and so my next task was to write the teen news, select the music and form a committee to help me. The first program, in my mind, was a disaster…..at least it turned out that way in my mind to really be bad. Friends in recent years comment now about how cool they thought I was. Underneath that facade, it was anything but. The experience taught me a lot and once I quickly got the hang of things, the Teen Town program continued on for about a year. Having had a taste of radio, I was hooked. Along with it came some moderate fame in Trail. Can't beat that for a teenager. I mentioned to my Dad that I was interested in radio, he proceeded to bring home a few radios to fix. He got the wrong idea, and that was not what I wanted to do. When he realized I wanted to be on the radio and work in broadcasting, he talked to a man who had some influence and, I believe ownership of the station. I had previously talked to Mr. Kobluk about a part time job, but I guess, at the time, there were no openings. I was very persistent and I guess the word was passed on about my chances when, finally, Mr. Kobluk called me in and said they now had an opening for an operator part time while I was going to high school. I jumped at the chance.
Evenings and weekends, I played the big 33 1/3 old radio shows, tuning in the CBC, running the fairly new taped programs and playing the taped station breaks. I did no air work for a few months, but as Ilearned more and proved I was reliable, I began to do some air time, very limited. As I learned more, did more. Going to high school at the time, I worked weekends and nights, after school I would rush to my job at a confectionary wholesale warehouse, then at 6 hurry the few blocks to CJAT, a few blocks away. I was soon doing more than station breaks, and eventually as I got better, doing music programs.
Former Victoria announcer, now Chief announcer in Trail, Maurice Cownden, kept a close eye and ear on me. He taught me a lot along with Dave Glover. Before Iong at 17, I was doing evenings, Saturday and Sunday shifts and loving it. My social and school life suffered and my grades reflected my lack of attention. But I never regretted anything as I loved informing people and entertaining them. After Cownden went back to Victoria I was pretty much left on my own. Small city stations were very forgiving and tried to cater to many different tastes airing everything from Presley and pop tunes to opera, Showtunes, old dramas, CBC, kids shows and something to cater to a captive audience, broadcasting at one thousand watts, the signal reached many of the smaller West Kootenay towns around Trail.
Dave Glover, the morning sign on man lived 7 miles up the hill in Rossland. A number of times he would be snowed in, I would get a call at 5:30 am asking me to fill in. Hustling out to my 1932 model A Ford, I would scramble to the station and do his program until he made it. Being the only station with one evening daily paper, radio, in those days, kept the listeners up to date on weather, news and local events. It was a busy two years for me, but I did have enough time for a Salmo girl whom I, 40 years later, married. But school was ending. I had originally intended to go to Ryerson Journal & Broadcast school in Toronto. As grad time neared, Mr. Kobluk had a talk with me and convinced me to stay at CJAT, continue learning and being paid at the same time. Hard to beat an offer like that. The pay in those days was pretty low, but the station was part of the Selkirk organization and the benefits were very good. So for two years, except for 6 month break, I did everything from news to DJ on air to library work. Plus living at home was a bonus. I had the benefit of working with very talented people such as Dave Glover, Ralph Milton, Joe Remus, Ken Hughes, Bob Kay, Bill McLaughlin, Tom Mableson and numerous broadcasters who were mostly passing thru on their way west or east. Many came from small towns trying for bigger markets in the east and some very talented announcers were heading west trying to escape some of the problems they had, mostly alcohol. I learned a lot from them. In the winter of 1957, four CJAT people I worked with were talking at a late night Chinese cafe when the idea came up it would be a great adventure to try and ride bikes across Canada. Two of the fellows dropped out, but Ralph Milton and I were a go and prepared for the April trip, buying bikes and equipment. The idea was to get as far as we could east and try for freighter jobs to Europe and tour by bike there, Ralph made it to just east of Toronto in June, but then told me he had to quit and go back home. We had worked a few days here and there, I had daily packages from my Mother, so after my companion left I carried on to Montreal. I canvassed numerous freighters with no luck so headed back to Toronto. Visiting the editor of Broadcast magazine I learned of an opening at the new TV station, CHEX in Peterborough. I did an audition not knowing much about tv and was supposed to come back and talk that afternoon. I didn't care much for Peterborough, so caught a bus back to Toronto never knowing if I got the job or not. 50 years later, Eileen and were RVing in the area and I thought it would be interesting to drop in and see if I was successful. Back in Toronto, it was June, so I spent the summer as a councillor at a boys camp. By September I was getting home sick, so caught a cross Canada Greyhound bus back to Trail. I had some great adventures in the six months. But I was eager to get back into radio. Fortunately now PD Ken Hughes gave me my old job back at CJAT.
Near the end of 1958, I was asked to do an audition for CJVI in Victoria. I was competing with Andy Laughlin, but I got the job if I could be there by Dec 15. They were short handed and needed someone quickly. I had intended to start looking at stations in bigger cities but was happy to go to a fair sized city for a new challenge. Surrounded by five feet of snow on the roadside and very snowy conditions, I packed my one suitcase, and with summer tires on my 52 Chev drove all night to Vancouver. An angel must have been on my shoulder. It was very dangerous to do that in the dead of winter. Made it safely and caught the night CPR boat to Victoria. When we arrived I was astounded to see blue sunny skies, the green grass and displays of fruit and veggies out in front of the many Victoria Fort street stores. As I was too early for my meeting with Program Manager Dick Batey, I decided to have breakfast in a Broad street cafe. I immediately locked my keys in the car. What a start! Thanks for the wind screens on the cars of that time, I borrowed a coat hanger and got the door opened. Then it was off to CJVI where listening was fine on radio nine. Boy, was I in for a shock. The station had recently been built, had new equipment and a large staff. I found the programming was from the 1930s and 40s. I was going from mostly popular music to tightly controlled programming with Bill Guild, the manager, being very strict about what was played and said. There was even a phone in the main control room that was to kept free for incoming calls from Guild if he heard something he didn't like. There were a number of live music shows with Al Smith, Reg Stone and Jack Laneghen. In spite of the management pressure the staff were great and friendly.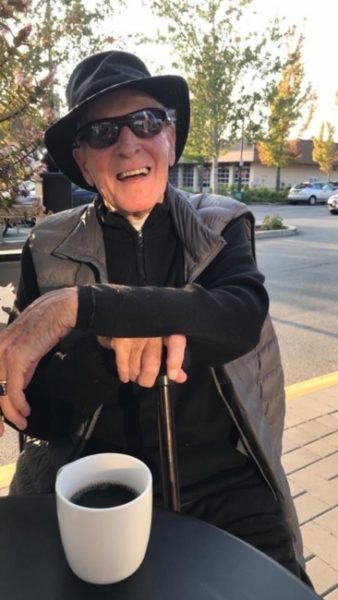 Walter Cownden was in charge of Production, Maurice, his brother was back at VI, along with Joe Easingwood, Tippy O Neil, Bob Aylward, Chuck Davis, Dave Shearer, to name the ones I remember. Joe was appointed to show me the VI way of doing things. It was tough coming from Trail to such a different format. Joe and I didn't get along too well at that time. He went to days, there was a very talented man doing mornings. Didn't see him much. Guess that's why I can't remember his name. Joe started a phone in program highlighting helpful hints and that worked well for him as that was the start of Joes Notebook that went on for years and raised a lot of charity money. I enjoyed the programming eventually and persisted with trying to better myself. The station was pretty much programming to an older audience. Demographics were slowly changing pointing out it was the younger audience that was spending the money. So VI was ok with older people but advertisers were demanding younger audiences.
And that was making the fairly new CKDA much more popular. It didn't help either with so many US stations available. I and many others had a rough time at VI.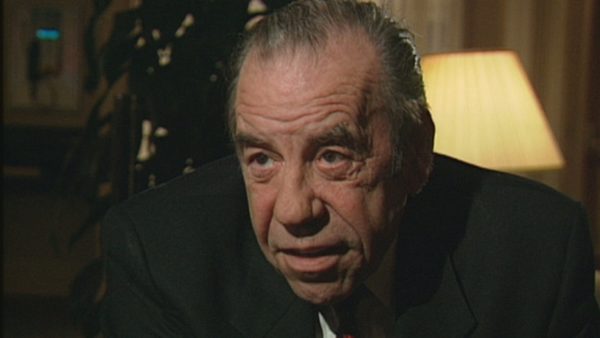 .
.
The happiest man I ever saw was Night co worker, Jim Neilsen was when he got a job at CJOR. There was a fellow who did not like his job at VI. The station was reducing staff, no more operators, which always amazed me. And then my turn came. I was called in one day in Oct 1960 by Walter who informed me the station no longer needed my services. I had recently married a Victoria girl who was working, so, although we didn't have much, we were doing OK. Walter helped me as much as he could even allowing me to come back at night and make auditions which I would present to numerous Vancouver stations. Nothing came about, no openings were available at that time. Back in Victoria I was wondering if I should change professions. One morning I was awoken by a knock on the door at our small attic apartment. The fellow introduced himself as Al Collins, PD at CKDA. He said John Loader, now retired from CJAT was at DA and had heard I was looking for a job. Mr. Loader had been convinced by Dave Armstrong to take on management of DA. Mr. Armstrong had put together enough money, with the help of a number of business people, to apply for the AM licence and an FM licence. I believe, at the time, this far sighted, but unusual man, had also applied for a TV licence, one of the first private stations in Canada.

I was very happy to be back on the air, but it was quite a change to be at Golden Sound radio. There were three control rooms, a small talk booth, numerous small offices in this Douglas Hotel basement and the equipment was either homemade by the engineers or second hand. Some of the turntables had electric light switches to turn them on. The halls were carpeted with a gunny sack like material and I think the music library was actually partly under the sidewalks of Douglas street. But, it was a fun and easy place to work. Liked the music, the format and the people. I worked all shifts except the all night show. Andy Stephen was the news director at DA and CHEK TV. I would follow him at ten am for some time doing newscasts on radio. I was very surprised one day when he told me to meet Jorgen Svendsen, the cameraman, to do an interview. I was astounded , outside of the Peterborough TV audition, I knew nothing about the medium. Interviewing over time many people on the street for opinions, but also celebrities such as Jayne Mansfield to Gov George Wallace of Alabama, many talkative politicians also. A few years later I asked Any if there were any film clips of the 1960s interviews. He said no as the black and white film had disintegrated badly …Just as well as I don't think I did that great a job. But they ran them so I guess they were OK. Around this time it was decided to try talk radio. VI was still a good competitor, CFAX was going full time and US stations were having a great success with talk. Armstrong was having a hard time keeping TV going.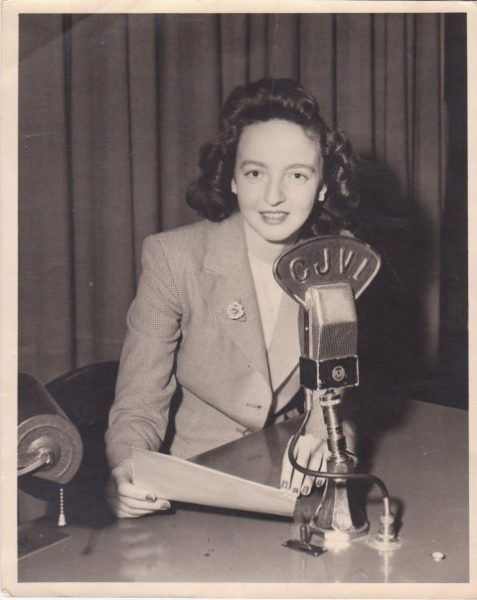 There was no network or satellite. Most of the programs were locally produced. Comptroller Ruby Masters kept a tight rein on the money, much of DA revenue going to TV. CHEK, at the time, had Andy, Ida Clarkson, the Taylors, Phil Barter and many other talented people who didn't have a lot to work with.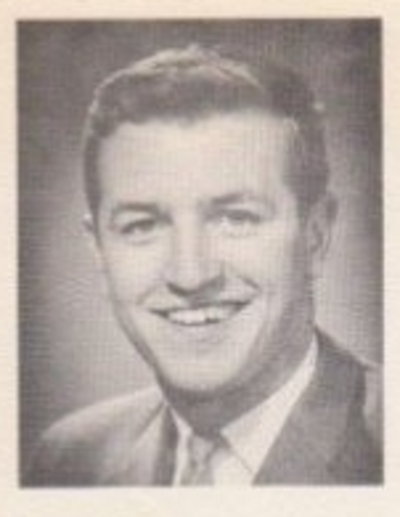 So eventually, CHEK was sold and Armstrong turned to starting an FM station, CFMS. I was happy to work with people such as Blain Fairman, Doug Taylor, Bob Gillingham, Dave Roegele, Bill Pike, Dave Hill, to name a few. Times Columnist Monte Robert's was the first talk host, but he didn't click.
Then Ralph Pashley took over. People either liked or disliked him and at first he had few calls and most of them were abusive. Ralph had been around radio for a long time doing Capital City Commentary, a political opinion show, plus sales. In the meantime I approached now Manager Keith McKenzie about a raise so I could buy a house for my growing family..his answer was no!! You would only have to pay more income tax.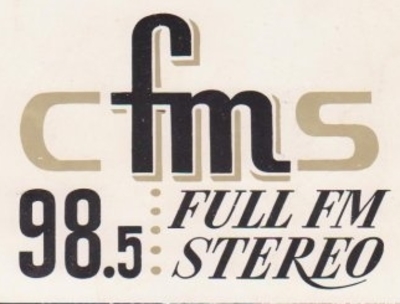 Guess the station couldn't afford it as the new FM station was about to go on the air making radio in Victoria rough. Ralph called me his producer and when he was moved to afternoons, his program was becoming very popular. I screened his calls, the five second delay was introduced to eliminate nasty comments, but I still needed more money, now with two girls.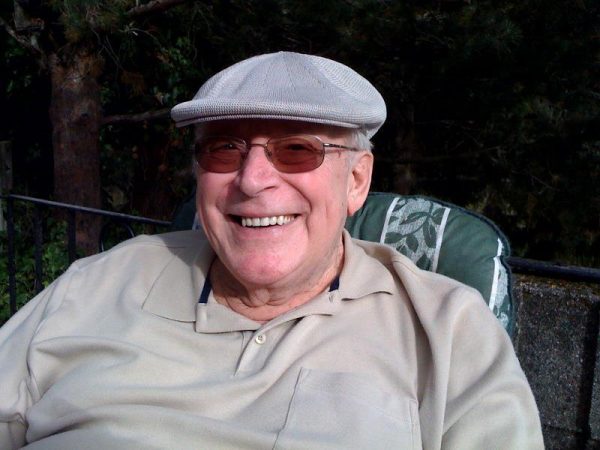 When CHEK was sold, Andy Stephen went to TV and I was appointed interim news director. I found the stress too much, lost about 20 pounds from my already thin build and eventually Phil Barter took over. After being turned down for a raise, I had a call one night from a man who said he was the new Manager at CJVI and would like to talk to me about coming back. Ken Goddard and I met, we agreed to salary, I would do the morning show, 6am to ten, noon to 2pm and production in between, I don't know what happened to Mr. Guild, but new things were going on at VI which had not been doing well.
.
Mr. Goddard told me now Program Manager Joe Easingwood and I would have to talk and we did. Joe and I had changed over the years, age does that. We were both more mature than back in 1958. So, that was one hurdle. Joe wanted me to do the morning show and production. Starting March one I was back at VI. At first I met with a rather frosty reception from Sports Director Gord Hunter and news man Lorne Cunningingham. They felt, I think, I was unfairly taking over their friends position as morning man. It took awhile, but I guess I overcame that and went on to do a credible job of slowly building up an audience. After a few years, things still not getting much better. CFAX was showing very strong, DA was still in there, CFMS with Rudy Hartmann was taking a chunk of classical fans using operators such as John Mitchell, Michael Easton and Gorde Tupper, young guys eager to get into broadcasting, to play his voice track introductions.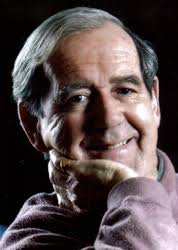 .
Mr. Goddard and Joe made a great number of changes at VI, introducing talk show hosts such as Dave Abbott and numerous other ones. But, it wasn't enough. Joe had given me lots of leeway and we were not short of talented people. Goddard was a kind and gentle man to work with. But the powers that be decided a change was needed and decided to bring in former 1940s Announcer, now Calgary Manager. John Ansell took over and more changes were made. One of his first as the new manager was to move me to mid mornings and days as he felt a new voice was needed. That was ok with me. My growing family didn't have to worry about waking Dad up from his afternoon naps. The first morning man was Jim Shearer, who didn't last long and, back home in Alberta, died at 29. Then came Ron Andrews. He did a very good job as Barry Bowman at CFAX was a hard competitor. My Request line was very popular as I had a unique way of recording the request calls and fitting them into the mix with their songs. We requested the retime, BC tel to recorded the number of calls and there were close to two thousand.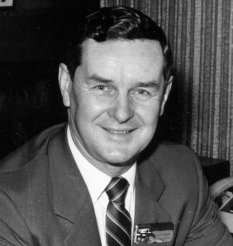 But I digress. Mr. Ansells next move was to change the music policy to country. He had seen the success in Calgary, but Country Music in Victoria?? Everyone thought it was a bad move until they saw the first ratings in Feb, only two months after country was introduced, the listenership had sky rocketed. But again I left out another important move. Ansell brought in Robbie Dunn from Calgary and there was the magic touch. Robbie, was in my mind, the right man in the right job. His sales methods and ideas he had were very successful. A young man named Jack Davis had tried and failed at most jobs in the station, but once he got into sales, he took off. He did so well bringing in new accounts that he soon had enough money to buy property in his home area in the prairies and return to farming. Jack was a hard act to follow. After I did my Request Show I took on the promotion work, setting up remotes, doing station publicity and hiring hostesses plus numerous other tasks.
Country music was just booming and did so well, CKWX turned to it also. My continuous work with many of our advertisers brought me to a change of career. I used to feel so sorry for the advertising sales people. Most times they had a hard time. Country music changed that and made the sales jobs more profitable. When I was at my peak, I thought, I was called into John Ansell office with Robbie Dunn wondering if I was in trouble. Instead, they presented me with an offer to leave the air and go into sales. I had such good relations with the advertisers, they thought I would be a success. I was pretty scared what with a mortgage and family to support. But after we came to terms, I was now an Account Executive. My list at first was mediocre. But when advertisers heard I was now in sales, they were calling Robbie asking for me to handle their accounts. This was not met with happiness by most of the salesmen. I soon became the top producer. I think it is a well known fact in radio that on air people were very easy to find. But finding productive sales people was something else. Robbie used to shake his head at my methods. Because I knew or had worked in most aspects, I turned into a one man band. For many accounts, I would devise a plan, write, voice and produce commercials, present them to the advertiser and book the business in. Ron Andrews was a great help. He would give me leads, his Marine Fishing reports put him in contact with a lot of people. I was soon asked to handle the complete advertising for accounts such as the Best Western Hotel, Olys pub and night club, the Shelbourne Plaza. My methods sometimes made the writers and production people unhappy. But I was bringing in the dollars and that's what counts. I even had time to help form a Junior Achievement company working with young broadcast hopefuls like Paul Curtis. And winning top Victoria Jr company of the year. CJVI was also bringing in big country stars such as Johnny Cash, George and Tammy, Marty Robbins, Charlie Pride and Loretta Lynn, to name a few.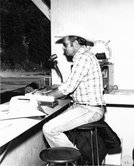 I had an interesting day taking Col. Sanders around to his KFC locations, was MC at most of the Country Shows, did the Sunday Concerts in the park, ring announcer at All Star Wrestling, did a brief stint at Western Speedway, my voice could be heard announcing taped post times at Sandon race track and, on most weekends doing two or three remotes. All this whirl of activity came at a price though. My wife, who had suffered from childhood related illness, decided she wanted to be on her own. I had taken a break to try and help her losing some big commissions already booked in. So off she went, in April 1978….and all of a sudden I had no wife, no job and two great teen age girls to try and figure out. But we succeeded and both girls make me very proud. During that time I was called by Doug Webb who offered me the job of looking after his advertising for Fun City. Then in June Robbie called and said it was time to get back to VI. So, I now take on the challenge of Father/Mother along with rebuilding my sales list. I did that until late 1979, then thought I wanted to go back on the air. Country music was not as popular plus Robbie Dunn had left, Adrian Andrew being his replacement. PD Harry Boon agreed to take me back on air, mid day. I had been a great success twice in sales, on air work was becoming harder. When Joe Easingwood, who was doing a talk show on VI and doing news, and Ed McKenzie left for CFAX, and Ron Andrews had decided to go to DA, there appeared to be a problem. Joe had been unhappy for some time as Ron Robinson, a very capable broadcaster, was brought in to replace him. Now three of the mainstays at VI were gone. I was given the morning show, but starting at 5am as that was the time Barry Bowman started at CFAX. I disliked the morning position. Mr. Ansell found out and said I could go to mid mornings, but hold on until a replacement could be found. After two months, a talented man named Brian Curry from Calgary was my replacement. I had heard he had problems he was working on. One night, Ansell called an announcers meeting and Mr. Curry got into an argument with him. That was it for Curry, he was out the door and resurfaced later as Charlie O'Brien at CKDA. After Joe, who had moved back in the PD position, left, there were holes to fill. I was in Vancouver when I had an urgent call to meet with John Ansell and newsman Henry Bessier. Both of us declined, me because I didn't want what responsibility I think, John had in mind, Henry for his own reasons. While Curry was still at VI, the station was sliding somewhat, a decision was made to change music formats. It occurred with no fanfare, no warning. We, all of a sudden started playing what was called "Only the Best." This meant playing the Ink Spots one minute, then Boy George. And in between. Country music fans, who were loyal, were furious. I was mid morning, Bob Glover was on the morning show. A man named Russ Mitten was appointed Program Manager. One of his decisions was to take me off the air as I was getting too old to relate to younger listeners. Also there was a great lack of guidance for the many coming and going on air people, sales were falling badly. And to boot, my salary was reduced quite a bit. In the early 1980s when we had a brief resurgence in ratings, Joe came into the Control Room one morning and said I wasn't making enough money and gave me a hefty wage increase. Then, off the air, thinking about quitting, I went into production until Mr. Ansell, who I believe really missed Robbie Dunn, kept calling me to go into sales. He kept arguing that was where i would do well and was needed. He actually was right. The accounts I inherited were dismal…. I remarried in 1980, my girls were doing well, so in 1985 it was back to sales for the third time. Many local businesses had closed or changed hands, national phone business seemed to be normal. I obtained most of business by getting to know advertisers. A few days after I started my adventures, I visited an account I had known for a long time, as gently as he could, he told me he didn't want to see me and was never going to advertise on CJVI.
Keith Dagg from Copeland Communications was hired to help and advise. He had lots of ideas and gave very good advice. The station was now playing Hard Rock, I didn't understand it, so it was hard to sell, but sell I did bringing my month totals up to thirty thousand a month. That's not much now, but, then, at that time it was a big help to the station. In 1986, I decided to pull the plug. John and Keith were very surprised I wanted to leave as I was doing so well. But I was burned out. I had a paid for house in Gordon Head, money in the bank and a working wife. I was asked, again, to wait until they had a replacement. Two months later, I walked out the door of CJVI. Keith had asked me to join Copeland, but even their generous treatment couldn't get me going. So you ask, What's next for this radio guy. Well, as it turned out, lots of things for this 50 year old ex radio man. I was still doing free lance commercial work and I often wondered why I didn't start an agency. Fred Usher, a very good friend, had his agency up for sale and wanted me to buy it. I was thinking I would try something else. In the next 14 years I: was a landscaper of sorts, a Security Guard, took on looking after tropical office plants around town, weed puller, looked after cattle and sheep at an estate, winters at Canada Post both inside and on a route, or walk as they call it. My most interesting was my time repainting native totem poles and canoes, keeping an eye over my shoulder watching for spirits who might be unhappy with my choice of colours. I did a lot of other things. In one instance I was a gardener on an estate and the owner said she always found it strange that I was down below gardening while she was watching me do a commercial on TV. Getting to that job on Coal Island was an adventure using an old diesel ex fishing boat to get from Swartz Bay to the island. Even my Canadian Power Squadron classes didn't help me when I got lost in the fog a few times. Specially when I came close to being run down by a BC Ferry. I even worked as Eric Charman's gardener. Between him and Ralph Pashley I could write a very interesting book. I ended my paid working days as Service Manager for Budget Car Rentals at the airport. I can still picture owner Mark Scott looking at me with a question on his mind: What the hell is he doing this for?? But I loved the outdoor work!
In 2000, Eileen and I sold our house, stored what we might need, bought a Ford F-250 on Monday, a 33 foot fifth wheel on Thursday and left the island June 1 intending to travel across Canada. Never having pulled anything more than a tent trailer, I wondered at times if I was out of my mind. But after two years, we headed back to BC, bought a half acre place in Oliver, totally renovated the house, mowed the hilly lot grass twice a week, fed many friends with fruit and vegetables, we decided to sell and do some more travelling. From Monte Carlo, to Warsaw, Russia, Mexico, the Caribbean islands, the South Pacific. At nearly 84, we now live in a condo overlooking Okanagan lake. But, no more travelling, just lots of praying for the young people.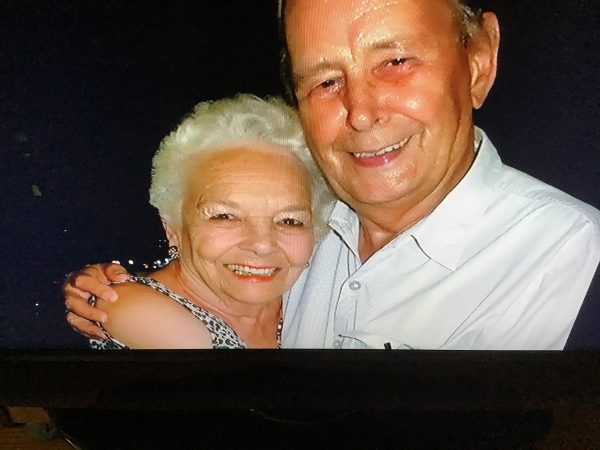 Eileen and I have been married 41 years. I will never regret my life, still pretty healthy, maybe a little more rickety, but still walking a few miles a day. I do the house work to keep busy, Eileen takes care of the other stuff. We have had our first Covid shot and will get the next one in July. Fought prostate cancer and still on light chemo, but ticking. Michael Easton, a good friend for years, asked me to write this for Puget Sound Radio. At one time I laughingly called myself his foreign correspondent. Thanks to those who plowed thru this. Sometime in the future I would like to relate some of the stories about famous Victoria people, now long gone. I don't know if the Capital city has any characters left. I see big changes since I arrived there in 1958.
(Fraser and his wife Eileen are retired and now reside in Penticton, British Columbia.)