MLB sets 60-game sked, opens July 23 or 24
.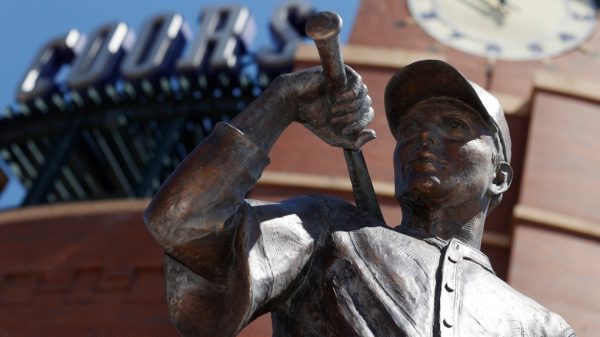 The bronze statue entitled "The Player," by sculptor George Lundeen stands outside the main gate of Coors Field, home of Major League Baseball's Colorado Rockies, Tuesday, June 23, 2020, in Denver. (AP Photo/David Zalubowski)
A team is scheduled to make only one trip to each city it visits in MLB's shortest season since 1878.
In a twist, the sides expanded the designated hitter to games involving National League teams and instituted the radical innovation of starting extra innings with a runner on second base.
The number of playoff teams will remain at 10, though that still could change.
The trade deadline will be Aug. 31 and the deadline for post-season eligibility is Sept. 15.
Active rosters will be 30 during the first two weeks of the season, 28 during the second two weeks and 26 after that. They will not expand to 28 on Sept. 1, as originally intended this year.
READ MORE  HERE.