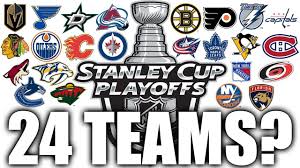 .
Proposed 24-team playoff format could become the norm
The NHL playoffs are close to returning. And they are not going to be like anything we've seen before.
That likely goes for next year and beyond.
On Monday, the NHL held a Board of Governors meeting to discuss plans for returning to play and one of those proposals involves jumping right into the playoffs with 24 teams competing in as few as two hub cities for the Stanley Cup.
There's a lot to unpack here logistically. And there are many questions that still have to be answered, such as which cities (there are eight or nine currently on the short list) will host the games? Will players' families be allowed to stay with them in the hotel? How will the league regularly test players? What happens if someone tests positive for COVID-19?
And when is this even going to happen when border restrictions are preventing players — 17% of whom are currently outside of North America — from returning to the continent?
"I don't think anybody has a fixed timetable, particularly in North America right now," commissioner Gary Bettman said in a digital keynote interview with Leaders Week, a sports business conference, as reported by NHL.com on Monday. "We have been working very hard since we took the pause on March 12 to make sure that whatever the timing is, whatever the sequencing is, whatever physical ability we have in terms of locations to play, that we're in a position to execute any or all of those options. There is still a great deal of uncertainty."
Read the rest of the story  HERE.