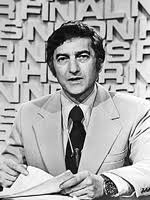 Vancouver radio has produced an outstanding array of broadcast news reporters, and we've just lost a guy who billed himself as the market's first beat radio reporter.  Mark Raines died suddenly on Good Friday at his home in Toronto, at age 93.
.
He was born in Calgary Jan. 18 1927.  After graduating from high school in 1945 Raines' radio career began in Calgary, and in 1951 he moved to a copywriting and announcing job at Vancouver's CKMO 1410.
After falling in love with Eunice from the CKNW continuity department he married her in 1952, joining CKNW News that same year.
The family's obituary in today's Globe & Mail picks up the story.
.
Marke joined CKNW in 1952 and became the station's first beat reporter. On his first day on the beat he broke the story of the sale by Mayor Fred Hume of the Vancouver Canucks.  That same year he gained notoriety when he made an unauthorized crossing of the Port Mann Bridge, as the facility had not yet been opened to the public.
Marke established himself as a prominent radio news reporter and, on the side, wrote and co-hosted with News Director Warren Barker, a weekly CKNW comedy show, Just for Fun.
.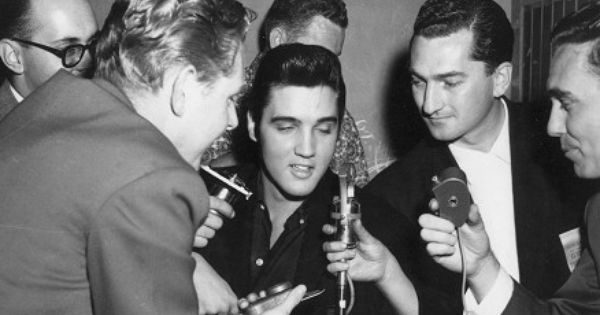 Raines (2nd from the right) was among the reporters to interview Elvis Presley backstage after Elvis's August 31, 1957 concert in Vancouver.
.
In 1964, Marke moved to radio station CJOR to host an open line public affairs program. He then moved to CHAN-TV in 1965 to write and present public affairs television, including Pipeline, Vancouver's first open line television public affairs program.
Marke returned to CJOR with Pipeline in 1968 and, in 1969, began also writing and presenting Night Beat, a B.C. newscast on CHAN-TV.
Later that year, he left CJOR and continued to anchor Night Beat, which became News Hour Final, for five years until 1974, during which time CHAN-TV re-branded as BCTV.
.
During his career, Marke interviewed, among others, Prime Ministers Louis St. Laurent, John Diefenbaker, Lester Pearson and Pierre Elliott Trudeau, as well as Premiers W.A.C. Bennett and René Lévesque.
In addition to Elvis, Marke interviewed celebrities ranging from Bob Hope and Bing Crosby to country music star, Wilf Carter.
Marke successfully ran as the Liberal Party of Canada's candidate in Burnaby-Seymour in the 1974 federal election. He served five years as a Member of Parliament in the Trudeau government and did not run for re-election.
During his term, Marke was a member of the Standing Committee on Broadcasting, Films and Assistance to the Arts where he was critical of the budget and programming of the CBC. He spoke in Parliament on, among other issues, the Newfoundland seal hunt, and was a Parliamentary Delegate to the U.N. General Assembly in 1977.
.
Marke was appointed in 1981 for a five-year term as a Commissioner on the Canadian Radio-Television and Telecommunications Commission.
.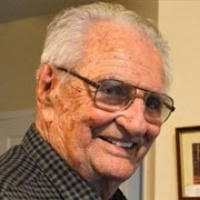 Marke held a Commercial Pilot Licence, made several flights through the Rocky Mountain passes to Alberta and once flew, as a guest of the 
U.S. Air Force
, in a supersonic F106 Delta Dart. When family members inquired how that came about, he replied, "I asked."
In 2014, Marke and Eunice moved to Toronto to be close to his daughter Bonni and closer to his expatriate son Marke Jr. (of London England). He will be remembered, with love, for his dedication to his family, his moral rigour and sense of fair play, his sense of humour and his genuine interest in people. He was a kind and loving husband, father and grandfather. Marke will be sorely missed by his family, friends and former colleagues.
The family wishes to thank the paramedics and firefighters who attended promptly when Marke suffered heart failure.
A memorial service will be held at a later date.