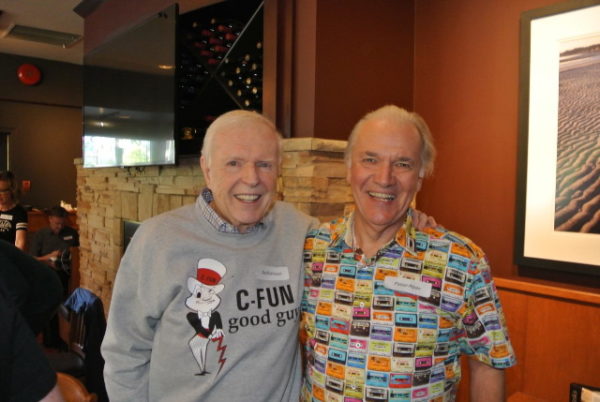 Peter Alpen (right) with Red Robinson
Peter Alpen, a senior sales executive with Canadian Traffic Network in Vancouver and a former broadcaster, worked his last day on the job yesterday, Friday the 13th.   In fact this stretch of employment with CTN covered 13 years, after graduating from BCIT in the mid 1960's and getting his start as the overnight deejayat C-FUN 1410 (1965-67.)
He went on to host mornings at CHWK Chilliwack before CKWX beckoned where Peter would host the Legendary Sock Hop and Malt Party 9-midnight (1969-74).
The rest of his resume is courtesy Vancouver Broadcasters:
Promotion manager & sales CKWX 1974; Sales manager/VP Fraser Valley Broadcasters 1974-84; national sales rep Target Media Inc. 1984-88; VP Starcom Broadcast Sales 1988-99; national account representative Digital Advertising Network 2002-06; national account rep Canadian Traffic Network 2006-current and VP/GM CTN Western Region 2008-current; recipient ABCOM Audrey Award 2012.
Congratulations Peter on a very successful career .. and we wish you a most happy retirement.