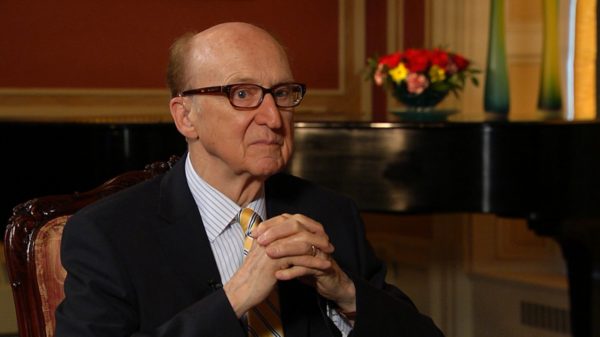 Our thanks to Connie Thiessen at Broadcast Dialogue for drawing our attention to this development.  Vancouver-born Craig Oliver, a CTV stalwart for more than 40 years, who turned 81 last month, is retiring from his day-to-day duties.  The announcement was made on the CTV News Network on Friday.  But he intends to continue to appear occasionally, albeit in a greatly reduced role.
"In this town, and we all know, it's one thing to be loved, it's one thing to be respected, it's rare to be both. You're both loved and respected," said Evan Solomon, host of the network's Sunday public affairs show, Question Period.
Oliver, who began as a reporter in 1957, was previously CTV's Ottawa bureau chief. Prior to coming to Ottawa, he covered the Reagan years as CTV's Washington correspondent for almost a decade. He was a personal friend to the late Pierre Trudeau at the same time that he reported on Trudeau's Liberal government.
Oliver is legally blind, a condition related to glaucoma he developed late in life. He has won two Gemini Awards and the President's Award from the Radio and Television News Directors' Association. He has also won the Gold Ribbon Award from the Canadian Association of Broadcasters, the Charles Lynch Award from the National Press Gallery. The University of Regina honoured Oliver in June 2009, with an Honorary Doctorate of Laws degree.  On June 14, 2013 he received an Honorary Doctorate of Letters (honoris causa) from Nipissing University in North Bay, Ontario.
On May 24, 2012, Oliver was named an Officer of the Order Of Canada. At the awards ceremony held on November 23, 2012, the Governor General of Canada David Johnston also presented Oliver with the Queen Elizabeth II Diamond Jubilee Medal.