Karen and Richard Carpenter, Have yourself a Merry Little Christmas…
The Carpenters had three number-one singles and five number-two singles on the Billboard Hot 100 and fifteen number-one hits on the Adult Contemporary chart, in addition to twelve top-10 singles. They have sold more than 90 million records worldwide, making them one of the best-selling music artists of all time. The duo toured continually during the 1970s, which put them under increased strain; Richard took a year off in 1979 after he had become addicted to Quaaludes, while Karen suffered from anorexia nervosa.
Their career together ended in 1983 when Karen died from heart failure brought on by complications of anorexia
The brother and sister act recorded two Christmas albums….
…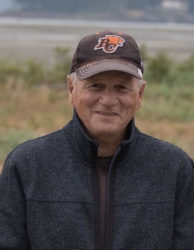 Chuck Benson – Started his broadcast career in 1960 as a writer at CKYL, Peace River, AB, where in 1965 he won the Gold Leaf Award (now called the Juno) for Top Disc Jockey for Canada. From there, a brief stint at CFRN, Edmonton, AB as Promotions Manager for AM/FM Radio. Then in '62 helped open CKNL Fort St. John, BC. In '68 Chuck and two others (Ernie Mushtuk and Ernie Mykyte) started up Yellowhead Broadcasting Ltd out of Edson, AB, eventually ending up with satellites in Grande Cache, Jasper, Whitecourt and Hinton, AB. He sold his interests and moved to Vancouver, ending up with CFVR, Abbotsford as General Sales Manager, then Manager of CHPQ, Parksville, and eventually as a Sales Consultant with CIGV-FM in Penticton. Chuck is retired from broadcasting and living with his wife in Parksville