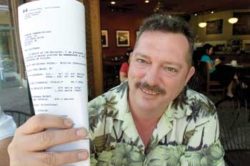 The transcript of yesterday's hearing has been posted online, and it reads like a pretty low key tea party discussing how the years of non-compliance with the federal regulator will affect the futures of both CHMZ-FM Radio Ltd. Tofino and CIMM-FM Radio Ltd. Ucluelet.
Matthew McBride (pictured above) and the local operator Cameron Dennison (below) were grilled for several hours as you can read for yourself.   McBride wants out, he wants to "sell" the licences and other assets to Dennison, the operator of the Tofino station for the past several years, who also took over management of the Ucluelet operation as of last April.  I don't see any sign of McBride getting even a slap on the wrist as a result of yesterday's hearing.  At least in the gentle way he was handled
Below is the link to the hearing transcript.   After ploughing through the extensive record, please feel free to post your reactions.
https://crtc.gc.ca/eng/transcripts/2019/tb1906.htm