Joel moves from his current role on Global News Morning Weekend to anchor the News at 11 with an expanded presence on the News Hour at 6, effective September 3.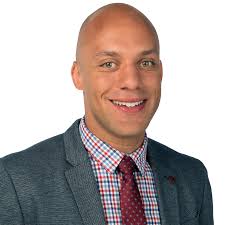 CALGARY, August 19, 2019 – Global Calgary announced today that Joel Senick is taking on the new role of Global News at 11 anchor starting on September 3, joining the team of Paul Dunphy and Moses Woldu.
Senick is familiar to Calgarians as both a reporter and Global News Morning Weekend co-anchor since joining the station in 2017. In addition to his role on Global News at 11, Senick will take an expanded role reporting on the News Hour at 6 where he will dig deeper into the top stories of the day to provide context and clarity for local audiences.
Award-winning anchor Linda Olsen will continue in her role as the trusted voice of Global News at 5 and Global News Hour at 6. Olsen is a leading advocate for local news and community initiatives, which she will continue to share with audiences each night on the flagship broadcasts in Calgary. Paul Dunphy will continue to provide trusted weather and forecast information as the weather anchor for Global News at 5 and Global News Hour at 6.
Senick is a thoughtful journalist with a strong skillset in interviewing top newsmakers of the day. In his roles as anchor and reporter, he was prominent throughout the month-long 2019 Alberta election campaign where he covered the UCP headquarters on election night and built a series of strong and dynamic panel interviews with newsmakers on Global News Morning Weekend. Some of his most memorable stories over the last few years include coverage of Calgary Votes 2026 – the city's bid for the Olympics – and his multiple stories and live coverage from Global Calgary's award winning coverage of the Kenow Mountain wildfire in Waterton Lakes National Park that devastated local businesses and people living in the area.
Senick started his career in his hometown where he worked at Global Saskatoon for over four years as a reporter and anchor. He is a proud graduate of the broadcast journalism program at Boston University where he quickly discovered his passion and true calling for hard news.
"Joel has proven to be a critical thinker that dives deep into the issues and stories that matter most to Calgarians," said Carmela Gentile, Global Calgary News Director and Station Manager. "He has been embraced by our viewers and is gifted at making strong community connections, notably seen in his dedication to mentoring young athletes across the city."
In his spare time, Senick is active in his community and coaches the junior development group of athletes aged 11 to 14-years-old at CalTaf Athletics in Calgary. He designs the sprinting program for the training group and can be found on the track three times a week. Senick has been a passionate advocate for youth sport in his role as a coach for the past seven years.
THE ABOVE IS A PUBLIC RELATIONS NEWS RELEASE, NOT SUBJECT TO JOURNALISTIC SCRUTINY