Renel Brooks-Moon leads SF Giants media on frontlines of women in sports broadcasting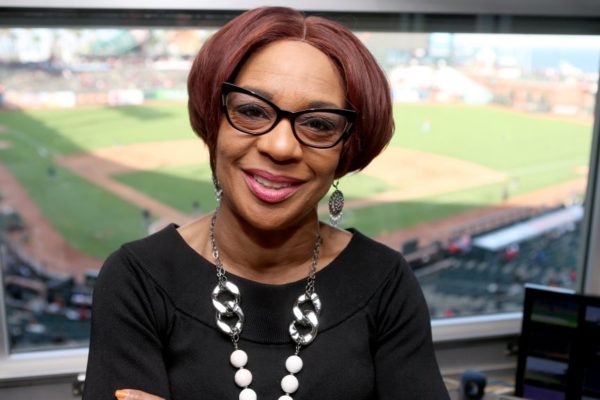 SAN FRANCISCO — Since the Giants opened a state-of-the-art waterfront ballpark in 2000, the franchise has cycled through three managers, four stadium names and several hundred players.
There's been just one public-address announcer. Renel Brooks-Moon has introduced every one of those players.
"First of all, my mind is still blown that I'm here two decades," Brooks-Moon said.
As the first and only female African-American public address announcer in Major League Baseball — and still just one of two women stadium announcers in MLB — Brooks-Moon is revered as a trailblazer. Now she's leading other women on the trail.
"Renel doesn't even know how much she has impacted not just women breaking down barriers, but any sort of minority in this field," Giants' in-game host Therese Viñal said. "She has been a light and a loudspeaker."
Twenty years after she first spoke into the microphone at what was then known as Pac Bell Park, Brooks-Moon is at the center of an ever-growing circle of women in on-air roles with the Giants. Amy Gutierrez is the field reporter for NBC Sports Bay Area. Kelli Johnson hosts the pregame and postgame shows for NBCSBA. Carmen Kiew co-hosts her own postgame show, "Triples Alley," on NBCSBA. Viñal makes five.
"When you're given the privilege of these opportunities, you must make sure that you are the first, but you are not the last," Brooks-Moon said. "That's how I was raised. It's personal for me and I really feel blessed that I am in this position to be able to have some sort of impact. To be a shoulder, an ear, whatever you need. Because I had nobody."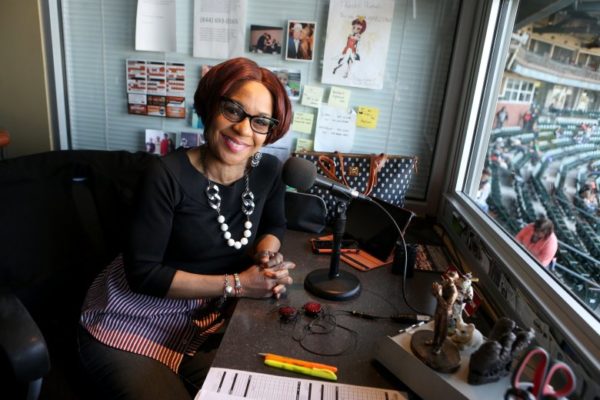 Brooks-Moon is not the first female public address announcer in Giants history. That honor belonged to Sherry Davis, who welcomed fans to Candlestick Park from 1993-99. Like Davis, Brooks-Moon was initially the only female voice to be heard from the ballpark. That changed in 2008 when Gutierrez moved from a role as a producer to an on-camera TV reporter.
"Renel is one of my biggest mentors," Gutierrez said. "Not only did I grow up listening to her on the radio, I already knew who she was, I got a chance to produce her and she was my talent for GMag. She was this trailblazer for all of us."
Read more HERE.