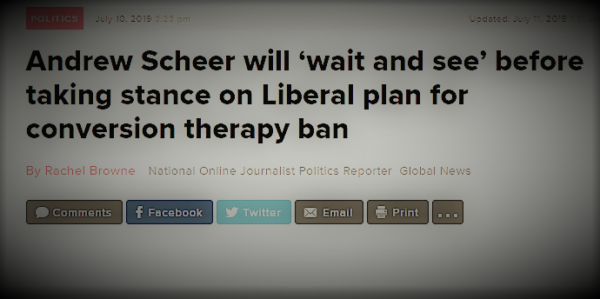 July 11, 2019
Establishment media bias is heating up as the press does the bidding of the Trudeau Liberals.
"When asked by Global News whether Scheer would support such a ban, he said: "This is something that this Liberal government is only now recently proposing. We will always, of course, stand up for the rights of LGBTQ individuals and protect their rights and, of course, we're opposed to any type of practice that would forcibly attempt to change someone's sexual orientation against their will or things like that. So we will wait and see exactly what is being contemplated."
So, Scheer is being asked to a respond to a proposal that doesn't actually exist in any tangible form. The Liberals haven't introduced any legislation. Then, he says that the Conservatives are against forcible attempts to change sexual orientation and says the Conservatives will stand up for the rights of LGBTQ people.
A reasonable headline for the Global News article would have been "Scheer says Conservatives will stand up for LGBTQ Canadians following Liberal musing about conversion therapy ban"
But that's not what Global News wrote.
Instead, they wrote "Andrew Scheer will 'wait and see' before taking stance on Liberal plan for conversion therapy ban."
Read More HERE