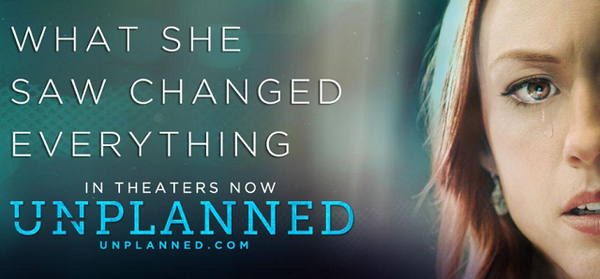 by Lianne Laurence
July 10, 2019
July 4, 2019 (LifeSiteNews) — Police are investigating death threats sent to two Canadian independent theatre owners because they are screening the pro-life movie Unplanned on July 12, LifeSiteNews has learned.
Unplanned dramatizes Abby Johnson's conversion from Planned Parenthood abortion facility manager to pro-life advocate and was written, produced and directed by Cary Solomon and Chuck Konzelman.
As a safety measure, the movie's producers have now removed from their website the comprehensive July 12 listing of 46 Canadian theatres — independents, Cineplex and Landmark locations — that will be showing Unplanned, Konzelman told LifeSiteNews.
They did so at the request of B.J. McKelvie, pastor and president of Fredericton-based Cinedicon, the Canadian distributor of the film.
McKelvie confirmed to LifeSiteNews that two Canadian independent cinema owners contacted police after receiving death threats they perceived as credible, and that they are "fearful for their families."
Another Canadian independent theatre owner "has been harrassed to the extreme."
One of the two owners who contacted the police has cancelled the Unplanned screening, but all the rest "are holding their ground," McKelvie said.
He did not want to identify the locations, particularly because "it's a police matter," he told LifeSiteNews.
The alleged death threats are aimed at independent theatre owners because "they didn't get anywhere with Cineplex, or they didn't get anywhere with Landmark," McKelvie said.
Read More HERE
Where to see the movie in Canada called UnPlanned
According to the July 2 list, the movie will be shown from July 12 to July 18 at the following Cineplex and Landmark locations:
British Columbia
Cineplex Cinema, Langley
Cineplex Silvercity Mission Cinemas, Mission
Landmark Cinemas 12 Guilford, Surrey
Landmark Avalon Cinemas, Nanaimo
Landmark Grand 10 Cinema, Kelowna
Alberta
Cineplex South Edmonton Odeon 16, Edmonton
Cineplex Scotiabank Chinook 17, Calgary
Landmark Cinemas 10 Shawnessy, Calgary
Landmark Cinemas 16 Country Hills, Calgary
Saskatchewan
Cineplex Cinemas Normanview, Regina
Cineplex Scotiabank Theatre, Saskatoon
Manitoba
Cineplex Scotiabank Theatre, Winnipeg
Landmark Cinemas 24, Winkler
Landmark Cinemas 9, Brandon
Ontario
Cineplex Yonge & Dundas, Toronto
Cineplex Cinemas Vaughan, Vaughan
Cineplex Winston Churchill 24, Oakville
Cineplex Silvercity London 12, London
Cineplex Silvercity Windsor, Windsor
Cineplex Scotiabank Theatre, Ottawa
Landmark Cinemas 12, Kitchener
Landmark Cinemas 24, Kanata
Landmark Cinemas 24, Whitby
Nova Scotia
Cineplex Cinemas Dartmouth Crossing, Dartmouth
Check Unplannedtickets.com for updated information, and local listings for Unplanned at independent theatres beginning July 12.
Groups can arrange a theatre buy-out for a screening if Unplanned is not showing in their area; for information on this option, go here.