Original Video of Wendy Mesley apologizing over the Covington story, saying the story was wrongly reported, has been removed by Youtube. Why?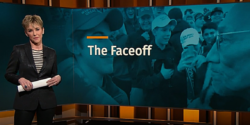 March 11, 2019
In the January 20th edition of one of CBC's flagship news programs, The Weekly, hosted by longtime CBC reporter Wendy Mesley, the national broadcaster falsely reported that the #MAGAKids were harassing and bullying a peaceful indigenous elder by crowding him and chanting, "Build that wall!"
These kids were in Washington D.C. on Friday, January 18, to attend the massive pro-life rally being held in the capital that day. While initial media reports of the confrontation ran hot with charges of racism and cries of "Trump's America!", thanks to a viral photo showing what appeared to be a smug teen encroaching in on an elderly native man's space, the facts that followed proved these claims to be worthless.
It turns out that it was actually Native Elder, Nathan Phillips, who initiated the encounter, approaching the #MAGAKid, Nick Sandmann, and beating his drum right next to Sandmann. Phillips was followed by a group of Black Hebrew Israelites, a black supremacist cult, who hurled insults and racial epithets towards Sandmann and his classmates.
Read More HERE