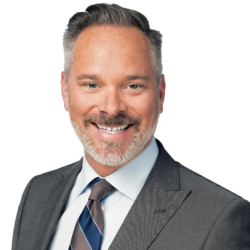 NEWS RELEASE from Rob Germain, General Manager @ CHEK TV Victoria March 11 2019
Scott Fee, former anchor at CHEK News, is returning to the station as News Director, to lead Vancouver Island's top news team.
"I'm absolutely delighted to be coming back to CHEK and Vancouver Island," says Fee. "It's a thrilling opportunity to work with an incredibly talented and dedicated news team that is committed to bringing local issues and news that matters to Vancouver Island residents.
Scott Fee returns to CHEK March 18; his return occurs in the year CHEK celebrates a decade as an independent, employee–owned station. Scott, a broadcaster with more than 20 years experience, was most recently anchor of Calgary's prime time newscasts on Global TV. Scott and his husband Brad and their two dogs have called Calgary home since 2011. Scott has been involved in award–winning coverage of some of Alberta's biggest stories, and his show has been named by television news directors as the best in Canada.
"CHEK News has a super–talented team, and it will be an honour to work alongside both veteran and newer staff," says Fee. "We are an important part of the fabric of Greater Victoria and Vancouver Island, I am thrilled to have to opportunity to help steer CHEK into a great future both on air and through our online platforms." "
When he isn't working, Scott enjoys hiking, camping and golf. He also loves the ocean: "I enjoy the mountains, but the ocean gets into your soul and I am eager to be near the sea again – it is a huge part of what shapes us as Island residents."
Scott's appointment follows the appointment of Rob Germain as General Manager of CHEK Media in September 2018. Rob was news director at CHEK for 17 years.
"It is a testament to the strength of CHEK TV and the stories we tell that Scott has decided to return to Vancouver Island.," said Germain. "Scott will bring a fresh new perspective to our newscasts, the stories we tell and our overall operation. CHEK is in the process of designing new sets, introducing new graphics and doing a major overhaul of our website. We are here for the long term and Scott is joining us at an exciting time."