At Amherst Island's CJAI 92.1 FM, volunteers host shows, work the mixing board, and woo advertisers — it's just one of many small local radio stations across the province trying to do more with less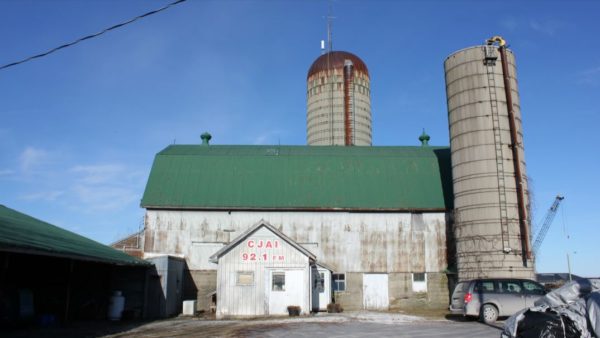 .
AMHERST ISLAND — Radio host Brian Little takes a quick break from playing hit songs from 1975 on his weekly Friday Morning Show to throw to Keith Miller and the CJAI traffic chopper.
"Thanks, Brian!" Miller yells over the sound of swooshing blades. "Your traffic update for Amherst Island: There are four cars in the ferry lineup. A few cars stopped at Concession Road 2 taking pictures of the snowy owls. This concludes your traffic update!"
Miller, an 78-year-old former dairy farmer, gives Little a satisfied grin as he pulls away from the microphone and puts down an oscillating fan with "CJAI Chopper" written on it in black Sharpie. It's clearly one of Miller's favourite gags.
CJAI 92.1 FM, a community radio station on Amherst Island, about 30 kilometres west of Kingston, in Lake Ontario, was created in 2006 by a group of residents — including veteran broadcaster Peter Trueman, who had retired to the island — to promote local content and community events. It now reaches roughly 10,000 listeners from Picton to the western edge of Kingston and airs more than 40 hours a week of live shows: Jazz Jim's Vault (jazz classics and history), Saturday Night Barn Burner (lesser-known artists with a focus on rock), Sally's Books (readings from selected books), and Birding (birding), to name just a few.
Like most of Ontario's 54 campus and community radio stations, it relies on a team of dedicated volunteers to keep it running and is fighting to survive in a rapidly changing media landscape. And CJAI's fight for survival has only gotten tougher since it learned that it may lose Dayle Gowan's milk house — the building that's been its home since the station's inception.
READ THE REST OF THE STORY  HERE