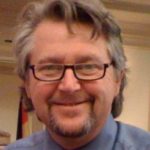 JJ-365 Salutes
October 11, 2018
Welcome to JJ-365 Salutes. Over 2018, we pay tribute daily to one of "The Good Ones". Today we are shining the light on Tom Milroy.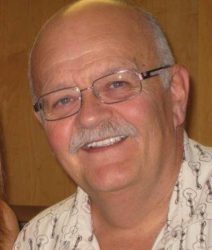 I came into CITI-FM in Winnpeg to do the afternoon drive shift when 365'er Terry DiMonte went over to try the record/artist management side of things. Steve Young had a conundrum on his hands. Everybody across the country was trying to hire the red-hot Bro Jake Edwards out of CITI mornings and the late and great Steve Young was thinking back up plans. I had wanted to do a large market morning show for some time and of course threw my hat in the ring should that ever come up.
All of a sudden Jake was hired away to Dartmouth Nova Scotia (part of the Halifax market) to successfully start up Q104. It was perfect for Jake going back to his home area and after some time Steve chose me to replace him. Impossible shoes to fill but I gave it a good go and we did alright, nothing like Jake though. His hilarious sidekick Tom Milroy became my creative partner too. We worked together and had some great fun trying the keep ratings numbers and growing on this monster station. It was an interesting set up before we moved from the Black Dungeon downstairs to the new upstairs studios. In the beginning you and the news person/co-host were on two different floors, so you didn't have the benefits of seeing each other's faces, and the ideal communication that happens when you are in the same room. Tom has a startling wit and can take you apart on-air in a very funny and harmless way if you are not careful and on the ball. Tougher when you can't see his face. Tom moved on and then I hit the Moffat programming trail at CHAM in Hamilton. I have fond memories of working with Mr. Milroy.
Tom says: "Imagine doing something for a living that you've always wanted to do…Imagine doing it for more than 40 years…At times, I thought my career would soon be over because the boss would find out…Management would discover this guy shouldn't be here…"
As a teen, his transistor radio would never be far from his side. Sure, the music was great, but he was really listening to the announcers between the songs: J. Robert Wood and Daryl B. on CKY, Doc Steen and 365'er Boyd Kozak on CKRC and as he got a little older, it was Bobby 'Boom Boom' Brannigan and Jim Millican on CFRW.
When Tom was a student at Red River College he worked at CMOR, the Radio station within the school. He had his own 'show' and then eventually became manager which gave him a full-time job for the summer heading into the second and final year of Creative Communications. He had applied to get into the course a couple of years earlier but couldn't do it, so he did the next best thing, he took a Creative Writing course at the college and the instructor was David Williamson, the man in charge of Creative Communications.
Tom says: "David must have seen something in me, Heaven knows what, but he let me into the course, had a great time and I made friends who I still see today."
His first paying job in Radio was CKDM Dauphin which was a great training ground for many because you did everything, including turning off the transmitter at midnight. Back then it was an 18-hour station. The manager, Hugh Dunlop, asked him to guarantee him 6 months employment which he did and when that time had expired, Hugh fired him. "Guess I thought I knew everything" Tom says.
Just as he was feeling low, I mean getting canned from your first Radio gig? The same thing happened to me at CJET in Smiths Falls so I know that one. How embarrassing he says but days after that happened, he landed a job at CKY in Winnipeg, thanks to former RRC classmate Paul White who had been at 'KY for a couple of years. He put in a good word for Tom with the news director Ted Farr. Ted was (and is) great and taught him how to write and communicate: "Ted and I keep in touch via Facebook and as far as I can tell, he still weighs 120 pounds. I also got a chance to spend time with Don Percy. A man, who keeps telling me again and again, is a legend-?."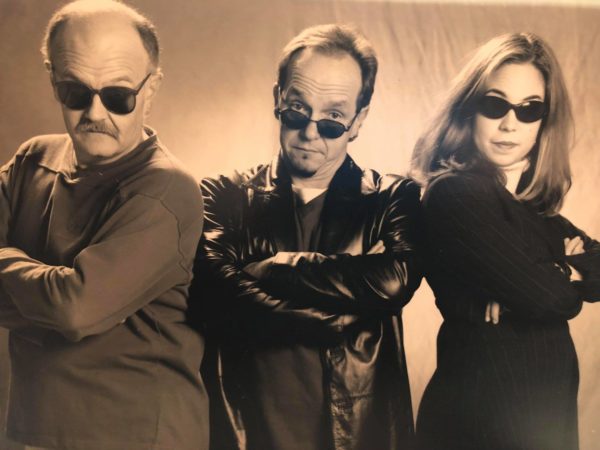 At CKY, Tom was working in the newsroom as an announcer and reporter but soon got a chance to work on the FM side. 92 CITI-FM was fairly new in 1979 and Tom ended up reading news on Bro Jake's show. He describes those four years with him as a whirlwind. He hadn't met many people who outworked Jake. Doing afternoons was Terry DiMonte. When Terry coached a hockey team of 13-year-old boys, Tom became the manager which he calls a fancy term for constantly asking the parents for money.
It was during this time Tom and I met and later did the mornings together for a short time. When Steve Young left in June 1985, CITI-FM wanted to 'go in a different direction' Tom found himself on the beach again, I was soon off mornings and then off to PD Hamilton after being hired by 365'er Don Kay .
That was a sad time and scary because Tom's wife Maureen was a stay at home Mom and they had a two-year-old son. Maureen went back to work and Tom looked after Kyle for about a year. Tom says: "THAT was work…Kyle is now 35, a CORUS employee for 10 years! (hired by Vic Grant who left the CKY building at the same time I did). Our other son Ian is 31 and the Assistant Manager at Academy Road Service (not in Radio, smart lad). Maureen and I have been married for 40 years! Maureen retired from the Fairmont Winnipeg in 2014 and now has three part time jobs!"
In May 1986, Tom got at job at CFRW/Q94FM, which were the CHUM Group stations. CHUM was eventually sold to BELL. In 1989, 365'er Buster Beau Dean and Tom were teamed-up and that amazing run lasted until early 2012.
A morning team together 23 years is rare: "Our friendship has endured, and we've watched our families grow up. I can count on one hand how many days we missed because of sickness. No matter how late we were out the night before, or how much we were over-served, work was the thing. There were some great times including three trips to Disney World and one to Disney Land to broadcast the show back to Winnipeg. Try telling your children 'Daddy has to work at Disney for a few days'…"
There were also several trips to Nashville to film TV commercials (pretty rare to do that now). Tom has had the pleasure of working with so many talented people he says. It wasn't always Beau and Tom. There was Beau, Tom and Caroline, Beau, Tom and Frazier and Beau, Tom and Dez. His Program Director for most of that time was 365'er Howard Kroeger who went on to be the founder of the BOB-FM format and become the uber successful radio consultant and strategist that he is. The man in charge of promotions during the 90's was Chris Brooke, who just recently retired after 28 years at the same location. Tom said things were good but "guess what happened in January 2012? Yep, I got fired. There was very little bitterness at the end…How could I be bitter? I was employed there for 26 years."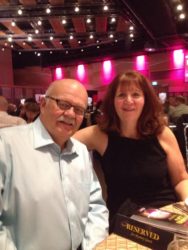 In the summer of 2012, Tom suffered a heart attack and in his witty way says it was a great way to quit smoking. A year later he began to get restless and had to do something. He got in touch with his son Kyle's employer, CJOB (part of CORUS/GLOBAL) and asked if he could do something part-time and got a gig. He still hosts a show on 'OB from 9 to 11am every Saturday. It's a news/information format, with no tunes to fall back on. It's all him and the people he interviews, and he couldn't be happier.
Tom Sums up: "It's great working with my son and all of the other young people…I ran into one of them in the hallway last week and he asked if I was lost…Don Percy was right: Once Radio gets in your system, it's not easily removed…in 2015, I somehow got into the Broadcasters Association of Manitoba Hall of Fame…CJOB talk show host Geoff Currier humbled me right away by saying 'I didn't vote for you and I want a recount'…Love it…Hey, know what? I haven't been fired…I guess there's still time."
This lad is a real talent. A hard working, talented, resourceful, creative and fun teammate who is blessed with a razor-sharp wit that can come at you at any time. I never worried about Tom because I knew he was going to be a legend in radio. He could have worked anywhere but chose to stay at home in the 'Peg where he lives on in the Broadcast Hall of Fame and is still bringing it for the audience every time he opens a microphone. Atta be Tom.
Thank you, Tom Milroy, for being one of "The Good Ones". Feel free to like and share Tom's positive story. Who is the subject of tomorrow's JJ-365 Salutes? As they say, stay tuned.
Jim JJ Johnston is the CEO, President and Chief Talent/Content Coach for JJIMS INC. and works with talent in many different industries worldwide.