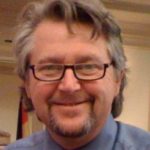 October 5, 2018
Welcome to JJ-365 Salutes. Over 2018, we pay tribute daily to one of "The Good Ones". Today we are shining the light on Dave Spence.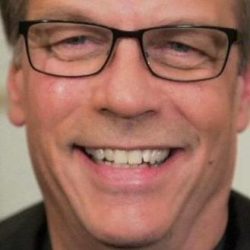 I remember when Dave first came into the CKY newsroom in Winnipeg. I was right next door on CITI-FM doing afternoon drive. He immediately started with me in a good natured way about my mullet and my height and at first I was like 'get off me, you don't even know me.' But then I started on him about his gangliness, and the holes in his haircut. He responded by bending his thumb back in his double-jointed way, I was in awe and the game was on. We quickly became the kinds of pals that have a lot of fun with each other. It was no holds barred and we laughed hard. Dave was upbeat and fun with everyone and it wasn't long before we named him "Super Dave". Honestly, I looked forward to seeing him every time we would interact and still do although we haven't seen each other for many years.
Dave says he owes his job, his career, and the amazing life it has given him to a man named Milt Wright. He taught drama and broadcasting at his high school, Spectrum Community School in Victoria. Dave was one of his students. He had not intended to go into broadcasting. He wanted to study psychology, with the goal of becoming a therapist. So, he started on that path, enrolling at the University of Victoria. As he graduated high school, Milt said to him…."you've got talent, I'd like to see you try broadcasting. Call me if UVic doesn't work out".
A year later, Dave called him and that call changed his life. Though it had been years since Milt had been in the industry, he had connections. He made an appointment for Dave to see Barry Bowman, the legendary "morning mayor" at CFAX, and Barry sat him down in a CFAX production studio, and they worked on an audition tape. He doubts that Barry remembers that afternoon in the spring of 1979, but he will never forget it. He sent the tape to radio stations all up and down Vancouver Island, and received two offers. For a monthly salary of $600, before taxes, he signed on with Coast Radio at CFWB Campbell River. He was a disc jockey, and says he was not very good.
News was really what he wanted to do. He heard these great news voices on the West Coast like the late and great J.J. Richards, Stu McAllister, Merv Connelly, Valerie Ambrose, Ted Farr, and the amazing Kerry Holley (Marshall), and he wanted to be like them. He mentioned this to management at Coast Radio, and they graciously transferred him to their newsroom in Courtenay British Columbia. There, he began to work on a whole new craft.
Says Dave: "Sometimes in this business, it's all about who you know. My best friend in Campbell River was our morning guy, Scott James (now doing midday's and Music Director at 100.3 the Q in Victoria). He had moved on to a job at CHNL Kamloops, and to make a long story short, it was through him that I landed a job in the legendary NL newsroom, reporting and anchoring weekend mornings. Though I was there for less than a year, the Jack Webster Award winning News Director, Jim Harrison, ended up being one of the most influential people in my career. He taught me how to be a reporter and provided me with the foundation on which to build the rest of my career."
It wasn't long before Dave received a call from CFCN Calgary. The radio news director, Veryl Todd, wanted to hire him to read the overnight news. It was his major chance to work in a big newsroom, serving two radio stations and a market leading television station. But he had a pretty good thing going in Kamloops. He was learning so much, and didn't feel he was ready for the big time, so he turned them down. A few months later, they called back, and offered him afternoon news on CJAY92, he took it and was off to Calgary.
A couple of years later, he was moved to mornings on CJAY, and took a side gig as the backup weatherman on CFCN-TV. Until he got an offer he couldn't refuse from Winnipeg.
Dave says: "I have always believed the adage that the secret to success is to surround yourself with great people. I didn't go to Winnipeg for the money (I took a pay cut), I didn't go there because it was my home town. I went there because the offer came from CKY, from Moffat, in a building chock full of talent. Great radio people. So much tremendous radio talent came out of Winnipeg in those days. This was 1985. Moffat was an incredible company to work for. You worked hard, you played hard. And, no matter which Moffat station was yours, you worked and played with some of the most talented people in the business. Great friendships. Great atmosphere. Great leadership. Great parties. It fostered an atmosphere of excellence. For someone who hates name dropping, I'm doing a lot of it…but I'll tell you, I was in awe that I worked in the same building with such legends as our amazing leader Roy Hennessy, Ford Gardner, Ross Winters, Raccoon Carney, Tom Milroy, JJ Johnston, Danny Kingsbury, Charles Adler, Captain John Sauder, Chuck Morgan, and 365'ers Jeff Lumby, Andy Frost, Tim Bradley, Joe Evans (Trish McNorgan), and the too early and dearly departed Ron Able and Steve Young, the list goes on.
We all had a lot of fun. We hung out together, formally and informally. Great memories from the Moffat ball tournament in Moose Jaw (most of them involving the late and great 'Cowboy' Vern Traill). We had a terrific time on a summer weekend, when Moffatt rented 10 houseboats for the whole staff to party on Lake of the Woods. I stumbled on two of my co-workers skinny-dipping late at night is something he'll never unsee and they shall remain anonymous."
Three of his greatest memories come from the Winnipeg years.
One was the time my friend Ron Early and I took Dave ice fishing on the Red River near Lockport, just north of Winnipeg. Dave had never done this before. It was sunny, but it was cold. We were in a fishing hut, but it was still frickin' cold. That afternoon, he caught two pickerel, each over 10 pounds. On his first day of ice fishing! His only day ice fishing. There were people on the river who said they'd been doing this for 20 years, and never caught one 10 pounder let alone two! CITI's Trucker Tim Bradley, an avid outdoorsman, had one of his buddies mount the fish for Dave and it remains on his home office wall to this day.
His second memory was the blizzard of November 7, 1986. We knew it was coming. At the time Dave lived in a small house on a rural acreage outside of Winnipeg. He knew if he went home the night before the storm, he would likely be stuck there for days. Tim Bradley offered to let him stay at his house that night, which was a 10 minute drive from the station. The next morning, Winnipeg was buried in snow. All the roads were closed, the snow was still coming down, the wind was howling…no one was outside…nothing was moving because nothing could move. Charles Adler, the News Director, needed Dave to come in. He sent out one of our co-workers, 365'er Dave Lindberg, on a snowmobile, to pick him up and bring him in. He says it was an incredible ride….through a blizzard, an eerie landscape of deserted streets, but they made it. CKY had dropped its music format, and Dave recalls this as a privilege to take part in what turned out to be excellent wall to wall coverage of the historic storm.
The third memory is the moustache: "J.J. and I had a bet over who could grow the better moustache. Within two weeks, JJ's moustache was gone. His upper lip was pathetic. He had given up. My moustache lasted 30 years and ended up raising a lot of money for prostate cancer research." More on that later.
The two years in Winnipeg were incredibly rewarding for him, both personally and professionally but for mixed feelings, and for very personal reasons, he left CKY and CITI-FM in 1987, to return to CJAY92 in Calgary.
He got his old job back in Calgary…this time more experienced, more seasoned, and ready for what was to come. Including his incredible marriage: "Susan Martell was the receptionist at CJAY92. We hit it off as friends from the day I returned. After she left the station for a job at A&M Records, we kept in touch, and before long, started dating. We married on a SNOWY day in August of 1992. We've just celebrated 26 years of marriage. We have three children, now in their early 20s, Curtis, Greg, and Emily, attending post secondary schools here in Alberta."
Not long after their marriage, Dave was approached by Kevin McKanna, then the Rogers GM in Calgary, about working with Don (Stevens), Joanne (Johnson), and the Coach (Jamie Herbison) on the morning show at CHFM. It was an older-skewing radio station, at the time playing Gordon Lightfoot, James Taylor, Celine Dion, etc. News on rock radio was dying, so Dave saw this as a chance to extend his career in radio news, and took the position. The morning show became legendary, and he stayed with Rogers for 22 years.
At about the same time he joined CHFM, his backup TV weather gig at CFCN TV became a full time thing. He would do radio in the morning, and later in the day do the weather on television at 5:00 and 6:00. His workdays were incredibly long, but incredibly rewarding.
By the mid 2000s, he knew he had to make a choice…..weather or news. He picked weather, and in 2005, received certification as a meteorologist after three years of distance learning studying with Mississippi State University.
He was excited in 2006 to take part in the development and launch of 660News, Rogers all-news radio station in Calgary. This meant putting his news career behind, and going full time weather. So, while working at CTV (BELL) he was the first meteorologist at 660News (Rogers), a position he held until he was part of a downsizing in 2015. For almost a decade, he was permitted to work simultaneously for these rival companies.
To this day, he remains at CFCN, now CTV Calgary, as the lead meteorologist, and continues to work with, and learn from, some incredible people. He enjoys every work day now just as much as he did when it all started nearly 40 years ago.
Now that Dave is no longer in radio and has more time, he feels privileged to volunteer with cancer-related causes. This is where the moustache comes in: In 2012, Dave was diagnosed with prostate cancer: "While it was not yet an advanced case, it required immediate treatment. I chose a procedure called brachytherapy, which is a form of radiation. I received the treatment in 2013, and have been cancer free ever since. A cancer diagnosis changes your perspective on life. As you have hopefully learned from reading to this point, I give credit to many many many people for where I am today. These people shaped me into the person I am. More than anything, my cancer journey has inspired me to give back. That moustache JJ challenged me to grow in 1986 was shaved off in 2015, as part of one of the most successful Movember campaigns in Canada that year….in the top 20 across the country. We raised thousands of dollars for cancer research. I am now continuing volunteer work with Prostaid Calgary, a support group for men with prostate cancer and their families. I am also volunteering as a Patient and Family Advisor with Alberta Health Services."
In addition, every year, Dave speaks to thousands of Calgary 5th grade students, visiting their schools to talk about weather. So, he's just as busy now as he was when he had the two full time jobs!
He was honoured (and surprised he says) in 2017 to receive the RTDNA Lifetime Achievement Award, and to be voted in 2018 as Calgary's Best Television Personality.
He is also proud of the legacy he will leave behind when he eventually retires. In recent years, he's met young people doing weather on television, and even young meteorologists at Environment Canada who've told him they were inspired to enter their careers by seeing him do the weather on television. Dave says: "This means a lot to me, more than they will ever know. You see, it's not about what you do for yourself, it's about what you do for others."
Dave sums up: "With that, here's my advice to young people getting into the business: It's all about work ethic and relationships. Be the hardest working person in the room. Stand out. Don't be what my former boss Charles Adler would call a "voice with feet". Even if you work your butt off, and you don't feel you're getting credit, or are being noticed….trust me…you are.
Adapt to change. Our business isn't now what it was five, ten, or 15 years ago. And we don't know what it will be like 5 years from now. And don't just roll with the changes…..be a leader, be an innovator. Make yourself valuable. Don't learn just one thing. Learn everything.
Play hard. Our business is still fun. Get to know the people you work with. Some you will like, others you won't. Enjoy the folks you like, and understand those you don't. See their perspective, too. You will be enriched.
Above all, don't be an a-hole. Our business is all about relationships. Relationships with your co-workers and relationships with your community. Build a legacy. Become known as a good person, somebody anyone can get along with. That will be your reputation, and it will take you far. Those left at the side of the road are the bitchers, the complainers, the know-it-alls. Even those with amazing talent can lose their careers over their attitude. Our world is very small.
Think of that person or those people who launched you on your path. Try to make them proud."
Dave is such a good natured, humourous and fun guy. You can't not have fun around him. He is a joy to work with and a talented dude. Creative, smart, hard working, a great co-worker who cares about the industry and the people in it. He's a good family man and has helped a lot of people along the way. I suspect he will continue doing it long after he hangs it up! He truly is "Super Dave!"
Thank you, Dave Spence, for being one of "The Good Ones". Feel free to like and share Dave's positive story. Who is the subject of tomorrow's JJ-365 Salutes? As they say, stay tuned.
Jim JJ Johnston is the CEO, President and Chief Talent/Content Coach for JJIMS INC. and works with talent in many different industries worldwide.