Scotty Bastable Named Cumulus/SF VP/DOS
October 5, 2018         courtesy AllAccess.com
.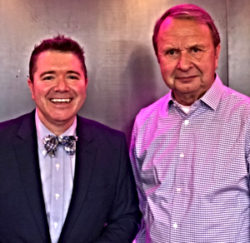 BASTABLE and SWANSON
.
JACK SWANSON is returning to CUMULUS News-Talk KGO-A and KSFO-A/SAN FRANCISCO as PD. SWANSON, more recently Dir./News and Programming at crosstown ENTERCOM News KCBS-A-KFRC-F, was PD at KGO and KSFO in 1994-2011.
CUMULUS SAN FRANCISCO VP/Market Manager DOUG HARVILL said, "JACK SWANSON is the best talk show programmer on the planet. He is visionary, a showman and a leader. I'm thrilled to work with JACK again."
SWANSON said, "People have asked why I'm returning. Simple. This is the most exciting time in the history of these iconic stations. I'm jazzed about their future. Returning to work with DOUG, and the support of a re-energized CUMULUS is going to be an amazing adventure. I'm excited to be a part of the new CUMULUS!"
In addition, SCOTTY BASTABLE, most recently Agency and Corporate Development Manager for CBS 360 in SAN FRANCISCO, has been named VP/DOS for the CUMULUS SAN FRANCISCO cluster.  BASTABLE is a former GSM at ENTERCOM AC KOIT/SAN FRANCISCO and DOS at CLEAR CHANNEL/SAN FRANCISCO.  BASTABLE begins at CUMULUS on NOVEMBER 15th.