courtesy AllAccesss.com        September 24, 2018
.
.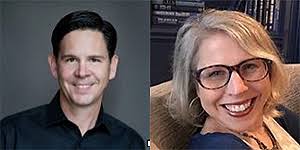 Scott Carty, Erica Parkerson
CRISTA MINISTRIES CONTEMPORARY CHRISTIAN KCMS (SPIRIT 105.3)/SEATTLE announce SCOTT CARTY and ERICA PARKERSON as its new, upcoming morning show team.
SCOTT is a SEATTLE native with background in radio, TV and voiceover at stations such as KPLZ (Star 101.5), KOMO, NEWSRADIO, KVI, KIRO and KISM. His TV and Entertainment Correspondent experience includes time at THE DAILY BUZZ national TV show, NORTHWEST CABLE NEWS, CELEBRITY PAGE TV, and others.
ERICA has been a key part of two successful morning shows in the CCM format, including the previously-syndicated ERIC & ERICA SHOW, based out of CHARLOTTE, NC, as well as mornings at SPIRIT-FM in LYNCHBURG, VA. While in VIRGINIA, she founded BUTTERFLY HUGS, a popular community ministry that connects radio listeners with friends and neighbors battling cancer.
"SCOTT brings a sense of relaxation, conversation and fun to everything he does," says KCMS PD TY MCFARLAND. "ERICA's a pro. She loves poeple and she's a ray of sunshine. It's going to be an adventure! I'm thrilled that God's brought them here.
The new SPIRIT 105.3 morning show will launch in mid-to-late OCTOBER.
READ MUCH MORE RADIO & MUSIC NEWS  HERE AT AllAccess.com