Puget Sound Radio received word, long time Seattle radio personality Norm Gregory died this morning. Gregory worked at KJR, KZOK, KOMO, KJR-FM.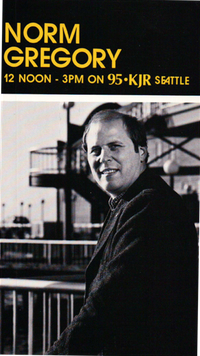 Norm grew up in Seattle, Washington, USA. Went to Roosevelt High School in Seattle and graduated college at Western Washington in Bellingham. Norm's first full time radio job was at KBRC in Mt. Vernon, WA in early 1967. A month later he was at KPUG, Bellingham, WA; nine months later Norm was in Spokane, WA at KJRB.
Norm's Seattle Radio History
In early 1969, Norm arrived at KJR AM, Seattle, first doing early evenings and then afternoons. In 1975, Norm went to KZOK AM/FM; at the time the station was less then a year old. Norm served as KZOK Program Director from 1976-79. Then off to Portland (KQFM/Q100) for ten months. Back to KZOK in early 1980 as station manager. That lasted until August 1981. After a brief two year return stint at KJR (again doing afternoons), Norm landed the afternoon full service program at KOMO, Seattle (1984 to 1994, being Program Director 1989-92). In July, 1994, Norm joined the new KJR-FM, as Program Director and afternoon air personality. In September, 1997, as the station was sliding out of The Greatest Hits of The '70s, Norm slide out of the PD job and filled in on the morning shift following the departure of Charlie (Brown) & Ty (Flint). Between early March, 1998 and late April 2000, Norm did the weekday afternoon shift at KJR-FM. His last shift (3 p.m. – 7 p.m.) at 95.7, KJR-FM, was on April 24, 2000. [ See Bill Virgin's April 27, 2000 column in the Seattle Post-Intelligencer ]
Norm Since 2000
After 33 years of being on the air, in April 2000 Norm found himself not on the radio. He didn't go looking for another radio job, but continued working on several web projects, including maintaining a couple radio station webs site full time. During the summer of 2001 Norm was approach by an Olympia Washington station and on November 1, 2001 Norm returned to the air . . . doing the morning show on "Classic Hits For The South Sound," 97.7 The Eagle. [ See Bill Virgin's November 21, 2001 column in the Seattle Post-Intelligencer ] The show was done on his home computer! Wow . . a dream come true for Norm: doing an air shift and not messing up his lifestyle.
Norm Retires
The remote gig lasted until October 2003 when The Eagle folks finally realized the benefits of having a morning man actually located in the market (Olympia is some 60 miles south of Seattle). Norm couldn't argue. Norm, now completely retired, says: "To tell you the truth I can't image any circumstances that would draw me back to a radio job."
Norm In 2011 and beyond
It's been more than ten years since his last Seattle radio gig. Norm was still doing the daily show prep.  Many think this confirms he was born for the radio job. Norm has regularly posted items here and elsewhere.  In 2008 Norm got hooked into Twitter and was enjoying the entertainment and information coming from being tied into a world wide network
According to his brother Brian's facebook page, Norm died Saturday morning from complications from Diabetes and a punctured lung due a recent fall. He went peacefully after being unconscious for the last day or so.‬
Check out Norm's website: