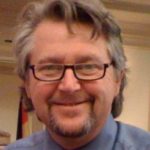 August 24, 2018
Welcome to JJ-365 Salutes. Over 2018, we pay tribute daily to one of "The Good Ones". Today we are shining the light on 'Tarzan Dan' Dan Freeman.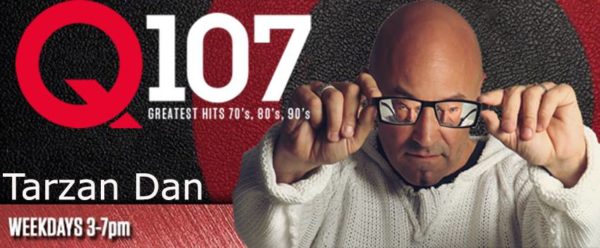 When I was Program Director for Vancouver's LG/73 and CFOX, and National Program Director for Moffat Communications, a young fellow from AM 106 in Calgary came to see me. He was the nighttime DJ there and when I asked him how his ratings were doing he said he had a 75% share of the Calgary audience at night. I was like, really, but stayed polite and we continued on. I had some real interest in Tarzan Dan for LG 73 should an opening come up, and a lot more when I checked into the ratings service to find out that he was right. A 75% share? Holy crap I thought to myself, that is huge. Dan was the nicest, freshest, smartest and most energetic and creative talented one I had seen or heard for a long time. Paul McKnight the Program Director at 1040 KICKS AM in Vancouver, scooped him up before I could and Dan had a good run there that would lead to big things.
Tarzan Dan grew up in Toronto listening to CFTR and CHUM. All he ever wanted to be was Big Jim Brady, Jungle Jay Nelson, Tom Rivers, Roger Ashby, Mike Cooper or Bob Magee. He thought if he could combine all these amazing announcers into one person he might have a chance.
Brady and his " Weather Fairy and HOO HAW It's FRIDAY ", was a true entertainer Dan says.
As for Jungle Jay Nelson, Dan recalls: "I remember meeting him once when his son Kevin introduced us, I was speechless. (where do you think Tarzan Dan came from?)"
He loved Rivers because he was a genius at crafting and executing a bit and he also told youngster Dan when he was offered his first major market job in Calgary" Ya can't fly kid, unless you jump."
He loved Roger Ashby because he seemed like he was so into what he was doing for a living and a nice guy, but he got Dan into trouble oftent because he was late for school numerous time because he never missed an episode of 'Air Harold'.
He was a big Mike Cooper fan because of the silly take he had on EVERYTHING and says you really DID want to have a beer with him at the cottage.
And Bob Magee, who sat beside him at a History of Rock showing at his high school. Bob invited him down to the studio to watch, and even let him do an on-air break over the intro of Stevie Winwood, While You See A Chance, so he wouldn't walk the vocal. Dan states, and he's right, "NOBODY sold call letters (1050 CHUM!) and meant it like BOB!"
Like most people in the industry, you work in a lot or markets before you get the dream jobs. Dan's journey took him from 1350 CKAR Oshawa, to 790 CKMW (the old CHIC in Brampton), 1230 CJLB Thunder Bay, AM 106 Calgary, 66CFR Calgary, 1040 KICKS Vancouver, 680 CFTR Toronto , AM640 Toronto, KISS 92 FM Toronto (#1 cuming afternoon drive show at Canada's #1 HIT MUSIC RADIO STATION), Morning show 'Breakfast Club' host for 99.9 SUN FM for Astral Media in Kelowna BC, Afternoon Drive at 104.9 Fun FM Vancouver (flipped to Sonic) Rogers, Co-Host of The Morning Hi-JACK! on 103.1 JACK FM Victoria BC (The show was performed from Rogers studios in Vancouver 4 days a week and 1 in Victoria), KooL FM Calgary Breakfast Host, CHUM AM and FM, Toronto, host of SATURDAY NIGHT BANDSTAND – ZOOMER RADIO Toronto, and since August 2016 the Afternoon Drive host (currently number 2) at Q107 Calgary. He was the host of the International "AIR CANADA RADIO" show "Hits Around the World" for several years that ended up as a 1st runner up at the 'Intl Airline Radio Awards.'
For the Sound Source Syndication Company he hosted the National Radio show "Tarzan Dan's Top 20 Countdown" for a few years and was the voice host for many exclusive radio specials including Britney Spears, Jennifer Lopez, Mariah Carey, Backstreet Boys, Ricky Martin, N'SYNC, and Shania Twain. Virtually everywhere he has been on the air he has had huge ratings.
That's just the radio side.
He kicked ass in TV as well. 1990 started a seven year run as host/co-producer/writer of Canada's #1 rated national video countdown show, "The Hitlist w/ Tarzan Dan" on YTV. He hosted the YTV Achievement Awards for a number of years, notably with Weird Al in 1994, and the Backstreet Boys in 1996. From 2002 to 2008 he was a contributing personality for Much More Music TV's "LISTED" and a contributing guest on Star TV.
But we're not done yet. He's won just about every award there is like Canadian Music Week's CHR Radio Announcer of the Year AWARD for four years in a row and nominated several other times. In 2000 he was voted Best Toronto Radio DJ in NOW Magazine's annual readers poll.
In 1994 he was first runner up at Canadian Music Week for Canadian Video host of the Year, and in 1995 he was nominated for a Gemini (Canadian Television Awards) for Best Host in a Variety Programme or Series, that being the "YTV- HITLIST with Tarzan Dan."
For five years straight, he was voted Favourite Radio Personality in Okanagan Life Magazine's 'Best of the Okanagan Issue.'
I'm getting exhausted…. And then there is the voice over work. He has been the voice of many TV and radio stations like Oldies 1090 Kitchener/Waterloo, CITY TV Toronto, 680 News Toronto and the National Rogers Digital Cable. He has been the voice of many national commercial campaigns, like Jeep, Budweiser, Lennox Systems, Coca Cola, Much Music, MTV, Nestle, Government of Canada, and music campaigns for U2, The Beatles, Christina Aguilera, Mariah Carey, Paul McCartney, Michael Jackson, Aerosmith, Garth Brooks and many more. In 1988 he was the Voice of the Calgary Winter Olympic Games for CTV.
Lots of cartoon/animated work too like Video Game/Cartoon/ Character Voice Actor Credits like multiple voices in the BEYOND DIVINITY Video Game (Beyond Divinity Series)- HIP GAMES, the "Draw with HB" TV Series, "Swords of Freedom" (English Version), all the character voices in the"Maxi the INFOSAURAS" TV Vignettes for Medium Ent, and all 8 characters for the"WOWMAN" demo for HAPPY PANTS PRESS.
Holy crap there's more….the music stuff: In 1991 he co-wrote and performed the CDN Top Ten Single "YO BABY YO"with Tarzan Dan and the John James Jungle Posse which raised $10,000 for homeless and garned a a Five Star rating by Billboard Magazine.
In 2001, he had a Web Hit, "You Drive So Crazy" by Tarzan Dan which was a parody of Britney Spears the reached Top Ten in Canada.
From 1994 to 1995, he was the Executive Producer of The HITLIST 1 and HITLIST 2 compilation CD's for UNIVERSAL MUSIC, which netted Platinum and Gold sales respectively.
Pheww!
Dan sums up with some of his favourite memories:
"The day I was called by Don Stevens and offered evenings at CFTR and the day Rob Farina hired me to work at CHUM. I remember the 2 first shifts vividly, both instances getting caught up in the moment before I cracked the mic for the first time, thinking of all the greats who sat there before me, and I was fortunate to be where I was, and to never take it for granted. My dad was so happy when I joined CHUM because I was working where Al Boliska worked-
?.
Another fun day in radio was the time Jon Bon Jovi and Richie Sambora were on a layover at the airport on Christmas Eve and surprised me when they dropped by the show for a few hours to kill time.
It really hit home when they spotlighted me in the first 'Best of Toronto' issue in 2000 – TORONTO LIFE Magazine with a feature article that really was special to me. I felt like I had finally arrived in my own home town.
Also winning Canadian Radio Announcer of the Year and being nominated over the years by my peers still holds a special place. I remember standing up there the first time and crying a little and crying tears of happy all the way home (pretty sure I pulled the car over), because this was the kid who sat in his bedroom in Scarborough dreaming of doing radio and I couldn't fathom that I had finally made my mark."
This lad has had a ton of awesome experiences and successes over the years and is still young and far from done. Today he's making it happen in Calgary radio and beyond, and always will where ever he may be. He is incapable of taking his foot off the pedal. Fun, energetic, intelligent, collegial, extremely creative and talented. I especially like that he wasn't afraid to create the character of Tarzan Dan and go with it. This one is another role model who up and comer's should strive to be. Nice work Dan.
Thank you, Dan Freeman for being one of the "The Good Ones". Feel free to like and share Dan's positive story. Who is the subject of tomorrow's JJ-365 Salutes? As they say, stay tuned.
Jim JJ Johnston is the CEO, President and Chief Talent/Content Coach for JJIMS INC. and works with talent in many different industries worldwide.