Welcome to JJ-365 Salutes. Over 2018, we pay tribute daily to one of "The Good Ones". Today we are shining the light on Jeff Brown.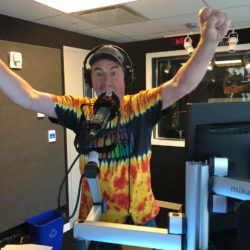 Big news in the Canadian Radio Industry from yesterday. Joining JACK-FM in Vancouver in August to round out their morning show, will be a couple of people I have had the pleasure of working with in the past. Charis Hogg (formerly of the FOX), will be returning home to the west coast, and long-time success story Jeff Brown will make his first appearance in an air-chair there (from mornings at Calgary's Q107) working with Charis and Paul Brown. Soon you will be hearing the Jeff, Charis and Paul show on 969 JACK-FM (will Charis change her last name to Brown?-:).
Jeff and I go back along way. I first met him when he was the morning guy at The WOLF in Peterborough. "Downtown" Jeff Brown was very young, fearless and multi talented. He was the kind that you just had to steer a bit because you knew this creative cat would find his way, and he sure did.
Jeff got started back in the late 80s in Peterborough as a Co-Op student in high school filing records for the Top 40 station 980 CHEX.
Right around that same time period Mike Michael Cooper landed on the scene and the plans started to take form for the creation of what would become The Wolf 101.5, something PD Bob Harris and GM Randy Redden were working on.
When the station signed on Bob hired Jeff as Music Director and producer for 'Coops' morning show. After Mike decided to return to Toronto Jeff was given the keys to the show and that's when things really got exciting.
After Peterborough, he headed down the QEW to the legendary 97.7 HTZ FM to produce the Rev & Joe Show. To say this was a turning point would be an understatement he says.
You have seen me write about HTZ FM in the early 90s, that it was crazy and the team there was very proud of it! Still one of my favourite stations. The talent in the building was amazing from Randy Taylor, to Joe Cahill, Codi Jeffries, Kristi Knight, the late and great Iron Mike Benson, Jon Gonzo Mark, Mike Tyler, and 365'ers Karen Steele and Bruce Gilbert, etc and the attitude was unmatched.
Jeff recalls: "One morning Rev & Joe were broadcasting from the front lawn of the Whitehouse of Rock as a listener had his tongue nailed to a tree live on the air for Metallica tickets! With an actual hammer and nail, craziest thing I ever saw.. and man it bled!"
After Jeff visited me at MIX 99.9 in Toronto, he was on a short trip to Calgary where he was reunited with Bob Harris at CJAY 92.
After CJAY Jeff found himself working for Program Director Danny Kingsbury, at CHEZ 106 in Ottawa as swing announcer and music assistant to Steve Colwill.
After a year in the Capital we were looking for someone for the on-air swing shift and Music Director gig at Q107 in our Toronto CORUS cluster. Stew Meyers was the Program Director and was telling me about this Jeff Brown guy. I said you don't have to tell me anything about him, 'cause I know him well and am a fan. Jeff says: "I got the call of a lifetime from Stew at Q107 Toronto and went for the most nerve racking interview of my life with Stew and Jeff Woods. Growing up in Peterborough I was a massive Q107 listener and would actually skip school to listen John Derringer in the afternoons at Q. (John was the reason I got into radio, I went to see him at a Q107 road trip party at my high school Crestwood in Peterborough and he asked me what I wanted to do when I graduated , I didn't have a clue and he suggested radio ('it's pretty cool!')"
The interview was going well until Jeff Woods hit me with 'I see you put you're not afraid to take chances on your resume, what does that, mean?'.. it meant nothing, it was filler and I was pretty sure I had blown the interview when they didn't call me back for over a week. Years later Stew told me I had the job before I left the interview, but they wanted to make me sweat.
Starting as Music Director and Swing Announcer I found myself on the Derringer program every afternoon for one reason or another with John and 365'er Craig Venn and Debbie Dixon."
When we moved Howard Stern out and John replaced him in mornings Jeff was promoted to afternoon drive (with co-hosts Andrea Rooz and Carly Klassen) along with Music Director duties.
Jeff has a huge ability to plan and execute "worth of mouth" generating content. He always has something on the go. I remember him infuriating Montreal Canadiens fans by finding on-line and giving away rolls of Habs toilet paper. Paul Jessop, who was VP of Promotions at Universal Music, another hopelessly born and bred Habs fan was not amused (in a fun way). I gave him a roll of paper and while he was somewhat disgusted, he said "thanks." I told him that somewhere, sometime he was going to have to use that stuff to receive a reply of 'Bon Voyage" in different words of course.
Jeff says that experience in Toronto was very surreal working alongside legends like the late and great Scruff Connors, Humble Howard Glassman & Fred, Derringer, Joanne Wilder, 365'er Maie Pauts, and the very compelling and entertaining Dean Blundell. "It was very cool! Nothing like walking down the hall at 2pm past Scruff in silk pajamas just to be Scruff."
After a 5-year stint in Toronto at Q he decided to pursue the Programming side of Radio and took the PD/Drive position back in Ottawa at CHEZ 106. I was sad to see him go but I knew it was the right move for him.
He describes that time period as a blast working closely with the Doc Halen& Woody Pleezdtameetcha morning show (a career highlight), not to mention Samantha Stevens who is one of his all time favorite jocks.
Ottawa was a stepping stone back to Toronto with Rogers as he left the Capital again after a few years to take on the role of Senior PD Rock/PD JACK FM/Morning Host Jack FM Toronto.
He was also reunited with Samantha Stevens who was doing drive at JACK and at this time had the opportunity to work closely with Chuck McCoy, Gary Miles, Sandy Sanderson and Julie Adam which was the opportunity of a lifetime. Not to mention it was amazing to be back in the same building as "Coop" so many years later, working down the hall at CHFI.
As the radio dial turns so do formats and JACK was replaced by Kiss-FM and the family was off on the next adventure.
It was at this time that he was able to work with Haley Jones at KPRI in San Diego as a freelance imager/writer. That was a really cool experience as Haley is one of the most passionate radio people he knows and it also allowed him a chance to work closely with Mike Henry from Paragon Media who he is a huge fan of.
At around the same time he also received a call from Chuck McCoy to rejoin Rogers and the team in Winnipeg to the Legendary CITI FM as PD and Drive announcer, where he had the privilege to work with the likes of Tom McGouran & Joe Aiello (365'er), Samantha Stevens, "H" (Howard Mandshein another 365'er) and Tom Scott to mention a few. Winnipeg is such an incredible city for radio but he says as it turned out was not the right one to raise his kids in, so they made the decision to return to Ontario.
He was off to Kingston's K-Rock where he teamed up with Sarah Crosbie for the 1st time: "She gained my respect instantly when we decided to give out Buffalo Bills tickets to the first person to find them in a pile of Buffalo manure (not solid, my daughter Tori and I picked it up from a Buffalo farm down the road from our farm in my pickup and drove it to Kingston.. a real-life 'Margo's got the Cargo' trip!). Sarah threw up live on the air in a cheerleader outfit and it went viral. Fun for everyone but Sarah!"
I remember getting the call where he told me he and Sarah would like to connect with me at CORUS. We met and they told me they were very keen on moving together to a much bigger market. Coincidentally 365'er Terry Terry DiMonte was returning to Montreal from Q107 Calgary so the thing you know the "Jeff and Sarah" were on the air at CORUS Calgary (Jeff also handling APD duties) and have been doing mornings there for the last 6 years.
As I mentioned off the top, Jeff will be rejoining Rogers and moving to Vancouver working for GM Al Ford and leading the Jeff, Charis and Paul show on 969 JACK-FM in August.
Summing up Jeff says: "What a long strange trip its been! I have an incredible wife Karen who may be the most patient person on the planet! 2 beautiful daughters Rebekah who is a manager at a downtown Calgary restaurant called the Workshop and Tori who is going into her second year at Acadia University in Nova Scotia.
Time off these days is split between San Diego (where Karen is from), and Haliburton in Ontario depending on the season. They are very different vacations, but we try and spend as much time doing stuff as a family as we can even though its tougher now that the girls are older and have their own lives. Family, Fishing and Radio are my 3 big passions. My biggest career influencers
are Mike Cooper, JJ Johnston, Pat Bohn, Ken Benson, Chuck McCoy, Julie Adam and the late and great Gary Miles.
That gangly just out of his teens guy I met all those years ago is all grown up and a major player in Canadian Radio. I couldn't be more proud of this lad!
Thank you, Jeff Brown, one of the "The Good Ones". Feel free to like and share Jeff's positive story. Who is the subject of tomorrow's JJ-365 Salutes? As they say, stay tuned.
Jim JJ Johnston is the CEO, President and Chief Talent Coach for JJIMS INC. and works with talent in many different industries worldwide