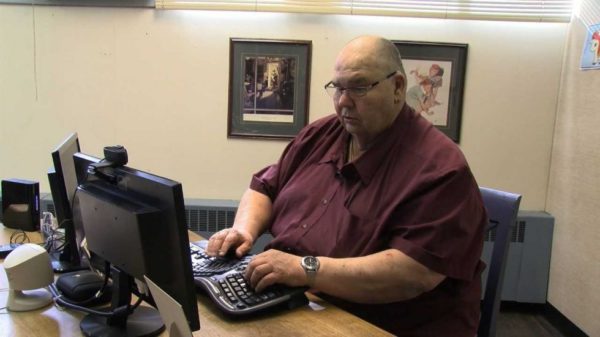 June 8, 2018
KAMLOOPS — He began his career 52 years ago, and for 48 of those Doug Collins has been here at Broadcast Centre. As the CFJC News Director and TV Operations Manager, Doug has been dedicated to delivering the news and growing the newsroom. But come September there will be a major change at the top of our department, as Doug steps back from management and prepares to retire from his position. Over the years, Doug has been recognized for his tireless efforts, winning several prestigious awards. The decision to retire from the post isn't easy, but he says it's time.
For nearly five decades, he's brought you the news. The familiar voice in Kamloops we've all heard over the airways. It's a legacy not many in the industry can match, but for Doug Collins it's been a rewarding and satisfying career, one he was always destined for.
"I started out right out of high school, I have not had another job other than in broadcasting," says Doug Collins.
In 1966 Doug began his career in broadcasting. Born in Vancouver and raised in Terrace and Prince Rupert, he was always curious and loved to tell stories.
"I went to university for a year which was a total waste of time because I spent it all at the university's news and radio station, so I didn't do much studying and when a full time job came up north in Prince Rupert, I took it and left university, never to look back."
Landing his first job, from there success came quickly, working on all sorts of stories, politics, sports, reporting and anchoring.
"I started out part time with the CBC for a short time, then I went to Grande Prairie, Alberta for a very short time, went to Penticton for a couple of years where I was able to be an integral part of the operation there as the sports director, and then came up to Kamloops in April of 1970."
In 1971, Doug became news director at Broadcast Centre. For the past 48 years, he's been at the helm of our radio and TV newscasts, a position that's been an honour and privilege to occupy, and one that has seen him cover some of the biggest local stories.
"The floods of 1972 and then the fires in 2003 and beyond, and the floods and fires that we've had since, those are big stories," says Collins. "On the bigger scope of course, 9-11 was huge, I don't know how long that'll take to get over watching the tv, as we were here in the morning Earl Seitz and myself were watching the drama unfold, those are things that stay with you."
In addition to news director, Doug was also named Radio Operations Manager, and for a short stint he co-hosted the CIFM Morning Show with Stan Bailey. In 2010, Doug also took the lead in TV Operations, and over the years he's witnessed major technological change in the industry.
"When I came here, we had no portable video tapes of any sort, anything we shot outside the station was done on film when I started out no computers, it was all on teletype, we laid all the stories out on a big table like this, sorted all through them, hand edited them, things like that."
Over the years, Doug has been recognized with an RTDNA Lifetime Achievement Award, and was named Broadcaster of the Year by the BC Association of Broadcasters in 2009.
While he's saying goodbye to his management role, Doug won't be signing off for good, just yet. Expect to hear this veteran voice for a little longer. Like always, making what he does look simple and effortless.
"It's a career that's been very gratifying and one I've had a great run at, and I certainly look forward to doing that for a little while longer, but in terms of the management side of it, time for somebody else to take the reins and move on," says Collins.
Original Story HERE