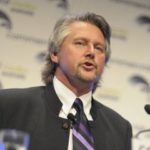 May 27, 2018
Welcome to JJ-365 Salutes. Over 2018, we pay tribute daily to one of "The Good Ones". Today we are shining the light on Andy Frost.
Wow. Not sure where to get started with this outstanding individual. Yes "Outstanding "is the best word to describe Andy.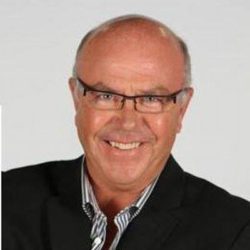 Born and raised in Winnipeg and like a lot of us, he grew up listening to WLS and Super CFL out of Chicago. His broadcast career started in the late 1970's as a volunteer hosting an on-air music program at the University of Manitoba's college station CJUM-FM 101.5.
In '79 he joined CITI-FM as a jock and by the time the late and great Steve Young brought me to CITI-FM in '81, Andy was already the city's top Music Director. He was one of the first to welcome me. He marched over, stuck out his hand and said "Frost. Nice to have you in the 'Peg Jimmie. Let me know how I can help a guy." I immediately liked him and looked up to him.
Andy knew everyone and went out of his way to introduce me to as many people as he could, and it wasn't long before I knew who I needed to, and through that forged many life long friendships. Andy and Ralph James (bass player for Harlequin and a Music Agent legend who now runs APA Canada and has a major stable of clients with the likes of Nickelback, 54-40, Big Sugar, Billy Talent, Marianas Trench, The Trews, Bruce Cockburn, Paul Brandt, Sam Roberts Band and more) lived on Dorchester street in River Heights and it was the scene of a lot of fun during their time there. You never who was going to show up at the Dorch. Wayne Gretzky, Mark Messier, Dale Hawerchuck, Eddie Money, the Finn Brothers from Split Enz, Greg Ham from Men at Work, the Queen City Kids, Jeff Neill and the late but great Kenny Shields from Streetheart and on and on. It was like the clubhouse for the cool and a great place to listen to and talk about tunes. It was also the venue to get me back into table hockey, something I loved to do as a kid. I thought I was pretty good at it but after my first game against Andy I knew I had a lot of work to do! I liked playing the game but never really watched people play much until I saw Ralph and Andy go at it. They had to be world class and often a crowd would congregate to see them play. They are both so competitive and kept stats of every game and the game within the game.
Andy was also responsible for getting me on the CITI-FM team back into baseball which as a kid was a passion. He is an amazing shortstop and if a ball was coming your way you had to pay attention because there was serious heat and accurary behind his throws. He also introduced me to the world of sponge hockey which I really dug. Sponge Hockey is when you play hockey outside wearing broomball shoes and using sponge pucks. We played a lot of games in 20-30 below weather but amazingly when you were playing you always managed to be warm. I also had the pleasure of working around Andy on the Winnipeg Jets broadcasts. He would do the pregame, in between period interviews and discussion, post game and the Jet Line call in show. Andy has an encyclopedic memory and no one can ever stump him. He used to amaze all of us with how he could spit stats out and all from his head.
When Andy left to work with Gary Slaight in Toronto as Music Director and on-air guy at Q107, I stepped into his shoes in that role and did okay, but really I was a mere shadow of him.
Andy was off to Q107, I was off to Hamilton, then Vancouver and Toronto. At Q107 Andy worked his way up to Program Director to deliver some of the best ratings they ever had. The talent in his time at Q107 was formidable with the likes of the Scruffer, Brother Jake Edwards, Spike Gallager, Donna Saker, Marianne, John Derringer, Ryan Parker, Johny Garbutt, Craig Venn, Steve Warden, Joey Vendetta, Bobby Gale, Jesse Dylan and Gene Valaitis, Joanne Wilder, , Maureen Holloway, Blair Bartrem, Jane Hawtin, Earl McCrae, Bill Carroll, Bob "Iceman" Segarini, Lee "Beef" Eckley, Rory O'Shea, Jonny "Gonzo" Mark, Howard "The Hungryman" Howard Cogan, Steve Anthony, Dusty Shannon, Alice Cooper, Patty Cardinal, "Magic" Christian Gary Aubé, Bob Mackowycz, Kim Mitchell, Jimmy James and so many more to whom I apologize for not mentioning. All these people had/have one thing in common: Tremendous respect for Andy Frost.
Many great things have happened for our pal "Anderson" including becoming a nationwide legend as the host of "Overnight" where he was heard coast to coast for many years on dozens of stations. Wherever I go across this land people ask me if I know Andy and I say yes and they look at me like "for sure, really?"
Andy returned to work on radio covering NHL Hockey in Toronto in 1996 when along with his Q duties, he became the host of the post-game show "Leaf Talk" on AM 640. Further, after Paul Morris hung it up, Andy became the Public Address Announcer / Voice of the Toronto Maple Leafs from 1999-2000 season when the Toronto Maple Leafs moved to their new venue, the Air Canada Centre and continued to do so through to the 2015-2016 season. Being a Leaf fan I always watched or recorded to watch the games in my various different cities and it always gave me a thrill hearing Andy do his magic.
Bruce Barks Barker tells a yarn about Andy: "Andy and I sharing the P.A booth at Air Canada Centre. Andy was the voice of the Leafs and I was the voice of the Toronto Rock. Every game there was a post it note on the mic from Andy with messages like BARKER…DON'T SUCK on it and of course I would give it right back to him with a note saying FROST ….AT LEAST I'VE WON A CHAMPIONSHIP RING !! I looked forward to every game to see my Frost message. I know he loved doing the Leaf games and he is missed big time at the ACC." Even after his departure Ron MacLean and Don Cherry still mention Andy.
When I came over as the GM/VP of CORUS Toronto they owned the Edge and had just acquired Q107 and AM-640. Derringer and I started together at CFTR and I was pretty excited about reuniting with him, and of course working with Andy again. We all have pals that we may not talk to or see for some time but with the good ones you just pick it up like you've been there every day.
Now I have saved Psychedelic Psunday for the last. Andy has been the host of Psychedelic Psunday every Sunday since it's inception in 1985. The program has always had staggering ratings results (like HUGE!) and has a legion of loyal fans in the Toronto listening area and beyond. It truly is one of those shows that will remain properly ensconced in Canadian Broadcasting history.
I am listening now and just heard Alice Cooper's "Hello Hooray" open the show as usual. Today between noon and six, it will be the last time you hear it. Andy will give his final performance and will be missed for now.
He is going to take a little time off before he gets on to his next endeavours. He's been working it for forty years and is just going to rest and spend time with his daughter Marley and son Morgan. The apple doesn't fall far from the tree with this young 19 year-old! Morgan is a centre ice-man for the Soo Greyhounds and had another great year netting 112 points including 42 goals. With pre, season and post he played upwards to 100 game this past year. He was rewarded by being named 1st all-star centremen in the OHL and last year he was drafted number 22 overall by the Philadelphia Flyers who Andy has now become a fan of-
?.
Thank you, Andy, for being such a good pal to so many, and a great broadcaster. Make that "Outstanding radio performer!" You have made us all better and I for one can't wait for your next chapter.
Thank you, Andy Frost, one of the "The Good Ones". Feel free to like and share Andy's positive story. Who is the subject of tomorrow's JJ-365 Salutes? As they say, stay tuned.
Jim JJ Johnston is the CEO, President and Chief Talent Coach for JJIMS INC. and works with talent in many different industries worldwide.