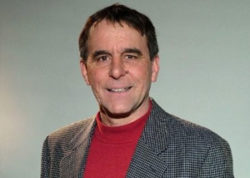 According to this week's Broadcast Dialogue, Blaine Gaffney has retired as the senior reporter at Global Okanagan after 27 years with the station.  We at PSR wish him a happy retirement.
A native son of the Okanagan, Gaffney began his broadcasting career in 1986 with CFTK radio and television in Terrace BC, before joining CHBC-TV (now branded Global Okanagan) in 1990.
He has won numerous journalism awards over the years including the prestigious Jack Webster award for Best Television Reporting of the Year. Prior to receiving his Broadcast Communications diploma from BCIT in 1986, Blaine spent more than two years travelling throughout the world.
His work experiences range from logging in northern Alberta to washing windows in Western Australia. According to Global Okanagan's website Blaine's recreational pursuits include fly-fishing, golf and hockey.