Welcome to JJ-365 Salutes. Over 2018, we pay tribute daily to one of "The Good Ones". Today we are shining the light on Natalie Hunter.
I have always been a talent coach at the end of the day and am always keeping my ears and eyes open for talent. Talent is lifeblood and in the broadcasting industry (or any industry) it is the major difference between competing businesses. When I was the VP of Programming for Standard Jim Elliot and Natalie Hunter from CORUS Kingston came to see me for a listen to their work together. Before those sessions I am always straightforward in that I will be honest with what I am thinking. At the same time, I am always listening for what people can be. I told them my thoughts and got some eyebrows.
Natalie satisfied the broadcasting bug by jumping into Humber College's Radio program. An internship turned into a weekend news gig at CHSC in St. Catharines for a whopping 8 dollars an hour. Nat says "as this was the 90's and not the 1890's I had to continue waitressing on the side. I actually got fired from that job because the owner of the station didn't want to pay that much money, so he canned me and then took on the job himself using a pseudonym. Honestly."
She had a couple of part-time radio jobs for almost a year before one Jim Elyot, Program Director in Kingston found her resume and tape in a box and called her up. She worked in Kingston for three years, first as a morning news anchor and show co-host and then as a television anchor and entertainment reporter for CKWS-TV. She was actually pulled from doing the 11pm news live because she and the news anchor laughed too much when on air together and they got complaints. "Apparently the weather is serious business….at least in Kingston."
I was thinking as I was hearing Jim and Nat's show and chatting it up, both had a good chance of going bigger if they wanted to. Nat was relaxed, fun, funny, witty and one of those people I knew off the top that most people would want to be around. You always want to act up for her and she does the same in return. She is a "good room" and has a great reactor/improv feel about her.
She moved to Toronto late in 1998, chasing a boy, who is now her husband but didn't have a job. Just after her arrival they broke up. "So, I had no job, no boyfriend and instead of moving to Toronto I moved in with my grandma in Oakville. I picked up part-time work at 680News and went back to waitressing for almost a year."
That's when I called her. She had finished doing a sports anchor shift at 680 and they wanted to hire her for that which she says was hilarious because she knew nothing about sports but needed a full-time gig. She credits me as having saved her and sports fans everywhere. She always joked that she had the incredible fortune to be named Nat, and that I was in need of a Nat, or at least a cohost for the afternoon show as Nat Lauzon was moving to Montreal." I'm not sure how much of me getting the job was because of talent or because you didn't have to change any production." I admit while unusual it was convenient.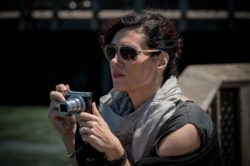 Nat was at MIX from 1999-2001 when she decided to leave and go back to TV, hosting the cable talk show "Daytime in Toronto" and was also was a part-time VJ on CMT. She says "here's what I learned ……TV is not as fun as radio. I always planned on ending up in television but when I really started to do it I felt way too boxed in and fake."
Fortunately Eric Samuels was the PD at Z95.3 in Vancouver, a very good one, who she knew from their time in Toronto, called her in 2003 to come out and do mornings. The plan was she as going go out for a couple of years and then come back to Toronto while her boyfriend/exboyfriend/boyfriendagain/newhusband Brett stayed in T.O.
"That didn't happen ….. I quickly learned that it takes quite a while to become established in mornings and the first several years of the Nat and Drew Show …we struggled. We actually even got fired …..for three weeks ….and then we were hired back.'
Z95.3 became Crave, then became Virgin, and eventually their show started to take-off and has been a top rated morning show for coming up on ten years. They are understandably pretty happy about that especially "because, man we sucked at the beginning."
The next twist was being moved over to 103.5 QMFM in April 2014 as part of the Bell/Astral sale and the have been kicking it ever since. "I think the biggest thing for me is how much I like being in the studio with Drew and Erin and now the newest members of our team Producer Joey and Young Vik. It sounds so cliché, but we laugh so hard every morning and genuinely enjoy working with each other ……which I think is the key to our success. (I'd be lying if I didn't say I still buy the occasional lottery ticket…..let's be real….no matter how much you love your job ….getting up at 4am sucks).
When it comes to her personal life her "amazing" husband now lives full-time with her in Vancouver, giving up his Queen Street West attire for Gortex as she says. They have two dogs as well as the occasional foster dog. Nat has been volunteering in dog rescue for 10 years now and the show helps animals in need with the Nat and Drew Pet Facebook Page, where they highlight animals in need of homes. In the last couple of years they have started focusing on senior animals as they are the most vulnerable and the ones that are most likely to not make it out of shelters. On Sundays, you can usually find her at SAINTS Rescue – a sanctuary for senior and special needs animals. She's on the board, and also gives tours to the public to highlight animal welfare issues. Though her favourite part is just hanging out there with the animals she's trying to convince Brett to take home a 200-pound pot-bellied pig named Winston. So far she says "he seems not super keen on the idea."
Nat Hunter is a wonderful person. A great mix of smarts, unbridled talent, fun and giggles, collegiality, respectfulness and all wrapped up with a great work ethic. She is a delight to know and work with, for everyone.
Congrats Natalie Hunter, the legend, on being "The Good Ones". Feel free to like and share Natalie's positive story. Who is the subject of tomorrow's JJ-365 Salutes? Stay tuned!
Jim Jj Johnston is the CEO, President and Chief Talent Coach for JJIMS INC. and works with talent in many different industries worldwide.
J.J.'s bio, courtesy of VancouverBroadcasters.com
J.J. Johnston – Board operator CKLC Kingston ON 1974-75; midday host CJET Smiths Falls ON 1975; morning hostCKOB Renfrew ON 1975-76; nights CFCH North Bay ON 1976-77; evenings CFGO Ottawa and part time CKLW Windsor ON 1977-79; swing CFTR  Toronto 1979-81; p.m. drive/mornings/ssistant PD CITI-FM Winnipeg/Jet's hockey broadcaster at CKY Winnipeg 1981-86; PD CHAM Hamilton ON 1986-88; national PD Moffat Communications/PDCFOX-FM/CKLG Vancouver 1988-93; national rock PD WIC Communications/CFMI-FM Vancouver 1993-94; VP programming Standard Radio/CKFM-FM Toronto 1994-2000; GM Corus Radio cluster Toronto 2000-05; GM Corus Radio (CFMI-FM/CFOX-FM/CHMJ/CKNW) Vancouver 2005-10; regional GM then contract consultant Corus Radio East – Barrie/Collingwood/Peterborough/Kingston/Cornwall ON 2013-current; President/CEO, JJ international Media and Management Solutions Ontario 2013-current; Interim GM CJPE-FM Prince Edward County ON 2013-current.  LinkedIn profile