Defends its decision to force news anchors to recite 'false news' speech after video goes viral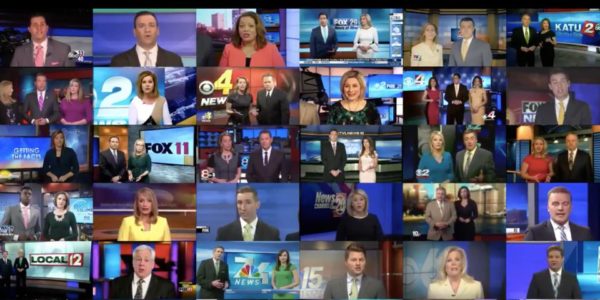 Sinclair Broadcast Group on Monday responded to reports that it has been doing President Donald Trump's bidding by forcing anchors at news stations it owns to read a script on the air criticizing bias in the media.
In an internal memo obtained by CNN Money, Scott Livingston, a Sinclair senior vice president, defended the company's actions and outlined critics' hypocrisy.
Trump also weighed in on Twitter, defending Sinclair and tearing into CNN and NBC News.
---
Sinclair Broadcast Group responded Monday to the controversy that erupted over the weekendabout its requiring anchors at the roughly 200 local TV stations in the US it owns to read a message about bias and fake stories in news outlets.
"I know many of you and your stations are now in the media spotlight after the launch of our corporate news journalistic responsibility promotional campaign," Scott Livingston, a Sinclair senior vice president, said in an employee memo obtained by CNN Money.
He added: "There is a lot of noise out there about our company right now, and what is lacking in that analysis is something we constantly preach: context and perspective."
Livingston said the company's message was targeting unsubstantiated stories like the pope endorsing Trump or the "Pizzagate" controversy — two that circulated on social media before the 2016 US presidential election.
"Honestly, most of the Sinclair critics don't seem to do their own original reporting," Livingston said. "Do you ever notice that a story written about Sinclair from a west coast publication will include a lot of the same talking points —often the same wording — as a story written a week earlier on the East Coast?
.
"These reporters aren't producing original journalism; they are aggregating often-flawed-reporting-content published by other media outlets, without fact-checking it — or calling us to confirm any of it," he added.
READ THE REST OF THE STORY  HERE at BusinessInsider.com