Vancouver's newest radio station pumps up the volume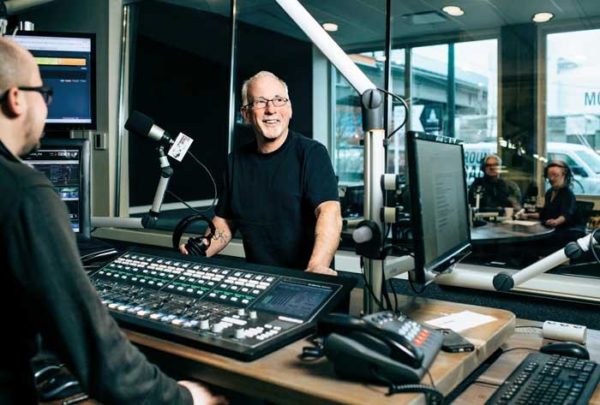 Credit: Tanya Goehring
SERIOUS RADIO
Roundhouse CEO and director of programming Don Shafer broadcasts local issues
Roundhouse Radio aims to make Vancouver a better community. After shaking off some early setbacks, can the city's newest station spin that social mission into listeners and advertisers?
It's business as usual at Roundhouse Radio. Jody Vance is taking calls on the #MeToo movement, the conversation turning to Louis CK and men who masturbate in public. In the lobby, local restaurateur and Top Chef Canada alum Trevor Bird is discussing the recipe he'll explain on air with a producer, while in smaller side studio, Minelle Mahtani, host of weekend show Sense of Place, is pretaping interviews with guests. Roundhouse's gritty urban location in Vancouver's Downtown Eastside affords a high-ceilinged warehouse that easily holds the two dozen or so full-time staff, with room to grow.
Don Shafer, dressed in jeans and a pink polo tee, is obviously proud of his creation. Roundhouse's CEO and director of programming is a commercial radio stalwart whose resumé includes executive roles at CFOX and Rock 101 in Vancouver, as well as Toronto's CHUM-FM and Q107. He was motivated to apply for a Canadian Radio-television and Telecommunications Commission (CRTC) licence by a 2012 Vancouver Foundation report that concluded the city was an isolating, disconnected place.
.
Shafer saw a hyper-local station as an opportunity to revisit what he calls an "old-fashioned radio model" that would focus on what mattered to Vancouverites as a way to create community and bring people together.
"I'd like to believe that intention has a lot to do with outcome," he says. "We are doing the very best we can to expose the voices who aren't being heard in our community to make sure they have a fair and equal platform in our city."
Vancouver's newest radio station, Roundhouse Radio (which broadcasts on 98.3 FM as CIRH-FM), flicked the switch in October 2015, operating under a low-frequency licence designed to reach a specific audience, as far as Richmond to the south, UBC to the west, the Surrey side of the Port Mann Bridge to the east and the North Shore.Roundhouse's content is 80-percent talk and 20-percent music, with a strong commitment to offer airtime to non-profits, advocacy organizations and other socially conscious groups. Shafer cites the station's two-week series on the National Inquiry Into Missing and Murdered Indigenous Women and Girls and ongoing coverage of the city's opioid crisis as examples of its best work.
We're all keen to hear more about what's happening in our local community, its politics and its people. At least that's what we say when asked by market researchers, notes Jeff Vidler, president of Toronto-based media research firm Audience Insights Inc., who adds that the magic formula for harnessing and monetizing that stated interest is yet to be discovered. Still, he believes success in small-market media is possible, citing Kelowna's Castanet.net, an online local news outlet that last year acquired Juice FM.
READ THE REST OF THE STORY  HERE  AT THE BC BUSINESS WEBSITE