Clark will host Nova Scotia's Information Morning starting April 9
by CBC News Edmonton               Posted: Mar 23, 2018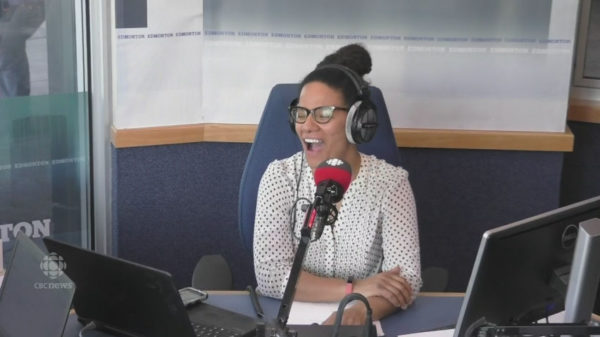 CBC News Edmonton
Portia Clark's final show
.
As the sun sets on the Edmonton chapter of Portia Clark's radio career, guests, and colleagues lined up to say good bye Friday.
Clark was named host of Information Morning, CBC Radio's morning show for mainland Nova Scotia — and Friday was her last day behind the microphone on CBC Edmonton's Radio Active.
Clark expected her last show to follow in the footsteps of countless others. Instead, co-host Rod Kurtz steered the show to what the Radio Active crew had planned for weeks — a dedication to Clark's time at CBC Edmonton.
"If you wonder why your microphone isn't working, it's because I've taken over the show," Kurtz said. "You know all that prep you did today? You're not going to need it."
"I didn't do much today, I will confess," Clark replied, laughing.
The Radio Active crew went behind Clark's back, collecting goodbye messages from columnists she has worked with over the years and roping in other columnists to share tips and advice for her new adventure out east.
Food columnist Doreen Prei prepared some Atlantic salmon tarator with Clark in the Radio Active studio. Gardening columnist Jim Hole shared gardening tips for gardeners in Halifax.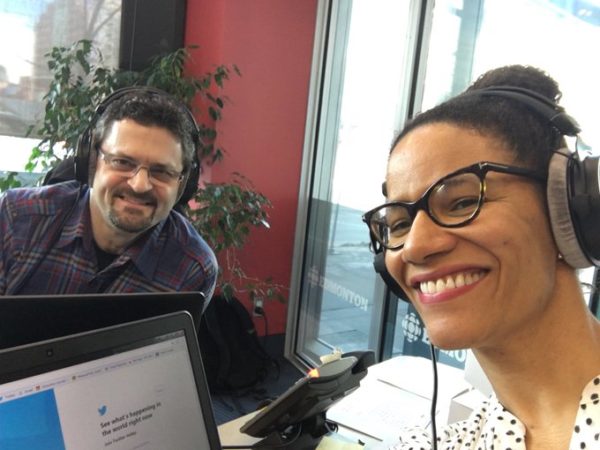 Paul Haavardsrud, Radio Active's business reporter, offered tips on some places to visit in Halifax. Evan Watson, co-owner of Bar Clementine, made Clark a special drink for her farewell called "The Portia."
'We'll miss you'
Other columnists recorded messages for Clark.
READ THE REST OF THE STORY  HERE