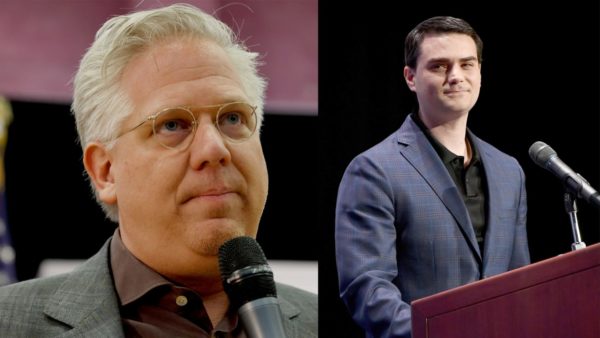 Ben Shapiro's Website Eyes Buying Glenn Beck's TheBlaze
The fracking billionaire brothers behind Shapiro's Daily Wire website are looking to expand their conservative media holdings—that seems to include Glenn Beck's crumbling empire.
The people who head Ben Shapiro's conservative news site are in talks to buy Glenn Beck's troubled media empire TheBlaze, The Daily Beast has learned. Two sources familiar with the conversations said this appears quite likely, though the deal isn't final.
Reached for comment, Shapiro—who heads The Daily Wire, which is eyeing TheBlaze—did not dispute this report.
"TheBlaze welcomed us to the space as allies from the beginning, and we're always looking for ways to strengthen our partnerships with our allies," he said.
A spokesperson for TheBlaze did not immediately respond to a request for comment.
The Daily Wire is owned by members of the Wilks family, billionaire fracking tycoons from east Texas. They have been looking to expand their holdings in conservative media, and briefly eyed purchasing Breitbart. A messy relationship between them and billionaire heiress Rebekah Mercer—who has an ownership stake in the site—kept that from happening.
Now, their purchase of TheBlaze appears more likely than not.
 Launched in 2010, TheBlaze is conservative commentator Glenn Beck's flagship television and digital media property. Though it has an impressive number of paid subscribers, the outlet has been racked by high-level staff and talent turnover, including the 
resignation of its chief executive
 in early 2016. Last year, TheBlaze 
laid off
 nearly a third of its staff.
.
READ THE REST OF THE STORY 
HERE 
AT TheBeast.com