CNN has half as many solo female hosts as its competitors — and none in primetime
by Jon Levine, TheWrap.com       January 21, 2018 
.
CNN has significantly fewer women serving in visible on-air roles than either Fox News or MSNBC, according to an analysis of weekday programming by TheWrap.
In fact, the Time Warner-owned network has half as many female solo anchors on weekdays as its cable news competitors — three compared to six each for Fox News and MSNBC — and none during the highly visible primetime hours from 8 p.m to 11 p.m.
This contrasts sharply with MSNBC, which boasts primetime powerhouse Rachel Maddow, and Fox News, where conservative fire-breather Laura Ingraham basically replaced Megyn Kelly in Fox News' lineup last fall.
In total weekday hours for women, Fox News emerged as the cable news leader with 15 hours of coverage featuring women as either anchors or co-anchors. CNN and MSNBC each broadcast 11 hours with at least one female co-host.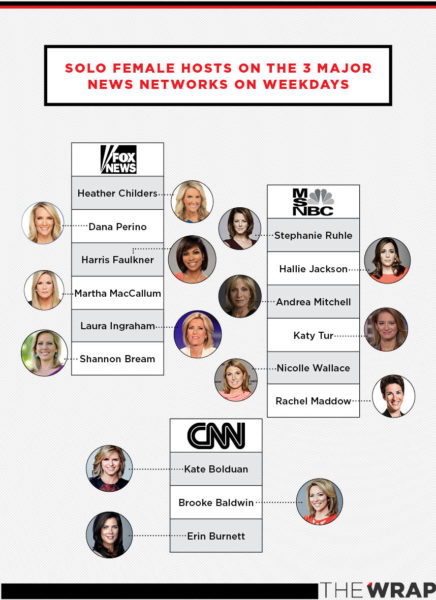 A look at weekday coverage between 4 a.m. and midnight on all three channels revealed that CNN has just three women serving in solo anchoring roles: Kate Bolduan, Brooke Baldwin and Erin Burnett. (For the purposes of the analysis, TheWrap ignored the first four hours of the broadcast day, from midnight to 4 a.m., since all three networks typically air reruns of earlier broadcasts at that time.)
READ THE REST OF THE STORY  HERE