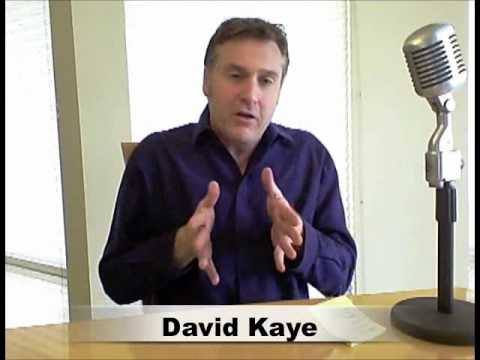 Welcome to JJ-365 Salute. Over 2018, we pay tribute daily to one of "The Good Ones". Today we are shining the light on David Kaye (Hope).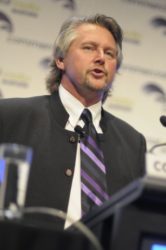 JJ-365
January 20. 2018
I first met David in the late 80's. He grew up in Peterborough and came to the West Coast from a stint on-air in London, Ontario. I was the CFOX Program Director and David was the midday jock at sister station at CKLG-AM. When Brad Phillips left to go head up the new FM station Z 95.3, I also became the PD of LG73. David as a strong midday announcer and always worked hard at his craft. The station had pretty darn good ratings, including David. Then Z 95.3 launched as we were under a considerable attack. It was hard to compete as an AM Top 40 station to a brand-new Top 40 on the FM band. Nevertheless, we soldiered on, and fought hard and despite our best efforts, we found ourselves on the slide.
I remember David and other staffers during this time looking for additional compensation. We simply had none to give, because we were being trounced slowly by the new radio station and revenues were way down. I let David know this and then we got into brainstorming on other ways to increase compensation. More paying remote broadcasts? Endorsements? And then the conversation got around to radio station voice imaging, and this is where the famous David Kaye eyebrow went up. We talked about how to get started. I gave him some sample demo packages from those image voice people out there, and gave him a few names I knew in who were in that area of the business. Sometimes a little sliver of light, can turn into a broad shining beam.
This guy is a heavyweight in our industry and you can see why with his list of credits. Wikipedia lists his roles in animation, including Megatron in five of the Transformers series (Beast Wars, Beast Machines, Armada, Energon and Cybertron), Optimus Prime in Transformers: Animated, Professor X and Apocalypse in X-Men Evolution, Cronus in Class of the Titans, Khyber and Shocksquatch in Ben 10: Omniverse, several characters in Avengers Assemble, Reginald and various other characters in Regular Show. He is also well known for his work on English versions of anime, his notable roles being Sesshomaru in InuYasha and Treize Khushrenada in Mobile Suit Gundam Wing. He provides the voice of Clank in the Ratchet & Clank video game franchise and the feature film. His voice is featured in the Academy Award-winning Disney/Pixar movie Up, he is also the in-show announcer for Last Week Tonight with John Oliver on HBO and the imaging voice of countless Major Market radio stations worldwide. (https://en.wikipedia.org/wiki/David_Kaye).
The reason David is one of the "Good ones" is that he is one who was a nice guy from day one. I haven't talked to him in years but many I know who are in contact with him all say the same things. He's managed to remain the same nice guy, great father and husband to Maria. With worldwide success like David's, it could be easy to have the head swell up. Not this guy. He has worked his ass off. He has earned everything and has a great life in L.A. This quote by him kind of sums him up: "You won't ever hear me complain. I'm working with the coolest people on the planet and deeply love what I do… I've put a request in for a 28-hour day!"
Congrats David Kaye the legend, on being one of "The Good Ones". Feel free to like and share David's positive story. Who is the subject of tomorrow's JJ-365 Salute? Stay tuned!
Jim JJ Johnston is the CEO, President and Chief Talent Coach for JJIMS INC
A good guy is an understatement. This man is truly gifted, has worked for everything he has, a rock in Maria to whom he remains devoted, his family in LA and back home, and a legion of friends who love him because he never forgot where he comes from. You're right, J.J. Jim Jj Johnston, it is rare for someone with such talent to not let it go to his head. There are plenty who have a fraction of Dave's talent and success who are prima donnas. Not David Kaye. We all learn from him what is truly important. Bravo.
J.J.'s bio, courtesy of VancouverBroadcasters.com
J.J. Johnston – Board operator CKLC Kingston ON 1974-75; midday host CJET Smiths Falls ON 1975; morning hostCKOB Renfrew ON 1975-76; nights CFCH North Bay ON 1976-77; evenings CFGO Ottawa and part time CKLW Windsor ON 1977-79; swing CFTR  Toronto 1979-81; p.m. drive/mornings/ssistant PD CITI-FM Winnipeg/Jet's hockey broadcaster at CKY Winnipeg 1981-86; PD CHAM Hamilton ON 1986-88; national PD Moffat Communications/PDCFOX-FM/CKLG Vancouver 1988-93; national rock PD WIC Communications/CFMI-FM Vancouver 1993-94; VP programming Standard Radio/CKFM-FM Toronto 1994-2000; GM Corus Radio cluster Toronto 2000-05; GM Corus Radio (CFMI-FM/CFOX-FM/CHMJ/CKNW) Vancouver 2005-10; regional GM then contract consultant Corus Radio East – Barrie/Collingwood/Peterborough/Kingston/Cornwall ON 2013-current; President/CEO, JJ international Media and Management Solutions Ontario 2013-current; Interim GM CJPE-FM Prince Edward County ON 2013-current.  LinkedIn profile