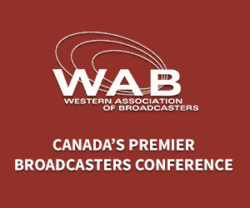 Canada's Premier Broadcasters Conference
Registration is Now Open for
2018 Western Association of Broadcasters Conference
Registration is now open for the Western Association of Broadcasters 84th Annual Conference – Canada's Premier Broadcasters Conference. Taking place June 6-7, 2018 at the Fairmont Banff Springs Hotel, headlining the WAB Conference will be Arlene Dickinson from CBC "Dragons` Den" and one of Canada's most successful communications entrepreneurs will be headlining our must-attend Conference.
The world-class speakers line-up also includes researcher David Allison who will introduce us to Valuegraphics, an entirely new tool that defines and motivates target audiences based on what people value: what they need, want and expect out of life. Terry O'Reilly, the familiar voice behind the hit CBC radio program "Under the Influence" is returning to the WAB Conference to speak about the power of storytelling in our stations. The Conference will also feature a panel of programming experts to give their insights on how we can monetize programming for increased sales. Panalists will include Paul Kaye (Rogers Media), Ronnie Stanton (Alpha Media), Rob Farina (Bell Media), Steve Jones (Newcap Radio) and Barry Vice (Golden West Broadcasting).
Running right before the Banff World Media Festival, June will be buzzing with broadcasters and leaders in Canadian and international media. Joining the WAB Conference as a special guest is new  CRTC Chairperson & CEO, Ian Scott who will also be attending the CRTC Meet & Greet following the WAB Conference sessions.
New for 2018 – look for the special registration discount for new delegates from member stations. Conference registration and hotel information is available at www.wab.ca. Join the mailing list to keep informed of the latest news and special Conference announcements.
The Western Association of Broadcasters is in its 84th year and our board is proud to organize Canada's longest running Broadcasting Conference. Stay tuned for more exciting details about this must-attend event.