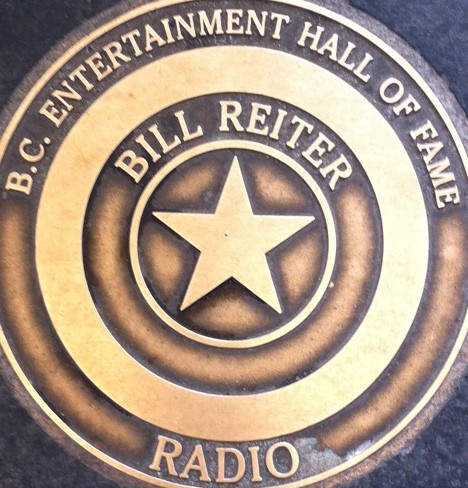 In late October of 1967 the radio show "Groovin' Blue", produced and hosted by Bill Reiter, first aired on Vancouver radio station CKLG-FM – 99.3 MHz.  Uniquely, every record played and opinion expressed was that of the 24 year old host/producer.
Bill had originally been approached by a young man regarding CKLG-FM in Bill & Bob's Record Shop.  Owned and operated by Bill Reiter and Bobby Garrison and located at 10 Pender Street West at Shanghai Alley in Vancouver's Chinatown, "Bill & Bob's" occupied half of the structure featured in Ripley's Believe It Or Not as the narrowest building in the world.  The store's mandate was to provide Black Music – Soul, Rhythm 'n' Blues, Jazz, Funk, Gospel, Salsa, Blues etc. – to Vancouver's Lower Mainland.  The young man visiting Bill & Bob's that day told Bill he'd been asked to host a soon-to-air Jazz show on CKLG-FM.  He suggested that Bill talk with LG-FM's Program Director with regard to the store sponsoring the proposed show.
The well-known and respected CKLG-FM Program Director Mr. Frank Callaghan met Bill at the Moffat Communications Ltd. station a day or two later.  After an hour or so, Mr. Callaghan declared that the young fellow who came into the record shop was one of ten people that 'LG was interested in and, more importantly, how would Bill like to host the show?  Reiter jumped at it.  Here was an opportunity to play the music he and his East End Vancouver pals loved so much.  Frank Callaghan's offer was especially thrilling because it opened a door, for the first time, which allowed the music to reach the much wider audience outside its present Hastings Street East boundaries.  Until then, no Canadian radio program – in fact no radio show ever – had programmed such a full spectrum of Black Music.
Initially, Groovin' Blue aired only on Saturday nights in the 6:30 to 8:30 time slot.  Then, on March 16, 1968, six months after its October 21st, 1967 premiere, the program moved to 6:00 to 8:00 p.m. – Monday to Saturday.  Eventually Groovin' Blue would become widely known not only to listeners in British Columbia but also Black Music fans in Washington State and the many areas the 100,000 watt signal bounced to.
The show's name was taken from the title of a 1961 Pacific Jazz album by Curtis Amy and Frank Butler.  Bill tells of the time a New Yorker phoned the show to say he'd recently been on a freighter in the middle of the Pacific Ocean heading to Vancouver from Japan when he picked up the CKLG-FM Groovin' Blue signal.  The Big Apple denizen said he couldn't believe that anyone on the West Coast of Canada was playing the recordings of N.Y.C. conga drum hero Mongo Santamaria – let alone Pucho & his Latin Soul Brothers.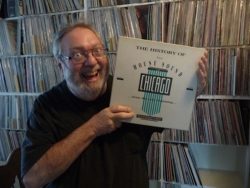 All of this came about because CKLG-FM management wanted to air a unique program that echoed the type originally hosted by Russ "The Moose" Syracuse on KYA's "All Night Flight" and Larry Miller on KMPX.  These San Francisco, California all-night DJ's' formats originally shared the designations "Underground", "Free-Form" and "Progressive Rock".  Moffat Communications management wondered if a Vancouver, British Columbia radio audience would accept "…a Blues music type show".  If they did, they mused, then a more San Francisco-style format, now being shaped in the California city by KMPX program director Tom "Big Daddy" Donohue, might prove to be immensely popular.
What Moffat management didn't know was that the Groovin' Blue Format was more than just Jazz or only Blues. Reiter's musical tastes covered the complete spectrum of contemporary Black Music – the same music being offered for sale at his Bill & Bob's record shop.  Bill feels he was fortunate that the Country & Western-appreciating management weren't sophisticated enough to ask the right questions.  Reiter speculates that if they had, the show might never have been offered to him.  Appreciatively, Groovin' Blue paved the way to meet both parties' needs.
Many outstanding artists got their first Canadian airplay on the program.  Ollie & The Nightingales, Marva Whitney, The Dapps, Sy Risby, The Joe Tex Band, Sly & The Family Stone, Larry Williams & Johnny Watson, George Kerr, Johnnie Taylor, The Trials of Jayson Hoover, Freddy Robinson, Mabel John, Oscar Toney Jr., The Raelettes, O'Dell Brown & The Organizers, Melvin Van Peebles, Lou Donaldson and many more Black Music artists made their Great White North radio debut on Groovin' Blue.  Interviews with Jimmy Smith, Billy Preston, Brownie McGhee & Sonny Terry, King Curtis, John Lee Hooker, Bobby Freeman, Bobby Hebb, Joe Tex, Stanley Turrentine and others were a show feature.
Groovin' Blue lasted for two years and ended its tenure on CKLG-FM in mid-September 1969.
Since that original show, The Groovin' Blue Format has aired on other Vancouver radio stations including; CKST-FM (Coast 1040), CJVB-AM 1470, and CHMB-AM 1320.  The "GB Format" with Bill as guest or co-host, has also been featured on many local and national programs including C.B.C. radio's "Variety Tonight", CITR's "African Rhythms" and "Stormin' Norman's Blues Show" on CFOX-FM.  Bill Reiter has also worked as a pop music disc-jockey on stations CHQM-FM, CKVN and CKLG-AM.  On 'LG-AM he was known as Bill Reiter – The All Niter and earned the non-commissioned rank of "Boss Jock".
November, 23rd 2008, saw work begin on the WAGRadio (180.2 FM & 1802 AM) blog. www.wagradioonline.blogspot.com – with Groovin' Blue as the flagship program along with it's companion program entitled "Groovin' Blue Funk Shui Specials" co-hosted by Sunny "Sweet Daddy Fonk" Wong and DJ ZigZag. The WAGRadio blog is produced by Bill Reiter and directed by Miss A of EffervescenceGroup.com.